Anyone woman who has ever owned a bronzer knows that there's a lot more to applying makeup than coloring in the lines. It's more about blurring lines and creating them. Contouring is the way women create illusion. Contouring can do anything from slenderizing noses to brightening eyes, to recreating the bone structure of a European supermodel. However, contouring is an art – best not learned by trial and error.
So, how do we learn this lesson? Mostly through imitation; and who better to imitate than some of the most glamorous women in the world – celebrities. And who better to teach us how to contour than the makeup artists behind those celebrities?
Can't afford the makeup lessons?
Don't worry. Here is some amazing advice from celebrity make-up artists, gratis.
Charlotte Tilbury
Yes, you have seen the work of Charlotte Tilbury. Every time you're standing in line at the supermarket, wondering who did the crazy good makeup for the celebrity Covergirl (or the newest edition of Vogue/Allure/Vanity Fair et al.) you're most likely checking out Tilbury's masterpieces. She's worked with celebrities from Natalie Portman to Naomi Campbell, from Cara Delavigne to Kate Moss, and from Penelope Cruz to the Kardashian/Jenners. Here are some tips so that you too can get caught up in her web.
Apply highlighter to your cupid's bow to frame your lips. After painting your pout with lipstick, apply a little highlighter to your cupid's bow, using a blender brush to frame your lips.
Use highlighter on the inner corners of your eyes. Don't put that highlighter down just yet. Give yourself an instant eye pop by applying your highlighter into the corners of your eyes using a smudge brush. The light will reflect your eyes making them appear bigger and brighter.
Apply powder only where you need it. Take a powder from applying a finishing powder all over your face. Target the oilier areas, concentrating on your T-zone, around your nose, and under your eyes to keep your complexion glowing without excess shine.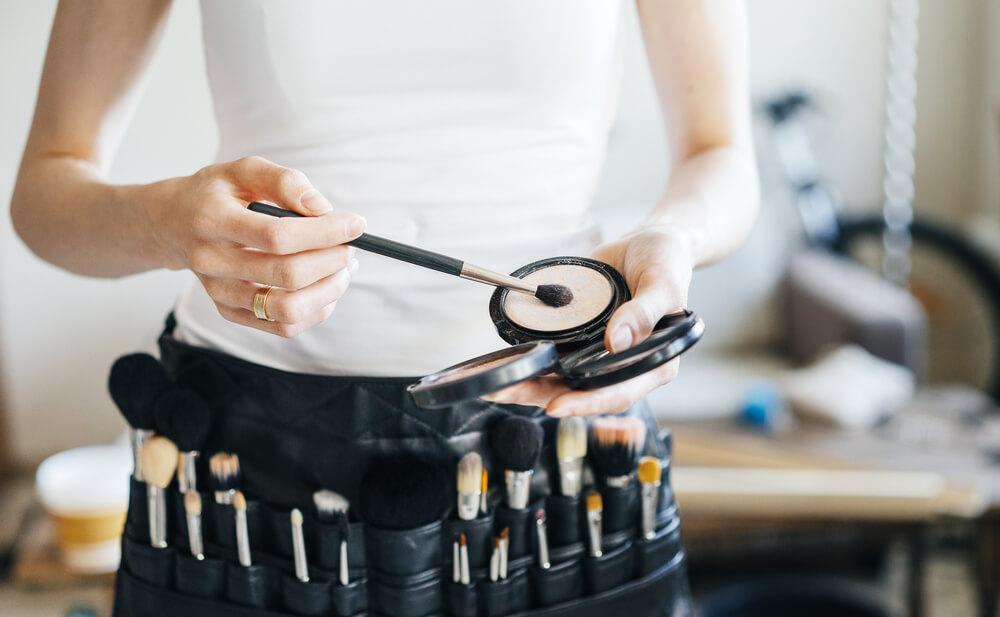 Monica Blunder
You know that girl who you want to hate for her perfect makeup application but can't help but love for her sweet personality? That's how we're picturing Monica Blunder in high school.  Return to the present and we're picturing her as a celebrity makeup artist whose clients include Jennifer Lawrence, Rosie Huntington Whitely, Amanda Seyfried, Jessica Alba, and Taylor Schilling. Want to take a page from her book? Here are a few ways you can steal some of the Blunder Thunder.
Use lipstick as a cream blush.

Can't find your blush? Just grab whatever lipstick you have in your bag and use your ring finger to apply it to the apples of your cheeks.

Use primer for a natural glow.

What does Monica love most about her primer? That she can use it on her face on its own without covering up her face with foundation.

Clean up makeup using a sponge and makeup primer instead of makeup remover.

This way, you'll pick up the shadow while still leaving the concealer intact. It also preps the skin for new makeup rather than leaving makeup remover residue that the new shadow won't cling to.
Mario Dedavonavic
And how would Mario Dedavonic respond to that? Probably not very politely, considering that he's undoubtedly painted quite a few cheekbones on the Kardashian family. With nearly 3 million Instagram followers and the likes of Chrissy Teigan, Shay Mitchell, Naomi Watts, and the Kardashian clan on his resume, it might be safe to say that Mario is the resident king of the contour. Although now Dedonavic can be found distributing his wisdom at his sold-out Master Classes across the globe, there is still some priceless wisdom he has to offer to the rest of us.
Reverse contour on darker skin tones. For darker skin tones, Dedavonic uses light colors to contour. His advice is to skip the dark powder altogether and select a lighter shade of foundation to reverse contour. To do this, he applies a highlighting color on the jaw, where the contour would regularly go, to create a reverse effect.
Use concealer and pressed powder as an eye shadow primer. While there are plenty of primers in the beauty aisle, Mario prefers to use the old school concealer with a pressed powder method to keep makeup from sliding. He minimizes discoloration with concealer and tops it with translucent powder.
For brows, think out of the box. According to Dedavonic, the days of the boxy brow are over. Instead, he recommends enhancing the shape of the brow using a pencil to fill in the ends, while leaving the outer corners untouched. Brush hairs up and down with a spoolie brush to see which areas need the most attention. Add a layer of dark shadow to add fullness and finish with a brow gel.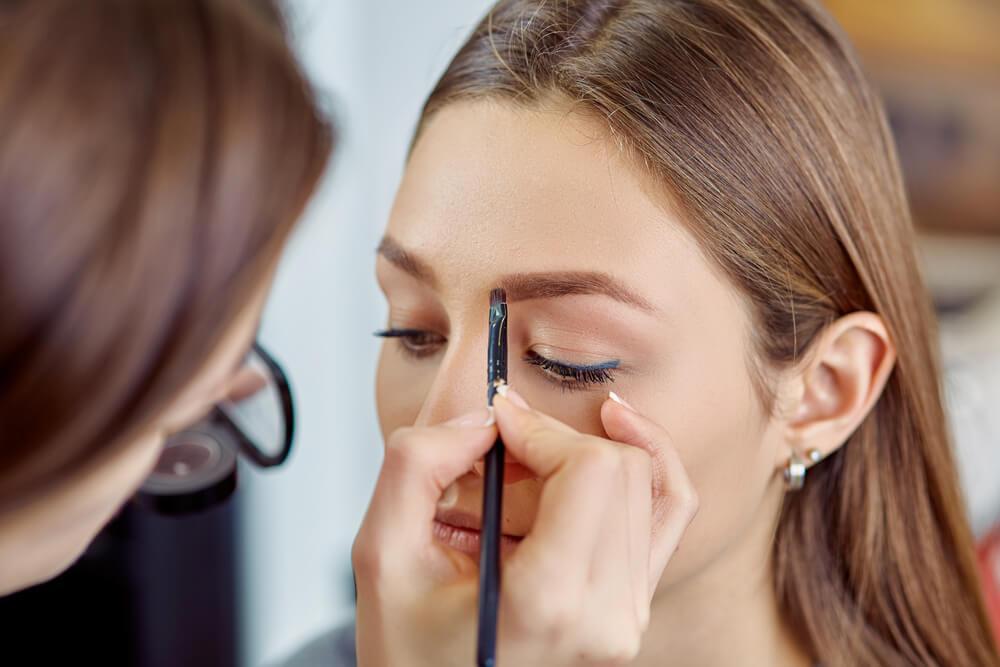 Pat McGrath
Take me to your leader? If you're not yet familiar with Pat McGrath, take yourself to her Instagram account immediately. To her legions of followers, McGrath is the "mother of makeup." To seemingly endless couture designers, McGrath is the creative force behind the directional looks that emerge from the catwalk each season, from the glittering full-face masks of Givenchy to the plumed eyebrows of Alexander McQueen. To the rest of us beauty junkies, McGrath is worth taking a tip from. Here are some words of motherly advice from the master of the makeup universe. 
Contour cheekbones and eye sockets.

According to McGrath, using a bronzer of a taupe color on the cheekbones and eye sockets enhances all of your features, so you don't need to do much else. Simply brush whatever you're using on your cheeks onto your eyes as well, and you're good to go.

Use a shiny stick.

Apply a highlighter or metallic pencil to your cheekbones, along your nose, a bit above the lips, and in the corners of the eyes for a subtle all-over glow. 

Apply colorful lipstick with your finger.

Not as a stain, but to fully put your lipstick on, apply the lipstick to your finger and roll your finger over your lips. That gives the lipstick a natural look, close to your own lip color. 
Gucci Westman
Yes, she has worked with Kim Kardashian, but no, she is not a fan of the overly contoured look. Gucci Westman is an American makeup artist, cosmetic designer, and founder of the Westin Atelier Cosmetics line. And no Gucci is not her real name, but she is cool enough to own it. After all, she is one of the BoF (Business of Fashion) 500 and the former International artistic director for Lancome and Revlon. She's styled the likes of Gwyneth Paltrow, Natalie Portman, Drew Barrymore, and Cameron Diaz to name a few, and has her own ideas about the contour culture.
Contouring with creams: To highlight and contour using creams, she uses a Tom Ford Kit and applies the cream gently with her fingers. She recommends using a foundation brush to smooth over hard edges.
Contouring with powders: When using powders, Gucci opts for the Makeup Forever palette. Starting with a small amount of powder, she applies the contour just below her cheekbones.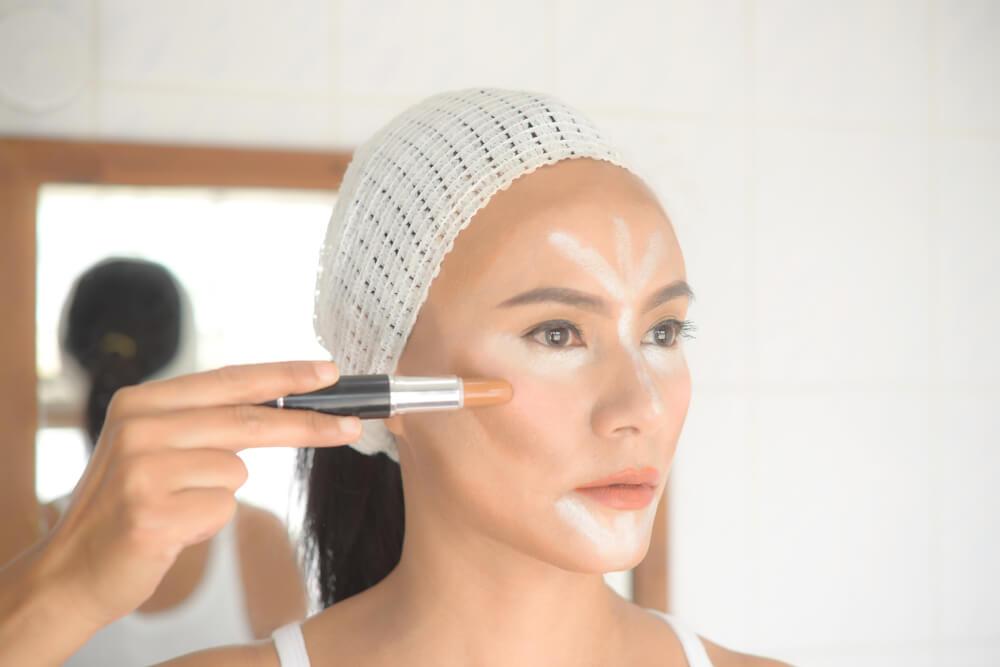 Bobbie Brown
You might say it was a nude awakening. Back in the aughts, when shiny lips and stark contouring were in fashion, Bobbi Brown dared to tell a Kiehl's chemist how she really felt about orange and fuchsia lipstick. The rest is beauty history. What started with the creation of a line of beige tinted lipsticks grew into a cosmetics company touting moderation and natural hues, now known as the Bobbie Essentials Collection. Soon, beige was the rage and orange was old hat. Here is the best tip that Bobbie herself has to offer:
Don't contour. Guess it really is to each her own. Surprisingly, Brown is a big opponent of the contouring craze, popularized by Kim Kardashian. "When I see contouring on people's faces, it looks like dirt," the makeup maven told the New York Post, "As a beauty expert I believe in individual beauty and it's just not my aesthetic. We don't need to be contouring like the Kardashians. The contouring trend is so wrong because it tells women that there's something wrong with their faces. There's beauty in a full face, so I don't like to paint in a cheekbone that doesn't exist." 
Sarah Tanno
Lady Gaga once famously said, "Whether I'm wearing lots of makeup or no makeup, I'm always the same person inside." That's something Sarah Tanno would know very well. She's not only Gaga's makeup artist, but she's also Gaga's confidant, Haus of Gaga business partner, and the conceptual brain behind Lady Gaga's "Countess" on American Horror Story – earning Tanno the 2016 Creative Arts Emmy. And while she's gaga about Gaga, her loyal client list includes Suki Waterhouse, Dakota Fanning, Gigi Hadid, and Michelle Monaghan. What does this contour de force have to say about contouring?
Use eye shadow as a base Before starting on those Gaga cat eyes, Tanno uses Marc Jacob's Big O Eyeshadow as a base to help her carve out the shape the eye is going to take. Tanno recommends this shadow because she can use it as a glow and as a contour.
Use a gel eyeliner to create a cat's eye. Because Gaga likes a strong eyeliner, Tanno uses a gel eyeliner to line the eye and to draw a crease in the negative space.
Finish with bronzer, blush and a setting powder. While you can use a free hand with the bronzer and blush, Tanno suggests using the setting powder in moderation. Says she, " I don't like to use a heavy setting powder, just in the T-zone area. Everywhere else, we want to keep shiny. It's just choosing where to powder so you don't get that overly heavy makeup look."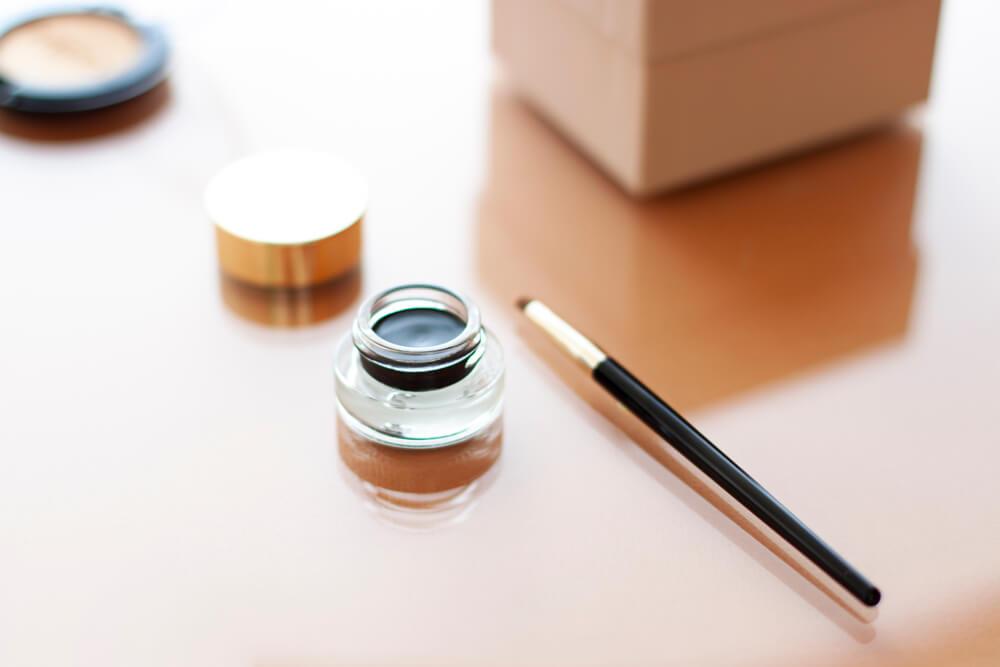 Patrick Ta
Hadid not been for Patrick Ta, Bella and Gigi might not have inspired as much cheekbone envy as they did walking down the runways at Paris Fashion Week. After Ta began experimenting with makeup and posting his looks on social media, he hit a Gram Slam when It-girl Joan Small messaged him wanting him to do her makeup for the V.M.A.'s. That was after Gigi and Bella and before Kris, Khloe, Kim, Kourtney, Kendall, and Kylie, to put things into perspective. For those who want to know more, here's the latest talk of the Ta.
Diffuse your blush.

To give yourself a natural blush, take your finger and tap it on to the back of your hand to diffuse the product before applying it to your cheeks.

Use powder smartly.

The talk of the Ta is, "I used to be afraid of powders because they tend to look cakey. But they photograph so well." Ta suggests applying powder to your smile lines, on your chin, on your nose, above your lips and on the center of your face before you say, "Cheese." Ta's rule? Leave the perimeter of your face natural, but make sure the center of your face is powdered.

Use highlighter brilliantly.

According to Ta, highlighter placement matters. He recommends starting at the apples of your cheeks and then blending outwards. "Always highlight the high points of the cheekbones, but never close to the eyes because it can change the way your face looks in photos."