There are many reasons why you might want to avoid alcohol – rough nights out, pursuit of healthier lifestyle and various others.
Still, that doesn't mean you should be robbed of the wonderful sensation of sipping a cocktail while lazing about on a sweaty summer afternoon.
And this is where mocktails step on the scene – combining all the hedonism of classic cocktails with zero health repercussions.
So, whether you're preparing for a children's party or simply want to stay away from booze, here are a bunch of recipes that will refresh your palate and awaken your taste buds.
Margarita Mocktail
There are a few people who don't enjoy the magic of margaritas, a salty staple of every Mexican restaurant.
And now, you have a chance to make your own version with 0% alcohol. Serve it in the margarita glass and, we assure you, it will taste just as delicious.
Here's what you need to prepare:
½ cup freshly squeezed lime juice (pink grapefruit works well as an alternative)
1 cup orange juice
lots of ice
2 tablespoon sugar
1 lemon
Cut your limes and oranges and squeeze out the juice. Pour it all into a blender and add sugar and ice.
Mix until you get a slushy texture. Grab a plate or a chopping board and pout salt over it.
Cut your lemon in half and use it to rub the rim of the margarita glass. Turn the glass upside down and coat the rim in salt. Pour the cocktail from the blender into the glasses and those are your margaritas!
Magical Mojito
There is simply nothing better than an ice-cool mojito on a sizzling summer day, right?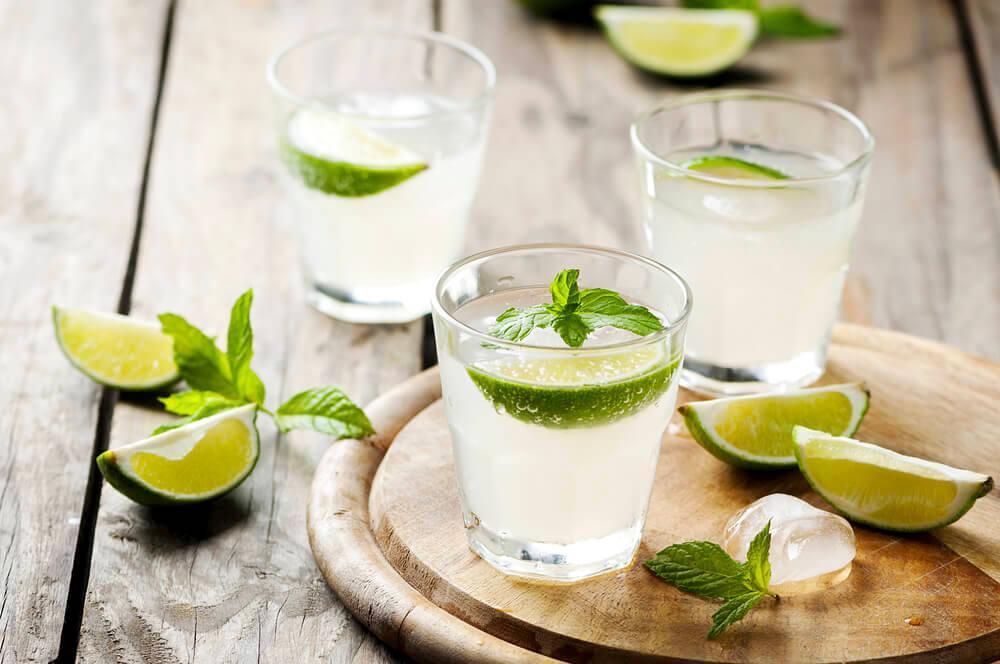 Well, you'll be pleased to hear that the zero alcohol iteration of this summertime fave is just as tasty as its 18+ counterpart.
It's doesn't involve, much customization either – if anything, it's even easier to whip up than the original mojito.
And here's how to do it!
You will need:
A handful of fresh mint leaves
Brown sugar
Freshly squeezed lime juice
Apple juice, strawberry pure or lemonade (optional)
Club soda
Crushed ice
Grab your mint leaves and combine them with brown sugar in a tall glass.
Crush the leaves and the sugar using a wooden spoon.
When you're done, squeeze one lime and pour the fresh juice into your glass. If you want extra sweetness, add a teaspoon of simple syrup.
If you want to elevate your mojito and give it extra flavor, add a bit of apple juice or strawberry pure.
Dump crushed ice into the glass, then top everything off with club soda.
Voila, you refreshing virgin mojito is complete! Bonus points: you can keep adding club soda and crushed ice to the mixture throughout the day for prolonged refreshment.
Perky Pear Punch
This autumnal delight is the perfect way to make pears even more tasty and refreshing. Combining seasonal fruit and flavor-packed spices, it's the ideal drink for a booze-free brunch or dinner.
This is what you'll need to make one of your own:
2 cups pear juice
1 lemon
1 tablespoon brown sugar, honey or agave syrup
ginger ale
1 whole pear
For this recipe, you can use organic premade pear juice or make your own. For a DIY juice, add pears into a juicer (Asian pears are especially good for this recipe because of their added juiciness) or a food processor. If it comes out too thick, pour it over a strainer and squeeze out the liquid by pressing the mixture.
Put the juice into a large glass bowl; slice lemon and squeeze it into the mixture. Add sugar (or substitute with other sweeteners) and mix until everything is well dissolved.
Add ginger ale, then cut the pear into this slices and use them to garnish the mixture. Top off your cocktail with lots of ice and – boom – the perfect drink for the fall season is all done.
Tropical Slushy
Tropical fruits are the quickest way to add more sweetness and texture to your alcoholic-free cocktails.
And this one in particular features the saccharine-packed taste of mango, making it ideal for everyone who likes their cocktails both taste bud-enticing and filling.
2 mangoes
1 tablespoon brown sugar, agave or maple syrup, or other type of sweetener
a dash of lemon or lime juice
two cups of ice
slices of lime or lemon for garnish
Start off by peeling the mangos, then dicing them. Put them in a blended, then add sugar or sweetener substitute. Slice lemon or lime and squeeze out a bit of juice into the mixture. Blend until everything is well combined. Add ice, then mix again, until you achieve the slushy texture.
Pour the mixture into individual glasses and garnish with lemon or lime slices.
Virgin Mary
The non-alcoholic take on this fave among cocktails will be sure to both refresh you and replenish you with vitamins.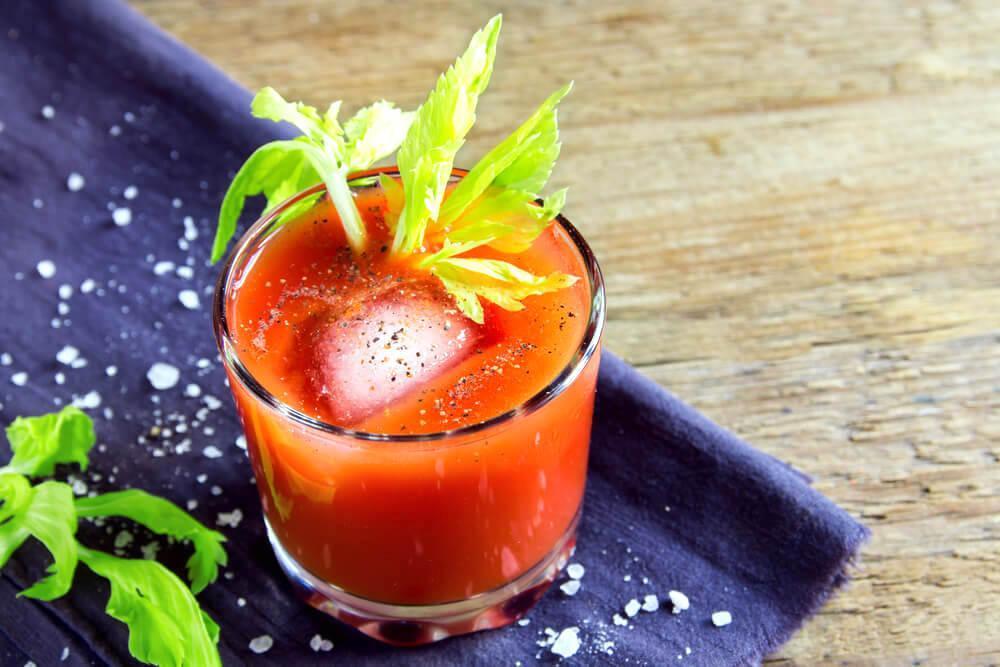 Not only does it make for a great substitute, it can also serve as an energizing drink in the AM or as a post-work out booster.
And the best part? It's incredibly easy to make.
Here's is all that you'll need for your virgin Mary:
2 cups tomato juice
1 lemon
ground pepper
a pinch of salt
Worcestershire sauce
hot sauce
stalk of celery
Cut the lemon in half and squeeze the juice into a highball glass. Add tomato juice and mix well.
Sprinkle the juice with freshly ground black pepper and salt.
Add Worcestershire and hot sauces, mix again, then garnish your drink with a celery stalk.
If you like even more flavor to your bloody Mary, you can also add ginger, garlic powder, horseradish and even wasabi for an extra kick.
Mouthwatering Rhubarb Punch
If you live in northern climates, then you know just how tasty (and versatile!) rhubarb can be.
Always a welcome addition to crumble and many other desserts, this summertime stalk can also be used to make delicious alcohol-free cocktails.
Here's how to make your own blush colored punch.
1 cup rhubarb
1 cup sugar
1 cup water
1 lemon
3 cups fizzy water
Chop up rhubarb stalks into one-inch pieces and put them in a pan together with water and sugar.
Bring the mixture to a boil, lower the temperature and let it cook until rhubarb softens.
If you like your drink with a texture, leave as it; if you prefer it clear, drain the mixture to remove the pulp.
Pour the mixture into a tightly sealed container and let it cool down in the refrigerator.
In the mean time, slice the lemon and squeeze out the juice. Put it into a pitcher and add sparkling water. Finally, add the rhubarb juice and top the whole thing off with lots of ice a couple of lemon slices for garnish.
Zesty Grape Soda
This palate-pleasing cocktail combines the sweetness of the grapes with fizziness of seltzer water, making it an ideal drink for quenching your thirst during balmy summer evenings.
These are the ingredients you'll need:
a bunch of organic white grapes
1 tablespoon freshly squeezed lemon juice
2 cups carbonated water
2 tablespoons honey or agave syrup
Cut your lemon in half and squeeze out the juice. Grab your grapes and put them in a food processor; blend until mushy.
Pour the liquid over a strainer and a bowl to squeeze out the juice, pressing the grapes as you go.
Add lemon and honey and mix until it's all dissolved. Add seltzer water and ice and your cocktail is ready to be served.
Ginger and Strawberry Lemonade
Some people like their cocktails sweet, others prefer a bit of zest. Some may even like a bit of a kick to their drink.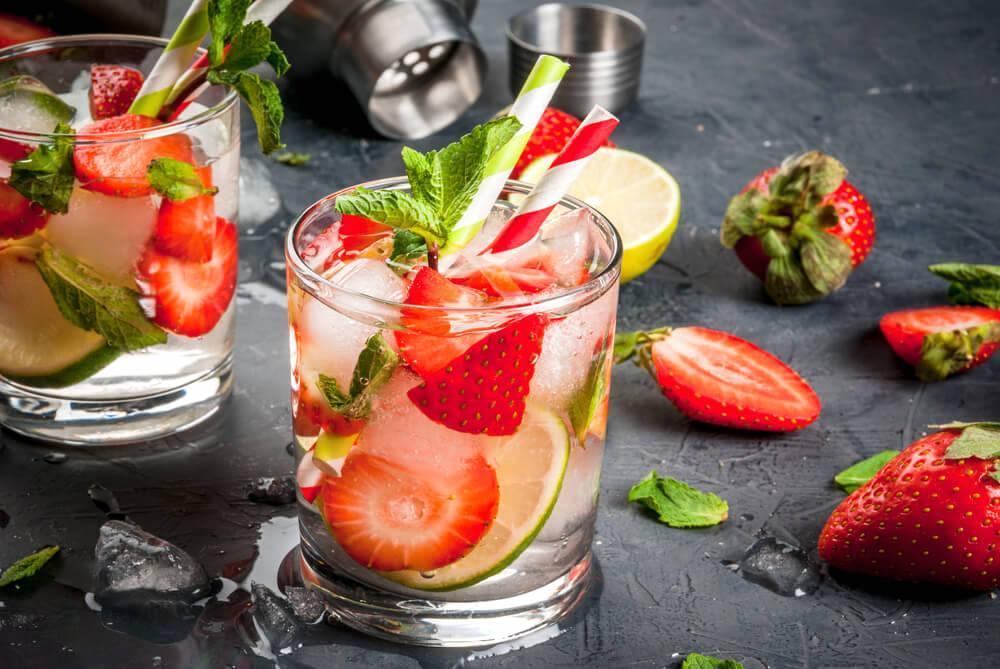 If you're among these people, then you'll definitely enjoy this mocktail, which blends the sweetness of strawberries with the spicy aftertaste of ginger.
Here's how to whip up your own lemonade with a twist.
You will need:
2 cups of fresh strawberries
2 lemons
1 teaspoon of fresh ginger
3 cups water
3 table spoon of honey, brown sugar, maple syrup or other type of sweetener
a couple of lemon slices
Peel the ginger and add it into a food processor together with the water. Mix until the texture is smooth.
Grab the strawberries and wash them well, then remove the cores with a knife. Add them to the food processor with ginger juice.
Cut the lemons and squeeze out the juice into the food processor. Add sweetener and mix everything until you're satisfied with the texture.
If you like your cocktail sans froth, you can drain it over a strainer for a clearer texture.
Lime and Cranberry Spritzer
This delicious cocktails provides all those autumnal notes of cranberry, while still remaining refreshing thanks to the zestiness of the lime.
This drink is simply perfect for any fall occasion and here's how you can make your own.
Things you will need:
2 cups organic cranberry juice
2 cups fizzy water
2 limes
lime slices or fresh cranberries (or both) for garnish
Combine seltzer water and cranberry juice in a large pitcher. Next, slice the limes and squeeze out the juice. Add it to the water-cranberry mixture and blend well.
Top everything off with ice and a few fresh strawberries or lime slices to make it more eye-appealing.
Shirley Temple
A bona fide celebrity among non-alcoholic cocktails, Shirley Temple is always a welcome drink for anyone who doesn't feel like boozing it up.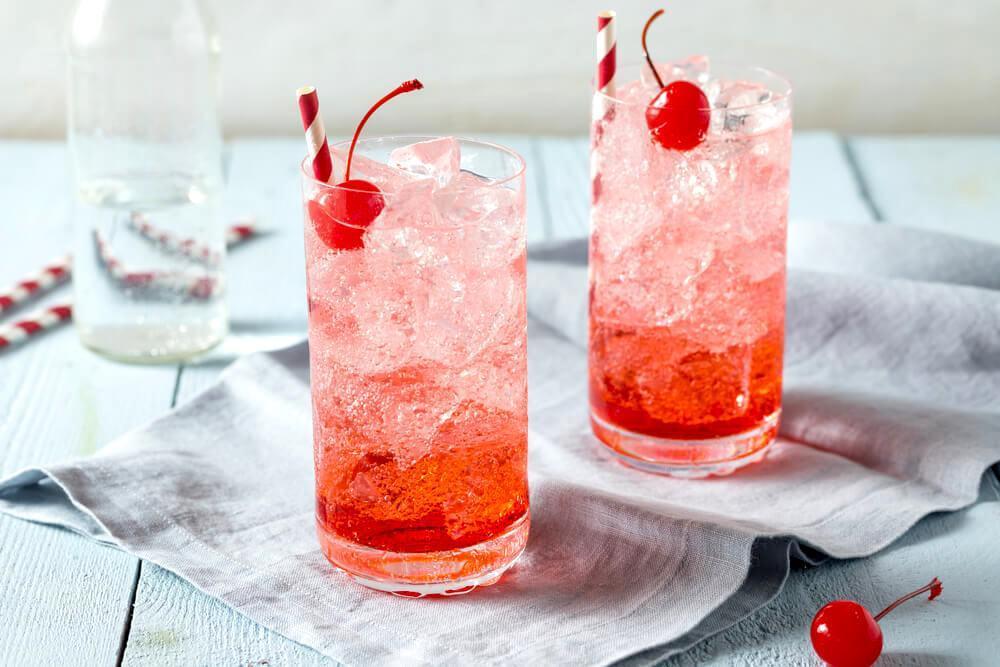 Fortunately, you can make this iconic cocktail in the comfort of your own home, and you don't have to be a master barista, either.
Here's what you'll need:
grenadine
ginger ale
maraschino cherries
lemon or lime soda (optional)
Fill your glass with lots of ice. Add grenadine and combine it with ginger ale. Top off your cocktail with a bit of lemon or lime soda and garnish it with a couple of maraschino cherries. Voila, Shirley Temple all done!
Mint Lemonade
When temperature hit those unbearable heights, there is nothing more refreshing that treating yourself to a tasty mint-infused drink.
And this lovely drinks brings the cooling effect of the mint with an added zestiness of lemon juice.
Here's how to make it.
You will need:
a handful of fresh mint leaves
5 lemons
½ cup brown sugar
water
ice
To whip up your own sweetener, combine sugar with water in a pan and simmer over low temperature until you achieve smooth, even consistency.
Place mint leaves in a glass or pitcher, then proceed to crush it to bring out the flavor.
Slice your lemons in half and squeeze out the juices. Add them to the mint, then add the sweetener (you can adjust the amount to your taste). Add ice and top everything with water until full.
And that's ice, minty fresh lemonade is complete! When you're finished with the first serving, you can keep adding more water to make the most of the flavor.
Kiwi Smartini
If you're a fan of that tropical taste to your non-alcoholic drinks, then this yummy kiwi cocktail served in a sophisticated martini glass might be right up your alley.
This is how you can make it.
Prepare in advance:
6-8 kiwis (set aside an extra one for garnish)
1 cup sugar (use maple syrup or agave syrup as substitute)
2 cups water
half a cup lemon juice
2 cups ice
Peel the kiwis and dice them. Slice the lemons and squeeze out the juices. Add kiwi, lemon juice, sweetener, water and ice into a blender and mix until you reach a smooth consistency.
Pour your cocktail into martini glasses; slice the remaining kiwi and use it to garnish the drink.
And just like that – a tropical green cocktail free of alcohol is ready to be served.
Hopefully, this list has shown that alcohol-free cocktails can be just as fun and colorful as the real deal. With a little bit of prep, you'll have no problem shaking up all kinds of creative drinks for yourself or any of your guests who don't plan on boozing it up.