Have you noticed that every time you're feeling smug, flirtatious or naughty, your lips involuntarily begin curl into a sly smirk?
Add a raised eyebrow or a hair flip, and your smirk is 100% on point.
And if you are interested to see how celebrities do it, we have prepared a list of the most recognizable smirks in the world of entertainment.
Whether it's being a tease, villainous scheming, or just feeling a little smarmy – we are sure these smirks will perfectly encapsulate the emotion you're trying to convey.
Kim Kardashian's Sneaky Smirk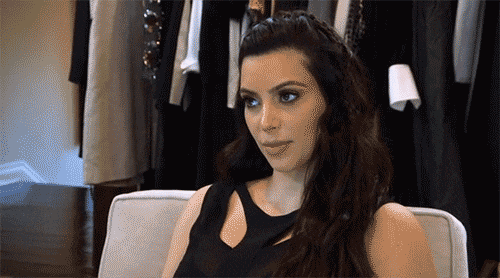 Even though the reality TV superstar is probably best known for her iconic crying faces, her devilish smirk probably comes a close second.
Kim's naughty smiles usually arise after she and her sisters cook up a devious plan that unfolds on their hit TV show, Keeping Up with The Kardashians.
The best example of Kim's priceless grimace could be seen when the Calabasas queen planned to pull a prank on her family by feeding them placenta.
At the mere thought of it, her face stretched into an evil, Grinch-like smile.
KKW may seem like a sweetheart, but this face proves she definitely has a mischievous side to her, too!
https://78.media.tumblr.com/8acac1c610e01cfaea6a34a6b6f1d360/tumblr_on8qgfHPHf1vqbvcbo1_540.png
Ryan Gosling's Reaction to the Academy Awards Best Picture Blunder
The 2017 Oscars will go down in history for having one of the most embarrassing presenting moments in awards ceremony history.
Here's how it happened: the night's final award was to be presented by two Hollywood veterans, Faye Dunaway and Warren Beatty.
Unfortunately, Beatty was handed the wrong envelope, which contained the note for the Best Actress award that had already been given out to Emma Stone.
After the nominees were read out, Beatty opened the envelope and sensed something was not quite right.
Completely unaware of the potential mix up, Dunaway glanced at the note, saw the name La La Land, and quickly proclaimed it the winner of Best Picture.
As the La La Land crew ecstatically rushed to the stage to give their speeches, the producers scrambled to correct the mistake, noting everyone that Moonlight was the actual winner of the award.
This led to a period of awkwardness and confusion on stage, and La La Land crew eventually passed the Oscar to its rightful owners.
In the midst of all the chaos, one face stood out: that of Ryan Gosling, La La Land's lead actor, who simply couldn't hide his amusement at the whole fiasco.
Gosling's subdued giggle instantly went viral, as it perfectly encapsulated how we all felt as we watched this unfortunate, yet amusing moment unfold on live TV.
Every Time Jim Halpert Looked at the Camera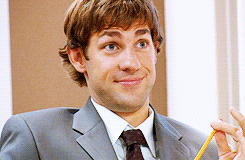 The uncrowned prince of the Land of Smirk has to be none other than Jim Halpert, one of the lead characters from NBC's hit sitcom, The Office.
Jim Halpert, played by John Krasinski, is a salesman in company called Dunder Mifflin who is known around the office for his sarcastic, yet charming personality.
Between his endlessly humorless co-worker Dwight (who is usually on the receiving end of Jim's pranks) and the ever-awkward boss Michael, Jim never lacks reasons to silently judge his peers from the background – usually by gazing straight to the camera and giving it a cheeky crooked smile.
Even though it's been over ten years since The Office premiered (the first episode of the US version aired in 2005), to this day Jim's smirks and camera stares remain a foolproof GIF reaction for every cringe-worthy situation.
Dr. Evil's Villainous Smirk
Dr. Evil, the ultimate parody of action movie villains, was created by comedian Michael Myers.
He made his first appearance in the Austin Powers film series, where he was followed by his faithful minions: Mini-Me (a miniature clone), Number 2 (his second-in-command) and Mr. Bigglesworth, a hairless Sphynx cat.
Throughout the series, Dr. Evil spends his days trying to sabotage Austin Powers and take over the world.
His signature gesture, which has since become a pop-culture phenomenon, is a devilish smirk with a pinky raised to the corner of the mouth.
Because of its over-the-top effect, Dr. Evil's trademark move has become an instantly recognizable symbol of scheming.
Marlon Brandon's Irresistible Smirk and Eye Roll Combo
This list would be incomplete without mentioning the OG of smirks, silver screen actor Marlon Brando.
The vintage bae first rose to prominence in the 1951 film A Street Car Named Desire, which was adapted from Tennessee William's Pulitzer-prize winning award of the same name.
Soon afterwards, Brando's impressive acting skills and good looks transformed him into a bona fide Hollywood hunk.
His mesmerizing appeal was best embodied in the piercing gaze and flirtatious smirk combo that only Brando could pull off.
One of the finest examples of his signature bad boy move can be seen in the screen test for the movie Rebel Without a Cause, a role which, despite Brando's intense charisma, ended up going to another Hollywood heartthrob of the time – James Dean.
All the Smirks That Followed Cersei's Ruthless Plans
No one does the devious half-smile quite like TV's favorite villain, Cersei Lannister.
Cersei, who was brought to life by British actress Lena Hadley, is a fictional character from HBO's record-breaking TV show Game of Thrones.
Daughter of Tywin Lannister and widow of Robert Baratheon, over the course of six seasons, Cersei rose to become the Queen of Westeros, a kingdom long coveted by several noble families.
Her accession to throne was no easy ride, though.
As one of the most Machiavellian characters on the show, Cersei's path to crown was filled with backstabbing, deceit and coldblooded political maneuvering.
In the savage world of power grab for Westeros, Cersei ended up being the mastermind behind many cunning plots to annihilate her enemies or revenge members of her family.
And the best part about it? Her evil smirks.
Often seen pacing through royal chambers with a glass of wine in her hand, you just know Cersei is up to no good when you see one of her infamous crooked smiles.
The most memorable one was probably from the iconic scene that followed the anti-heroine blowing up the Sept, a move that effectively obliterated all of her political enemies in one fell swoop and established Cersei as the new ruler of the realm.
Shaq's Smirk and Shimmy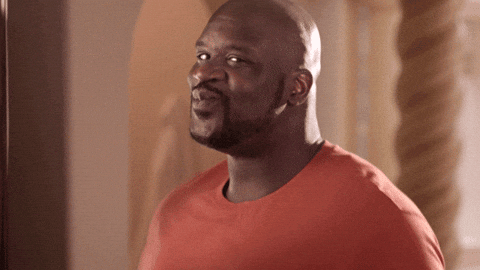 Shaquille O'Neal is best known for being an NBA superstar and an all-around lovable giant.
The larger-than-life GOAT has also been featured in numerous endorsements and ads, one of them for the Gold Bond Power Spray.
And yet, hardly anyone remembers the product the ad was meant to sell.
Why?
Well, it turned out the most memorable takeaway from the advertisement was Shaq's playful shimmy and smirk, which made the 7'1 athlete an instant meme.
It didn't take long for people of the internet to turn this hilarious moment into a GIF (along with its many variations), and the big man himself became the perfect visual representation of feeling saucy.
Rihanna's Self-affirming Smirk + Hair Flip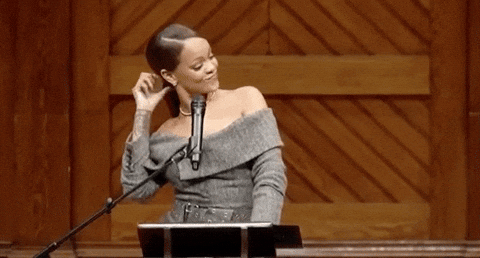 The best smirks come from a place of self-confidence.
And if you need proof, just look at Rihanna!
In 2017, the Barbadian singer was named Humanitarian of the Year by Harvard University.
And you better believe RiRi wasn't holding back when she got up on the platform to give her speech.
'So… I made it to Harvard,' said Rihanna, flipping her long chestnut ponytail and giving the audience a smirk for the ages.
No wonder the internet went crazy over her confident attitude. Bad Gal's cocky move has become the go-to GIF to express #feelingmyself mood.
And there you have it, the most memorable smirks of pop culture! We hope you know what face to make next time you want to cook up an evil plan or sweep someone off their feet.