We are almost at the end of 2020. While some sectors are trying to achieve a semblance of normality, many of our old activities probably won't be back anytime soon. We still heavily rely on online platforms for work-related meetings, get-togethers with friends or family, and attending events like conferences.
Many laptops and webcams don't produce high-quality images, so our appearance during video meetings tends to look different from what we expected. It's either our face looks bright and washed out, paler, or a bit out of shape.
We put together some makeup tips to give a good impression and make you feel good about yourself while video conferencing.
Start with Your Skin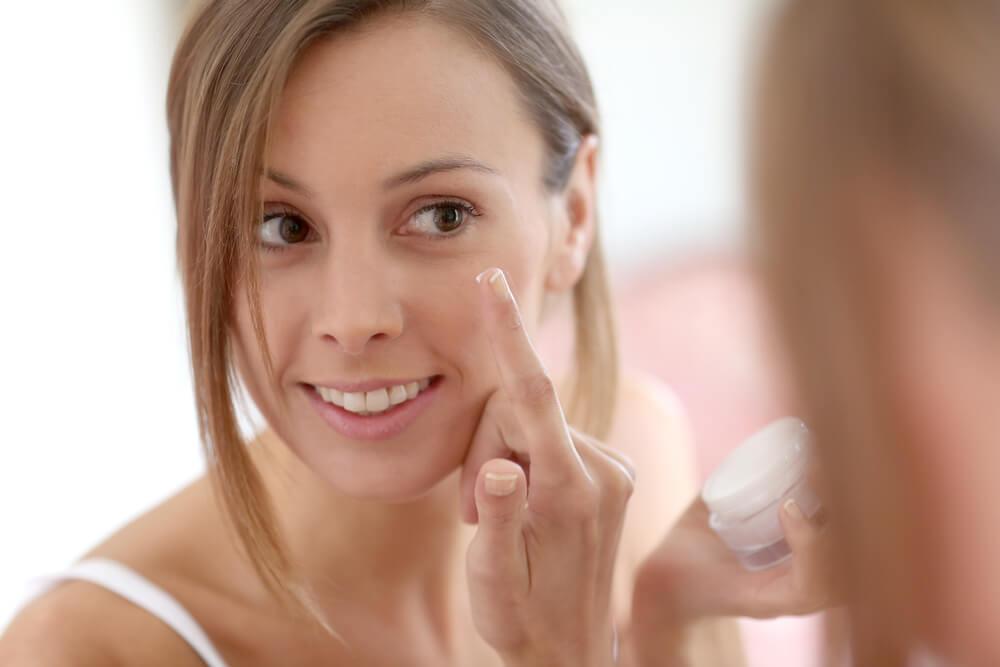 First off, you need to give more attention to your skin first. No matter how much makeup you apply, it will still not look good if your skin is dull. Put in the effort to focus on taking care of your skin.
Celebrity makeup artist Vincent Oquendo told Vogue, "Skincare is absolutely essential when you are starting out any look, whether you're home or not."
As we spend a lot of time at home, our skin doesn't get as much sunlight as it should. Too little sun exposure can make our skin dry; it also has a bunch of health risks we're sure you don't want to develop.
Moisturize

Wash your face thoroughly—a simple thing we often forget when we get too busy. Before putting on makeup, apply moisturizer on your face first. Oquendo recommends using a hydrating moisturizer that would add luminosity to your skin. You can also put on vitamin C serum while you give yourself a gentle facial massage.
Maintain a Routine 

At night, you should also try to establish a simple skincare routine. Dermatologists recommend applying an exfoliating cleanser to get rid of dead skin cells, making your skin look better. And after a day of online meetings, we know you may be too exhausted and are just ready for bed, but please don't forget to wash your makeup off first. Skipping this can irritate your skin. If you don't remove your makeup, all the dirt and pollutants you encountered throughout the day are left trapped in your skin.
Highlight Your Dimensions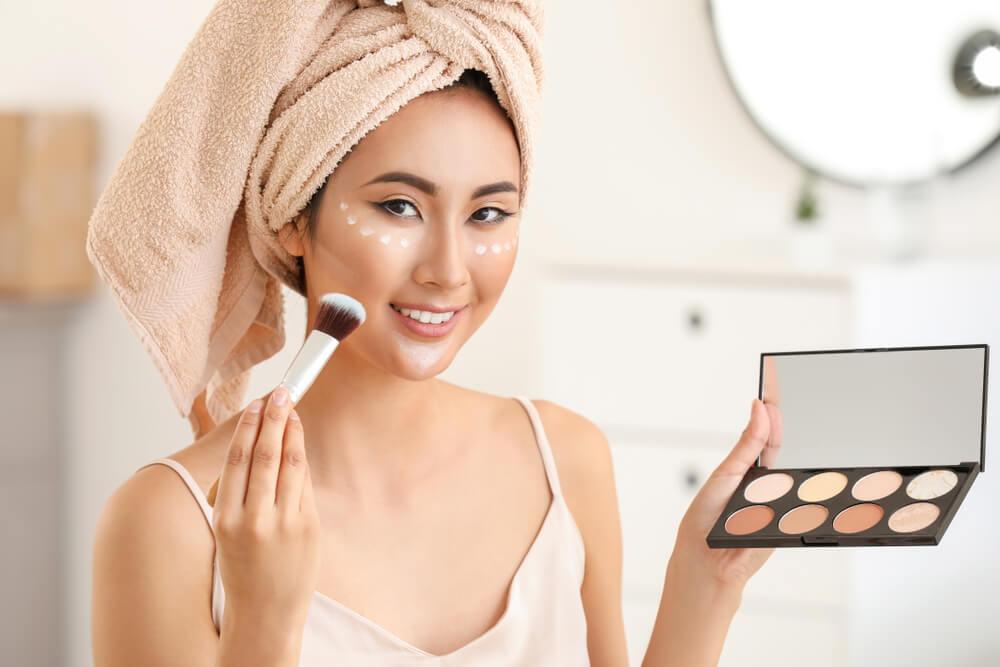 The poor quality of a webcam can alter your face shape. To solve this, you can put highlighter on the parts of your face that usually reflect light such as the following:
Forehead

Below the jaw

Cheekbones

Cheeks
Depuff Your Face 

Before anything else, you must remember to depuff your face. If your meetings are early in the morning, you can notice how your eyes and cheeks are puffing out. A bloated face can come from various reasons, such as too much or too little sleep or having too much salt or wine the previous night.
A puffy face can really affect how you'll look like in your calls, even with makeup. But don't worry, a solution to this is something as simple as using ice-cold facial rollers. It is easy to use. Simply glide the roller on your face in an upward direction as if you are massaging your face. 
Make sure to always keep one in the fridge or freezer every night if you need it the next morning. 
Here are more makeup tips you can use to manage how your face shape appears on video calls:
Don't Use Too Much Foundation

Webcams, especially the cheap ones, tend to blur your skin. If you put on too much foundation for a video meeting, your face will look even more washed out. To avoid this, find a foundation a shade darker than your skin tone. You can also try using a tinted moisturizer or BB cream instead. 
Highlight Your Cheekbones 

To lessen the dull look your webcam gives you, put a little extra blush or a natural highlighter on those cheeks more than you usually apply. The trick in putting highlighters is to brush it on top of your cheekbones, away from the center of your face. If your face is looking dull, use cream blush to make you look healthier.
Contour and Define Your Face

Like how you highlight your cheekbones to make you look livelier, some lifestyle advisers recommend putting on a bronzer on the following parts of your face:
Nose

Top of the forehead

Jaws

Under the cheekbones
The trick to making it look like a natural bronze is to blend it thoroughly and even it out on your face.
Correct Blemishes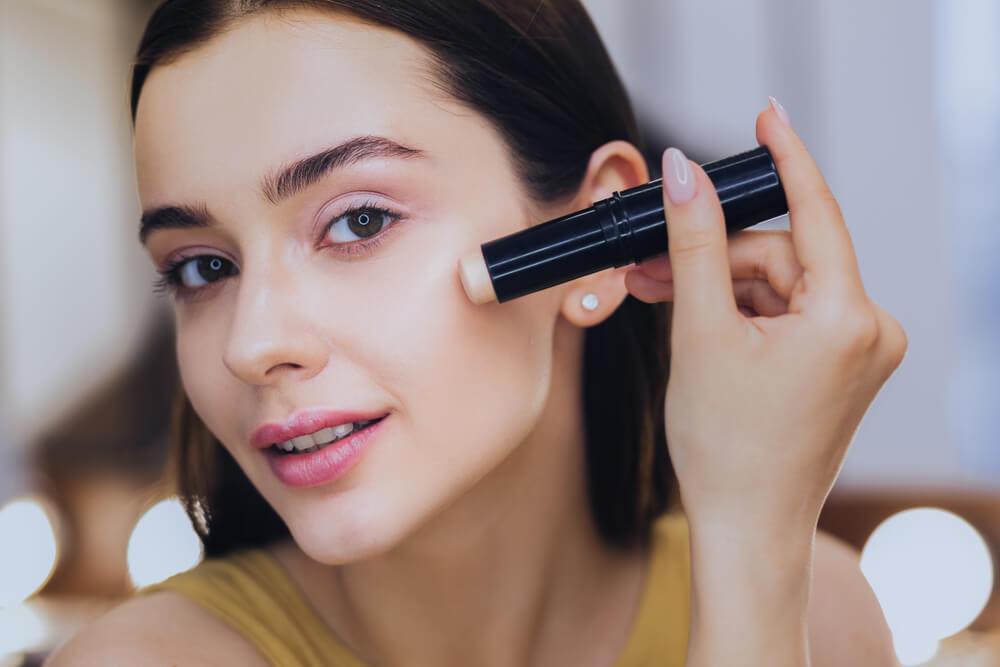 Let's admit it, too much time in our homes can make us lose track of time and stay up very late at night. Lack of sleep can make our eye bags darker, and cameras can make it appear even darker. To make you look amazing and healthier on the screen means you also have to even out your skin tone and correct your blemishes.
Use Concealer

You can think of concealers as a woman's (and a man's!) best friend. It can brighten up your dark circles, even out your skin tone, and cover pimples or marks you don't want to show.
Foundation can do the trick as well, but concealers are more convenient to use when you only want to cover smaller areas of your face. Applying concealers instead of foundation can make your skin breathe a little easier.  
You can also use a concealer to contour your face. Use lighter tones to highlight your nose, cheek, and eyebrows without shimmer while you can use darker shades to put shadows to make your contour more detailed.
Before getting and applying concealer on your face, make sure your fingers are not dirty. To avoid cross-contamination, it is better to use a new cotton swab each time you put on some product.
Next, apply it in spots or dab it on places you want to hide using a crisscross pattern. Gently spread your concealer using the pads of your fingers on the blemishes you want to cover.  Be careful not to rub it to avoid getting a rough result.
Meanwhile, if you want to use a concealer to cover the dark circles under your eyes, make sure it's even with the rest of your face. Don't just put a dab or two under your eyes. To maximize the application of concealer and make your face look sharper, draw an upside-down triangle after applying a dot or two under your eyes. Blend it well until it becomes smooth.
Color Correction

Aside from concealers, you can also rely on color-correcting makeup to help you with your blemishes. There are several colors you can use:
Lavender

can cancel yellow tones
Yellow

corrects purple and other dark shadows
Peach

works on medium skin tone to neutralize purple or blue shadows
Orangey pink

corrects dark spots on dark skin tone
Pale pink

corrects blue-tone areas if you have fair skin
Focus on Your Eyes and Brows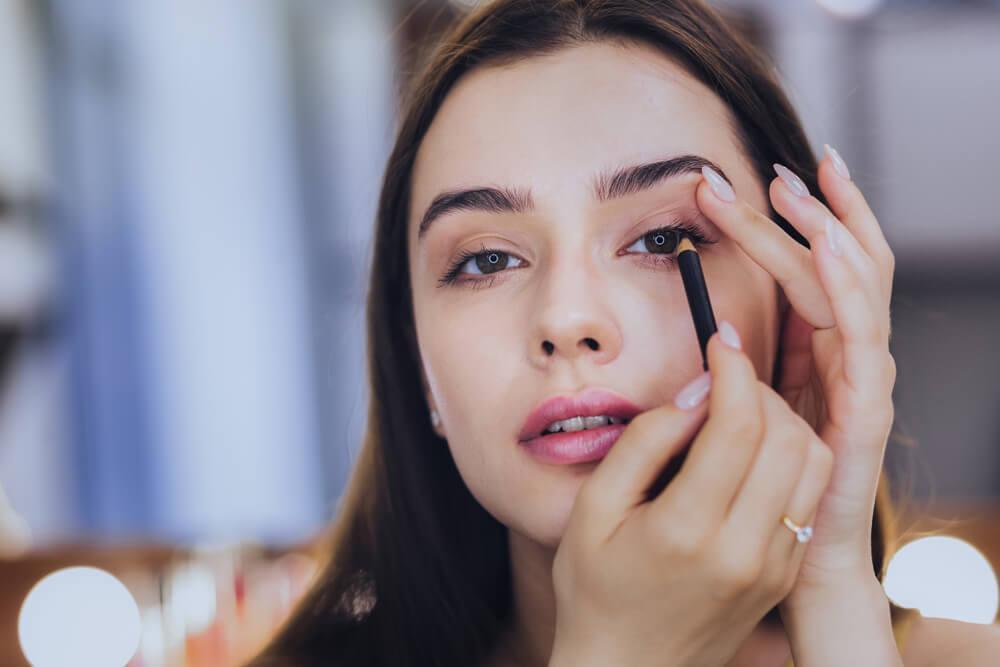 They say the eyes are the windows to our souls.
Our eyes are powerful communicators—yes, even in video calls!
If we are waiting for a response, we tend to focus on the eyes of the person with whom we're talking. 
That's why another important makeup tip you must follow is to emphasize your eye area. Not only will this make you look better and more presentable, but it could also help you become a more effective communicator as well.
Here are a couple of tips for applying eye makeup and some tips from makeup artist Kelsey Deenihan. These would guide you on how to flaunt those eyes and brows better:
Before jumping right away with your eye makeup, make sure you have a great makeup brush for precision and hygienic purposes. Go with what you prefer, whether they're synthetic brushes or natural-fiber brushes. We do like our synthetic makeup brushes as they are more affordable, easier to clean, and less likely to cause allergic reactions.
Apply Eyeshadow 

It is hard to hide tired eyes while video conferencing, even with cheap and low-quality webcams. We can still make our eyes a little less dull by giving it applying eyeshadow. From neutral to bright and glittery, you're free to choose your style!
The first step is to add a base of eyeshadow to your lid. For some makeup styles, such as creating a smoky eye color, you may spread the base color to your brow bone. But for an everyday look and online meetings, you may limit the base color at the creases of your eyes.
One pro tip for applying eyeshadow is to put the darker colored shadows to your creases and concentrate the light and shimmering shade to your lids. The dark color in your creases will create a pop-look and depth to your eyes.
Deenihan also recommends that you trace your eyeliner underneath your lash line to make your eyes look wider. This will surely enhance the bordering lines of your eyes!
Curl Your Lashes

Not a fan of eyeshadow?
That's not a problem!
You can drop other eye makeup steps, but curling up your lashes is not one of them. It makes your eyes look wider and more awake, perfect for looking more presentable in video meetings.
You can also use fake lashes!
There are many types of lashes you could look into depending on eye shape. Remember to use a lash primer to prevent clumpy-looking mascara, which you will have to put on later.
Use Mascara 

The last step in the eye makeup trio is mascara. It is the final touch to the previous two eye steps we mentioned, kind of like the cherry on top. Deenihan says, "Mascara … [is] going to accentuate the perimeter of your eye and make it appear larger." On camera, it will make your eyes look brighter and look more defined.
Fill in Your Brows

Of course, we're not going to miss the brows.
Clean-shaped and well-shaded brows highlight your face very well and enhance your eyes. Well-defined brows also makes your face look cleaner in general. With a brow pencil or a brow powder, fill in the gaps in your brows to make it look even and finer.
Add More Color to Your Face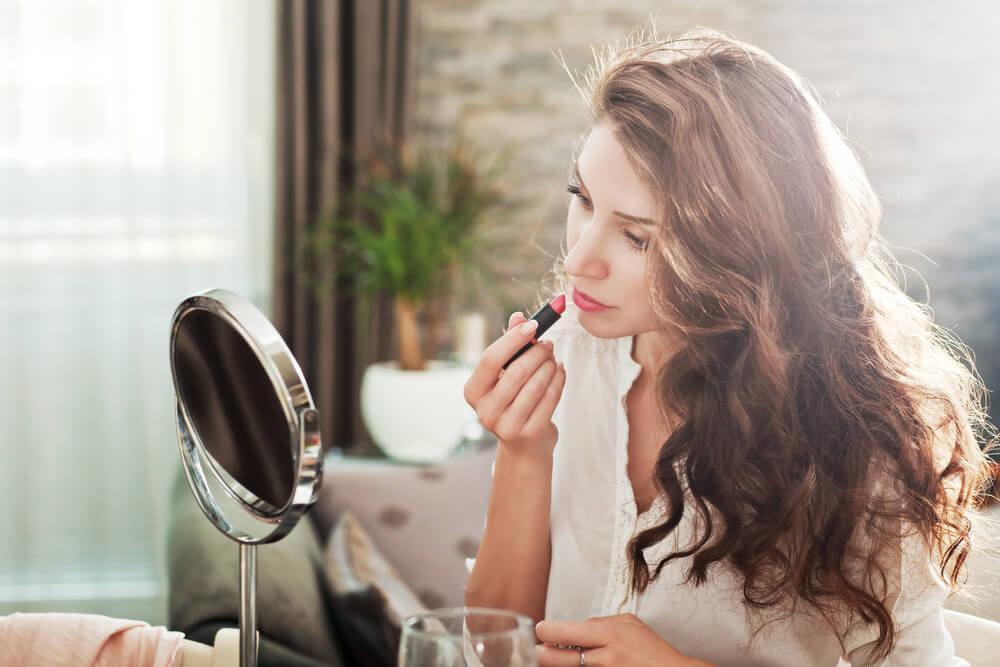 Last and but least—probably the most basic of all advice, even—the only thing you need to make you look like you're wearing makeup: a good lipstick. Finding an appropriate shade of lipstick that matches your skin tone comes in very handy. For example, if you want to let your skin breathe from makeup or you simply don't have the time to fix up, just put on lipstick, and you're good to go.
Finding the right shade of your lipstick depends on your skin tone. For cooler skin tones, go for cooler or lighter shades. As for warmer skin tone, darker shades are the most suitable for you.
If you don't know how to check your undertone, one trick is to look at how the color of your veins on your arms appear. If they appear to you as blue, that means you have a cool undertone. But if your vein appears green, that means you have a warmer undertone.
Feel Good & Look Good in the New Normal

The circumstances that the pandemic has put us in is no joke. This time of crisis has put us in a place where we had to let go of a lot of almost everything that we have become accustomed to.
The online transition of almost every interaction can sometimes be convenient but also very exhausting at times. But as humans, we are gradually learning to adapt and cope, no matter how difficult things can be. Practicing self-care by dressing up and making ourselves feel and look good can be one of our coping mechanisms.
We hope that giving you these makeup tips to look amazing on your video calls can also motivate you to brace through other challenges in these trying times. May this encourage you to get up, get ready, and survive the new normal fabulously.