Canada; so it's not exactly the destination of the rich and famous. We seldom see a Kardashian taking on the Rocky Mountains or sliding down Niagara Falls, although it might make a really interesting photo shoot.
Canada is cold, it's icy, it makes your nose run and your cheeks red; it's no place for showing off your bikini bod or sporting your stiletto heels. Canada is for big burly bearded guys in flannel shirts named "Bud" or "Rex." It's for ice fishing and mountain climbing, and camping in sub-zero temperatures. Where is the glamour?
But Canada is full of glamour, and it's not just because its the home of Justin Bieber or Justin Trudeau, or because half the population speaks French. The glamour of Canada is in its majestic mountains, rushing lakes, and massive waterfalls. If you want to want to find the glamour of Canada, here are some places you need to put on your bucket list.
Niagara Falls
You really can't go to Canada without making a stop in Niagara Falls; in fact, there my be a law against it. While it is not recommended that one try to actually go over the falls, barrel optional, there is certainly a wealth of much safer ways to make the most of the stunning view.
If you have a lust for extreme action, the newest and one of the most breathtaking ways to view Niagara is from a zip line. It was only a matter of time before someone realized the synergy between the two, and zip lining over the Niagara is surely something you'll tell your children about. The helicopter ride is another option, but it surely seems tame by comparison.
For those who want a more upscale (in more ways than one) view of the falls, the Skylon Tower Revolving Dining Room is set 775 ft above the Falls. With 360 degree revolutions every hour, you'll want to keep your camera close and your motion sickness pills closer.
The Rocky Mountains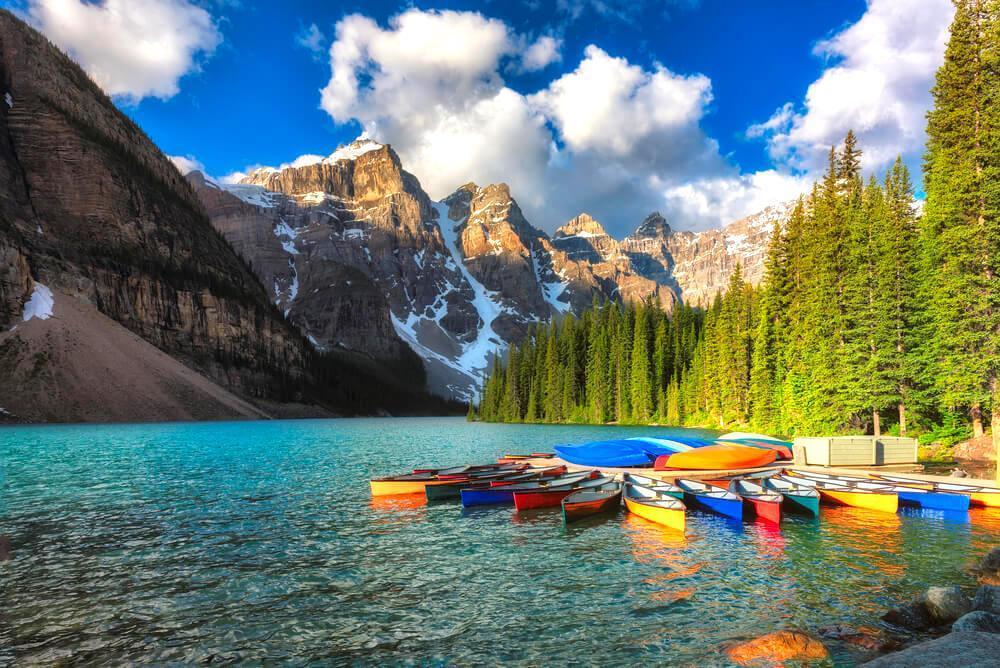 Planning a trip to the Rocky Mountains might just be slightly less difficult than planning your daughter's wedding. While most of us hire a wedding planner to help navigate their way around floral arrangements and caterers, it may be a good idea to hire a tour guide to help navigate your way around the Rocky Mountains. Of course, if you choose to go it alone, just make sure you do your research.
The most popular option for exploring the Rockies is self-driving. As long as it's not the winter season, the roads are pretty easy to navigate and comfortable to drive.
As for the hot spots, or should we say, cold spots, Cochrane Ranche Historic site is Canada's answer to the Wild West, if you should get the urge to don your ten-gallon hat and kick up your heels.
If that's not thrilling enough for you, travel west to Banff for some whitewater rafting, back country skiing, ice climbing, or some good old Alberta Mountaineering. The view is staggering and you'll make memories that will last a lifetime.
Lake Louise
If ever there was an overuse of jewel tones, it would be in the descriptions of Lake Louise. With the amount of "turquoise, emerald, and azure" tossed around in descriptions of the lake, you may think that even Katy Perry might tell the website writers to tone it down a bit. However, when you see Lake Louise, you may just agree that there is no more appropriate way to describe it.
Lake Louise is a glacial lake located in Banff National Park in the Rockies that get its emerald, aquamarine, vermillion appearance from the rock flour that stream into the lake from the water melting off glaciers. Named for the 4th daughter of Queen Victoria, Princess Louis Caroline Alberta, there is no doubt that there is something majestic about this lake.
If a gondola ride seems like the thing to do on Lake Louise, that's because it is. Canoeing and kayaking are both popular ways to see the stunning Lake, and canoe rentals are available. There are also skiing and hiking activities, and if you don't mind a few overbearing chipmunks, things are buzzing at the Beehive.
Yukon
When the government suggests submitting a hiking route to the local police before you go there, you may want to make sure you're wearing clean underwear. Make no mistake, if you're not prepared to go mano a mano with the Mother Nature, you may want to think twice about going to Yukon's Tombstone Territorial Park.
Think that extreme sports are challenging, they've got nothing on the Tombstone. This is the Dhal Ch'el Cha Nan, "ragged mountain land," legacy of the Tr'ondek Hwech'in clan; 220 kilometers of arctic tundra, permafrost, rugged peaks, and First Nation culture. You're on nature's turf here, so you better mind your p's and q's. Know the camping, hunting, and fishing regulations, don't leave footprints, and cram on your viewing etiquette.
However, if you think you're up for it, what doesn't kill you makes you stronger. The Yukon has one of the most diverse collections of ecological niches and a concentration of the most unusual and stunning flora and fauna on the earth. Just be prepared, there's no cell service at the park, and for many, that might be the biggest challenge of all.
Whistler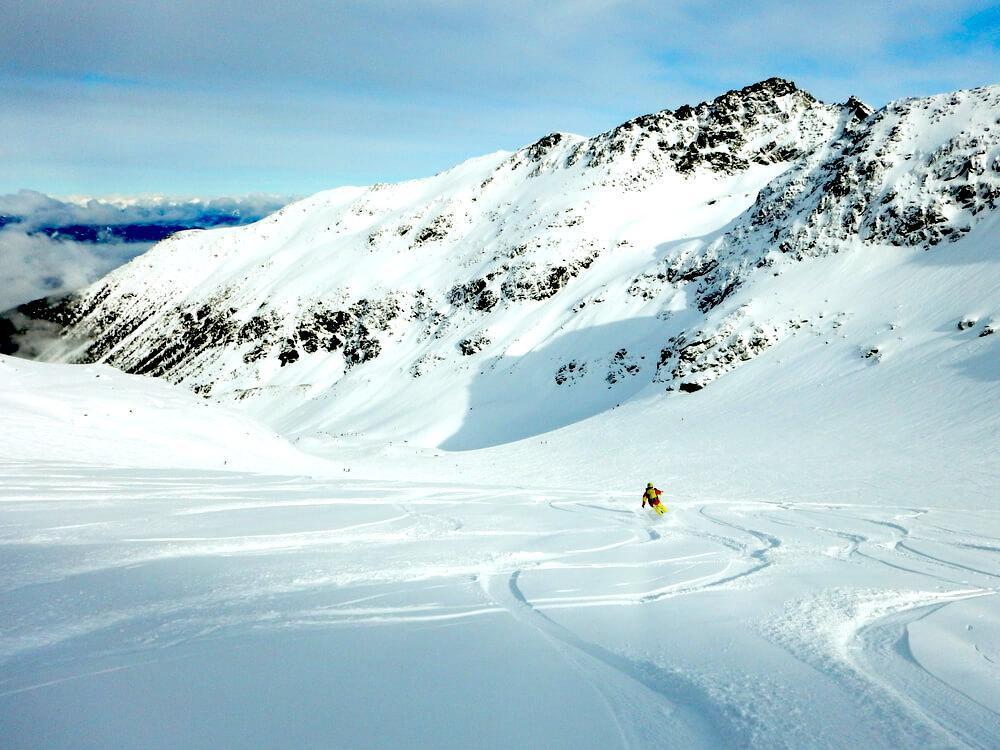 If you follow the call of the hoary marmots, it will lead you to the foggy, cloudy mountain known as "Whistler." Named for the mammals who produce the balloon deflating sound, Whistler is one of the most highly sought destinations for alpine skiing snowboarding, and bobsledding. When the world got its initial view of Whistler during the 2010 Olympics, it was love at first sight. One look at the gabled alpine village, and it was clear that this was the best place to spend Christmas aside from the North Pole, however, nowadays just as many people come to summer in Whistler as to winter.
What does summer at Whistler look like? Climb into a PEAK 2 PEAK gondola and find out. Summers at Whistler offer so many outdoor activities, you'll forget that winter there was even a 'thing." Go zip lining, white water rafting, bungee jumping, or take a tour in a 4×4. There are ice cave tours, glacier tours, and don't forget to hit the Scandinave Spa, and take a few selfies of what life looks like from the top of the mountain. Also, check out the village, it's also quite charming in the summer.
Eagle Lake and Reindeer Lake
So, we're all pretty familiar now with extreme fishing, thanks to reality television, and we've all gotten an eyeful of some fly fisherman putting some massive shoulder work into hauling in some pretty massive catches. Although not all fishing in Canada is quite so dramatic, there are some pretty trophy worthy catches to be had.
When it comes to fishing in northern Ontario, Eagle Lake is unparalleled. The one hundred km long lake is teeming with enough Walleye, Trout, Small Mouth Bass, Northern Pike, and Perch to feed an army, but the catch of the day here is hands down the Muskellunge. Known as "the fish of ten thousand casts," these fish can grow to a whopping seventy pounds, so be prepared to put some muscle into it if you're thinking of reeling some in.
The kids will love it for the Reindeer, you'll love it for the fish. Reindeer Lake may be named for the herds of Caribou that flock there in the winter, but if you want to get schooled on schools of fish, Reindeer Lake is the reel thing. It's home to Lake Trout, Arctic Grayling, Northern Pike, and Walleye, among others, and local legend has it that there's a lake monster in there as well, so be careful about what's pulling on your line.
Lake Winnipeg
You might think that the last place you would see a Viking is on the beach. After all, they don't seem like they would tan too easily, and the beard rings might prove to be problematic in the water. However, apparently it was when the Vikings came to Manitoba, that they discovered some of the most pristine beaches in Canada. Lake Winnipeg is one of the world's largest freshwater lakes, and Gimli (named for the Norse mythological word for Paradise) is one of its most popular beaches.
While Canada may not be the first place that one thinks of as a beach getaway, Lake Winnipeg is the site of a sprawling white sand that beckons sun worshippers, anglers looking to catch some perch or walleye, kiteboarders and snowboarders looking to sail the water rf skim the ice, making Lake Winnipeg an all season destination.
Additionally, if you're looking to "embrace your inner Viking," the Icelandic Festival of Manitoba runs in Gimli in early August, and if you want to know what a Viking on the Beachlooks like, come and join in the folk music and fireworks fun at Lake Winnipeg.
Drumheller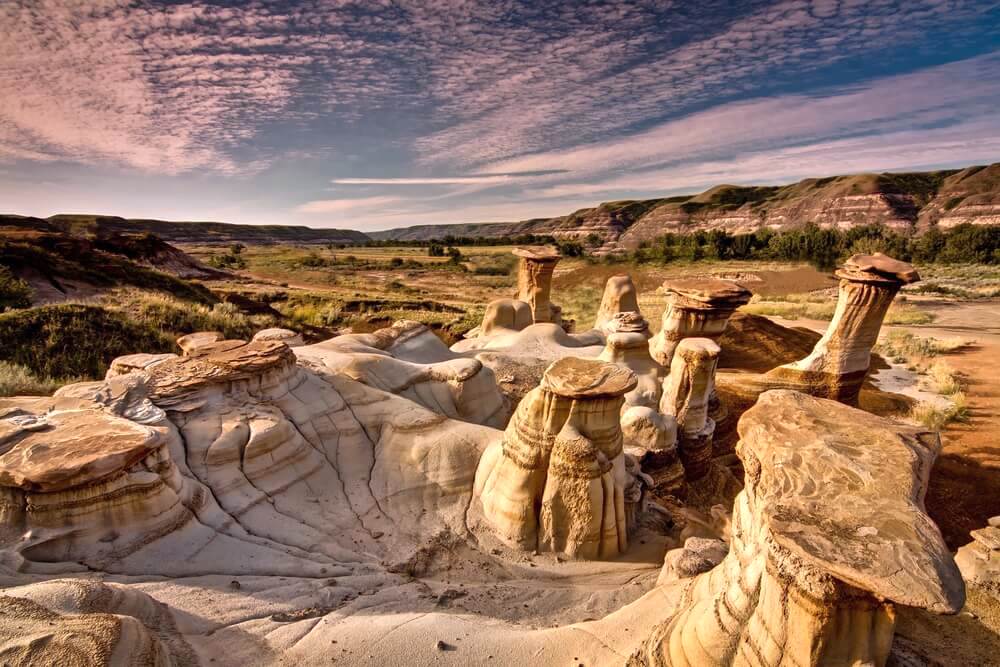 You may have heard of the T Rex, the brontosaurus, the triceratops, and Barney, but have you ever heard of the Albertosaurus, the Albertadromeus, the Albertaceratops, and the Albertonectes? Why are there so many dinosaurs named after the province of Alberta, Canada? Because Drumheller, Alberta is the best place in the world for dinosaur fossils.
While most of the fossils have been put on display in the Russell Tyrell Museum eons of erosion regularly turn up a jaw-dropping number of new ones, turning the area into a hotbed for all dino-enthusiasts across the world. Dinosaur Provincial Park is known for its paleontological tours and camping, and the Pipestone Creek bone bed may have enough bones to make Jurassic Park look like a Lego set.
When your inner carnivore/ herbivore/ omnivore starts to call, make your way to the Canadian Badlands. Filled with ghost towns and rustic ranches, you'll find something to satisfy your hunger and your curiosity.
Capillano Suspension Bridge Park
Do you ever feel your inner Indiana Jones kicking to get out? Do you ever feel the urge to explore wild jungles, cross suspension bridges, discover ancient artifacts, and swing on vines? Well, you might want to leave the vine swinging to Indiana, but you can do all the rest of the above at Capilano Suspension Bridge Park. Built originally in 1889, the Capilano Suspension Bridge is a 450 ft long bridge located 230 feet above the Capilano River.
However, if a walk across that seems like a walk in the park to you, try Cliffwalk. The newest addition to the park is a cantilevered walkway located on a granite cliff high above Capilano Canyon, proceed with caution. Treetops adventure bridges though the evergreens 100 feet above the floor of the rainforest, offering visitors a literal birds-eye view.
So what's all the hype about the Capilano about? Besides being the site of one of the most diverse ecosystems on this earth, the Capilano is the original home of the BC First Nations people at Kia'palano and they've left their totem poles there to tell their story. Now what would Indiana say about that?
Big Muddy Valley and the Outlaw Trail
It may sound like the name of a Southern Rock Band, but the Big Muddy Valley and Outlaw Trail is actually just one of the many places that gives Canada its rugged reputation. What is it about the Bonnie and Clyde storyline that attracts us to wide open spaces in the middle of the country?
The Big Muddy is located just north of the U.S. border which made it the ideal hideout for outlaws and bank riders looking to "disappear" in the wide expense of the Saskatchewan during the late 1800's and early 1900's.
Today, just the scenery of the valley with its prickly pair cactus and sandstone ravines, makes it easy to picture Billy the Kid drawing his six guns and making tracks for one of the outlaw caves open to public viewing today. Don't worry though, for visitors, the dwelling is far from cavelike. There is free Wi-fi available in the nearest hotel along with all the comforts of modern technology.