There is no denying the beauty that comes along with the months of fall, and what better way to celebrate this than by putting together outfits that emulate the season? Whether you are heading away for the weekend, or for a night on the town with your girlfriends, here are some fall-inspired outfits for every occasion.
1. A Walk in the Park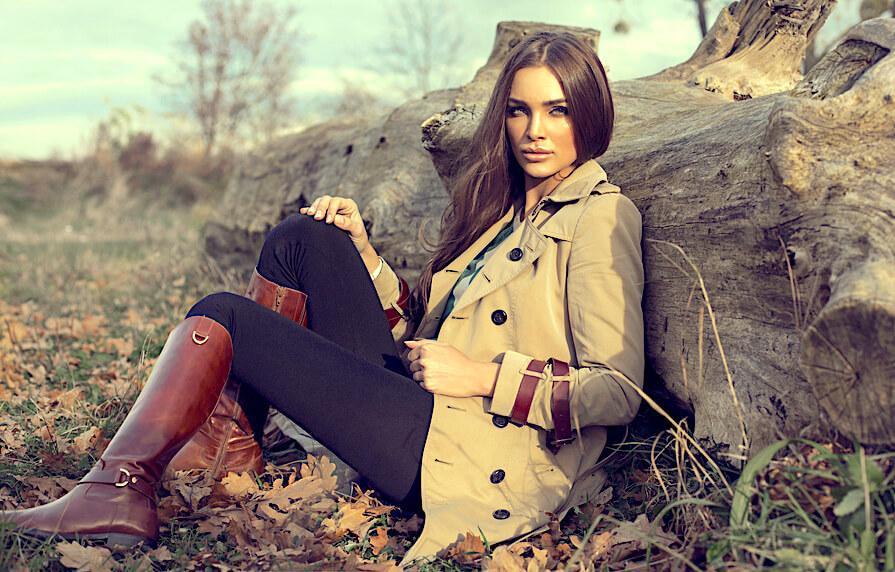 The natural world transforms into fiery shades of red and gold during the fall months, and taking a walk through your local park or nature reserve is the best way to really soak all of this beauty up.
But, what do you wear?
Well, try going for a classic jeans and t-shirt combination, but then throwing a light colored trench coat over the top. Trench coats are synonymous with spring and fall, being the perfect outerwear for transitional seasons.
Did you know…
Trench coats date way back to the 1850's, making them a classic item of clothing – one that will never really go out of style.
Wondering how to choose a trench coat that accentuates your figure, rather than drowning it out?
Here are a few tips to keep in mind:
Length –

Shorter trench coats are more on-trend, and are perfect with jeans, but a longer line provides a greater sense of sophistication
Single or Double Breasted –

Single breasted trench coats are clean and elegant, and will not widen your figure. Double breasted coats are more classic, but make sure that you choose one with buttons that blend into the fabric, so that they do not distract from your silhouette
Belt –

Just about every trench coat will come with a belt, and these are great for cinching in the waist. However, if you go for an A-line cut, a belt may not be necessary, especially if you have naturally curvy hips
Color –

A classic, neutral color, such as beige or black, will work with just about everything, whereas a brighter, more vibrant color, makes more of a statement, but can be harder to style
To give yourself some extra warmth, add in a few autumnal accessories, such as a knitted hat, leather gloves and casual, knee-high boots. However, remember to keep the heel to a minimum, so that you have more freedom to explore your surroundings.
2. Paint the Town Red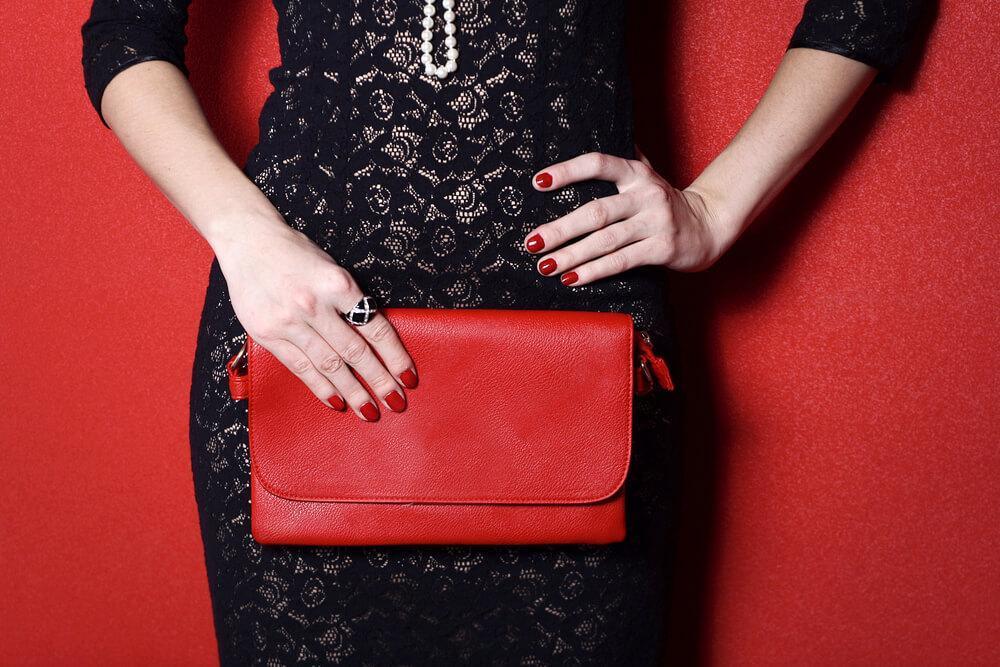 A classic little black dress is perfect for a night out on the town, no matter what season it may be. However, by opting for autumnal colors when it comes to your accessories, you will be able to tie your black dress in with the season.
Red is perfect, especially since it works so well with black, creating a striking color palette.
Try pairing your LBD with a red clutch bag, and opting for red nails and red lips as well, to really push the color forward.
This is quite a simple look, so you need to ensure that your LBD really flatters your figure if you want to pull this off.
Here are a few tips to help you to match your body shape to the perfect dress:
Pear-Shaped

– A halter dress will show off your shoulders and balance out your hips
Petite –

A sheath dress that falls to mid-knee will elongate your figure
Curvy –

Look for a dress with a V-neck, as this will accentuate your bust and make your waist look narrower
Plus-Sized –

A wrap dress works for just about every body shape, as it hugs the shoulders and waist but remains looser around the lower half of the body
3. A Romantic Date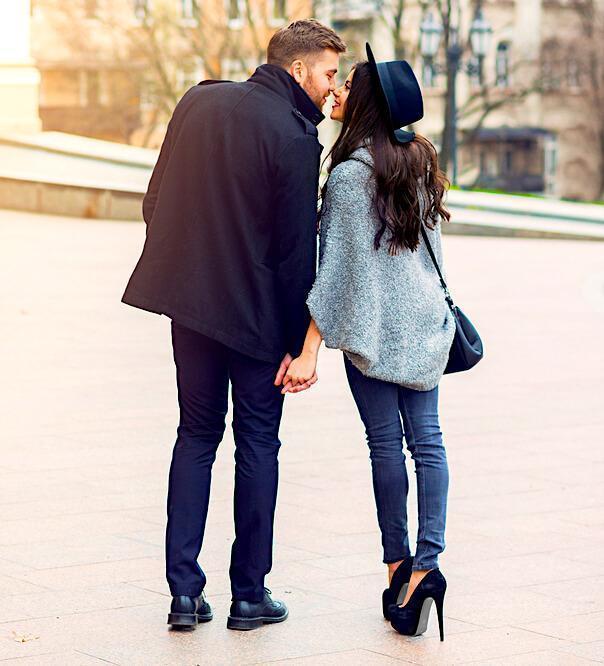 When planning an outfit for a fall date, you want to ensure that you stay warm, while still looking feminine and sexy.
Jeans are a fail-proof option, as these will work no matter what activities you have planned for your date. Black or grey jeans are great for evening cocktails and dinner, whilst blue jeans are cute and ideal for fun activities or a relaxing lunch.
However, you will still need to amp this outfit up a bit, and this is where the stilettos come in…
Stilettos will instantly elevate your outfit, making it look dressier and sexier, and you can opt for shoes in any color that you want, especially if the rest of your outfit is kept relatively neutral.
If you are likely to be walking around quite a bit on your date, then you may want to follow some of these tips to ensure that your feet stay comfortable in your heels:
Use

gel insoles

to ease some of the pressure that heels place on your feet

Keep your

posture

straight

Wear stilettos with straps or ties

Choose shoes that are half a size bigger, as this will accommodate for swollen feet by the end of the day

Opt for a rounded toe, as this allows your toes to lie flat
To finish off the outfit, add some simple, light and clean-cut jewelry to bring out that romantic and elegant feel.
4. Pumpkin-Picking Time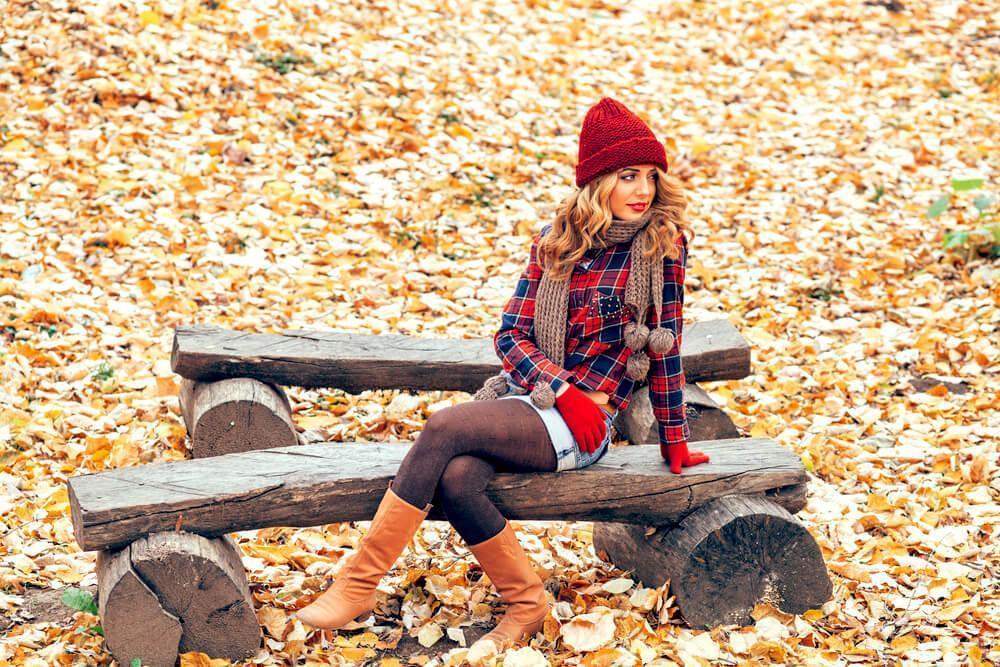 Fall is synonymous with harvest-related activities, and pumpkin-picking is one of the most popular of them all.
This is an activity in which you will need to dress quite casual, as you do not want to have to worry about getting your clothes dirty.
Plaid shirts are such a versatile fall staple, and are perfect for an occasion such as this. They can be styled in so many ways, but, for an activity such as pumpkin-picking, you would be best off pairing it with jeans or leggings.
Want to still be able to show a bit of skin?
A pair of chic ripped jeans goes a long way in keeping you warm and trendy whilst showing a bit of leg, and can pull your whole outfit together. If the weather is particularly chilly, layer some light tights, or even fishnets, underneath your distressed jeans. When searching through denim heaven for the perfect pair, keep the following in mind:
Boyfriend cut

jeans are comfortable, casual and down-to-earth. For

long legs

, the perfect pair should be easy to find as they're less likely to drown your figure. For

petite

ladies, opt for a tapered leg, to outline your silhouette whilst ensuring the jeans aren't wearing you
Skinny or cigarette cut jeans

with distressed rips in the thighs and knees are perfect for showing off

curves

in the right places, and are easy to dress up or down for any occasion with either trainers, sandals, stilettos or ankle boots
Vertical rips

can help you look

taller

and

slimmer

, whilst

horizontal rips

can have the opposite effect
Blue jeans

are great for keeping things casual, whilst

darker jeans

can be more flattering, with an

elongating

effect on your legs
A knitted bobble hat is then the perfect way to complete your outfit, and will give you some added warmth on a colder day.
5. Shopping in the City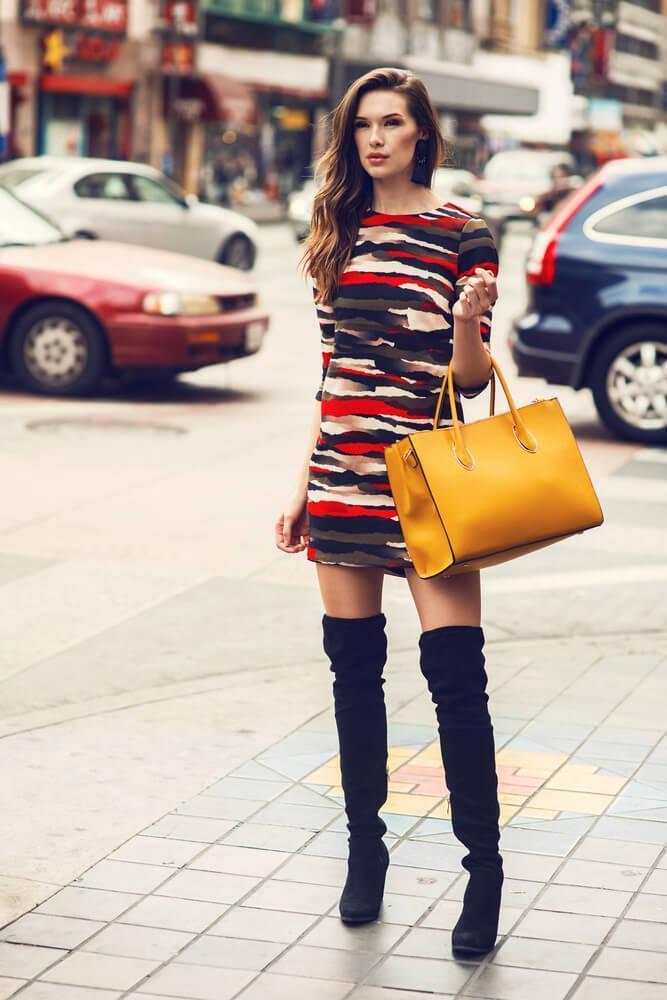 Planning on spending the day shopping in a big city? If so, you would be best off with an outfit that is chic and stylish, but comfortable to wear, as well as easy to remove for when you need to try on clothes.
A short dress is perfect for this, especially if you opt for one that has a vibrant print, as this will add some color to what would otherwise be quite a simple outfit.
Want to glam it up a bit?
Give thigh-high boots a try. Don't own any yet? Here is what you need to know:
Fit –

Skin-tight boots can sometimes be overly sexual, so take a look at the slouchy options available
Material –

Boots that have an elasticated back are best if you have larger calves, as these will make them easy to put on and take off
Styling –

Thigh-high boots are quite versatile, so experiment with styling, whether this means you turn them down at the top or slouch the middle section
Not only are thigh-high boots so chic, as long as they are styled correctly, but they also provide an extra layer of warmth, making them perfect for the fall months.
6. Casual Friday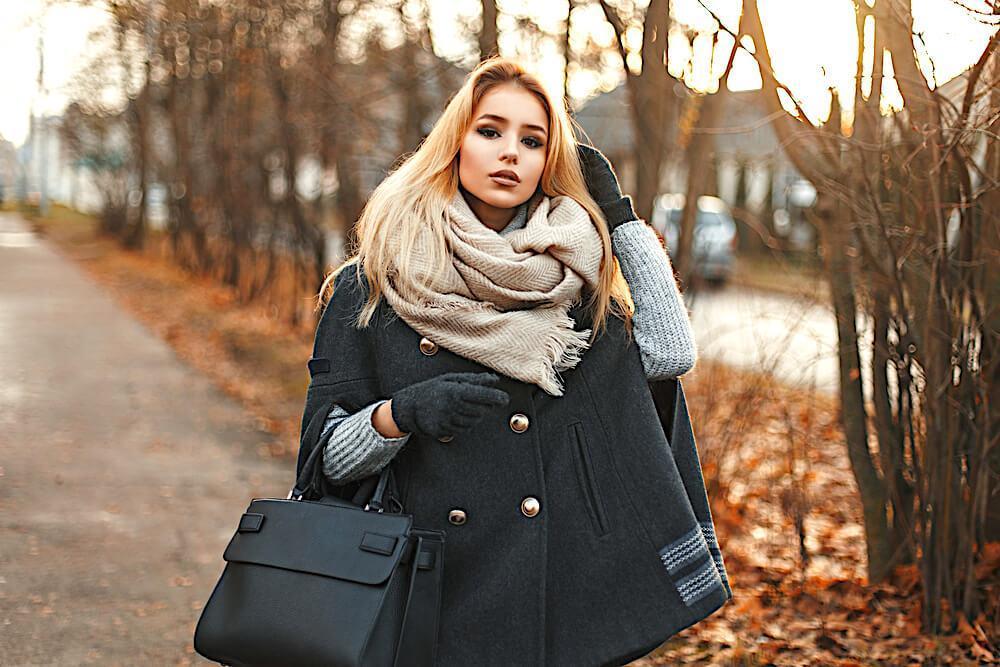 Casual Fridays are the perfect opportunity to bring some of your fashion flair to work with you. While you likely already have a few go-to outfits for your favorite day of the week, you will need to add in a few extra layers to keep you warm.
To give your overall silhouette more of a fun edge, try throwing a cape coat over your work outfit. These are available in so many different styles, from trench coats to pea coats, but will all feature more of a cape silhouette.
One thing to keep in mind is what looks best with your cape coat…
A

cropped cape

looks trendy and chic with a short skirt and tights or distressed grey skinny jeans 

Larger capes with more material and folds are best balanced with a fitted pencil skirt to provide a sexy outline of your lower half 

A

long cape

that may normally drown your figure can look great with a simple belt around your waist to give you that desired hourglass shape

Add a pair of

heels

to bring it to the next level – whether it's cute and dainty stilettos or tight knee-high boots, ensure they're

fitted

and

slender

to offset the voluminous nature of your coat  

A thick,

oversized scarf

adds to that triangular shape which now begins with your head rather than your neck,

elongating your torso

in the process  
Finish the look with a pair of fitted matching gloves and a square, structured bag. 
7. Museum-Hopping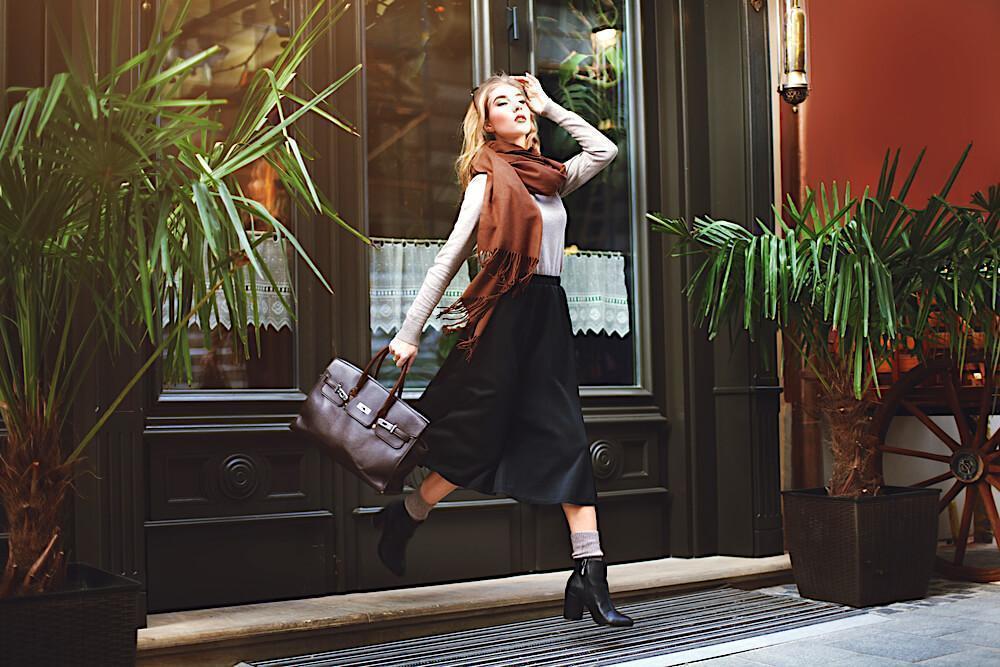 Chilly fall days are a great excuse to spend some time indoors. Whether it's for a date, an afternoon with friends, or some quality time with yourself, museum-hopping is a relaxing activity to while away a rainy afternoon and soak up some culture.
Wearing a standout item is suggested, and nothing says sophisticated art expert like a flowing midi or maxi skirt. Pair it with a subtle, thin sweater to avoid chaotic layering indoors, a chunky, snug scarf and a gorgeous pair of ankle boots or slender sock boots.
A fitting, tight

upper half is essential at providing the shape to your body when your lower half lacks it.

Balance is key,

so a figure-hugging sweater or fitted shirt is a great partner to an elegant skirt.
Avoid

long, engulfing coats. Keep the top half simple and short, so grab a leather jacket or a cropped blazer
Add a splash of autumnal colour with a bright red, orange or yellow scarf, or keep it neutral with warm tones of brown.
8. The School Run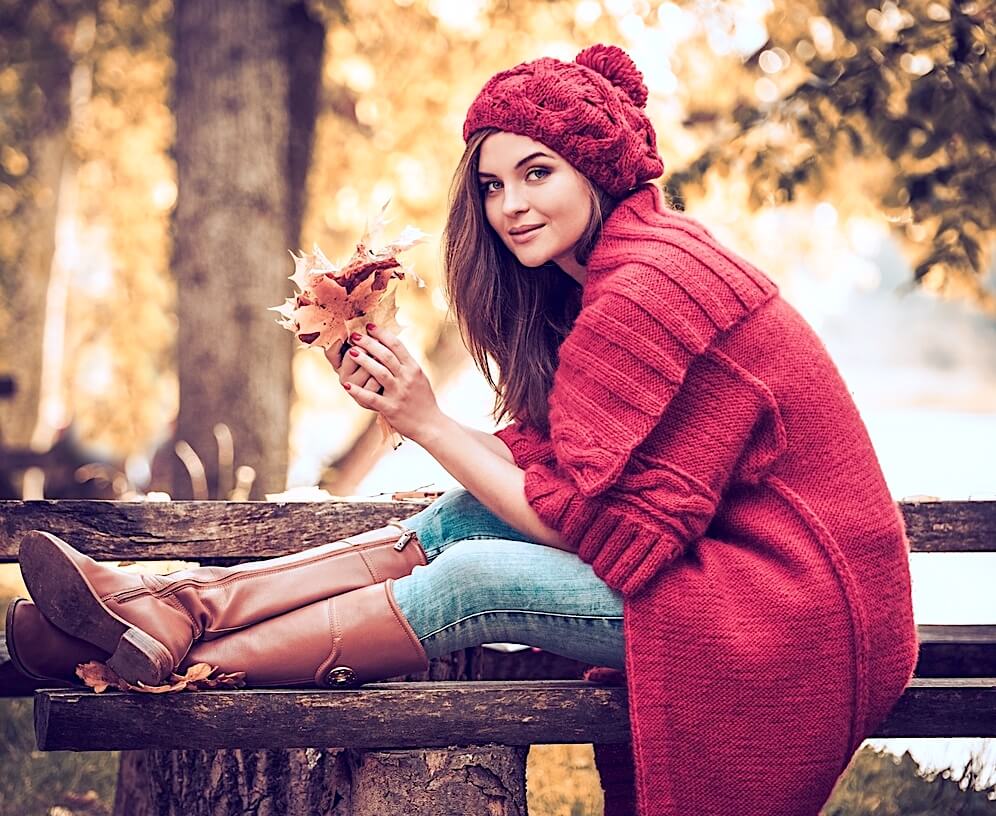 With the beginning of fall comes the end of summer vacation, and that means getting you and your little ones prepped for the start of school. Mornings will undoubtedly be filled with waking up children, getting everyone dressed and ready for a long day, making breakfast and packing school lunches and finally loading them all in the car.
It's important to remember that practical can still be stylish. At such a hectic time of the day, the last thing you need is to stress out about what to wear…
Keep

warm

and sophisticated with a

knitted jumper.

Black is classy and easily paired, whilst a bright color like red or yellow can spruce up a dark over-layer

A fitted but

comfortable pair of grey or blue jeans

look great with just about anything and are ideal for lots of walking

Knee-high flat boots, black or tan

, are essential for comfort, avoiding muddy playground catastrophes, and add an autumnal flair to your outfit

Top it off with a

thick, oversized cardigan

– opt for a bright red or orange to jazz up a generally

monochrome wardrobe

, or dark grey to tie together the vivid colors beneath
If it's particularly windy, nothing says fall is here like a knitted bobble hat or beret to keep your hair in place and give you that extra glamour.