It happens every summer. You start with a list of plans, and the beach in almost every one. On Saturday, you're going to the beach with your bestie, the next Thursday, you're going to the beach with your significant other, the Saturday after that, you're going to do some meditative yoga on the beach, and then you're going to spend the next month doing resistance running with on the sand with your exercise class.
Then summer comes, your car breaks down, you break up with your boyfriend, you're too depressed to exercise, and you outgrow your bikini. Ok, so that's a pretty bleak forecast, but the point is, the summer passes, and you haven't been to the beach once.
The bottom line is life often gets in the way of living, and sometimes, we miss out on good opportunities, but if you want to find the best way of getting to the beach on your vacation, your best bet is to make the beach your vacation. There are beautiful white sand beaches out there just waiting for you to put your footprints in, and we've put together some of the ultimate summer beach destinations below.
1. Pahoa, Hawaii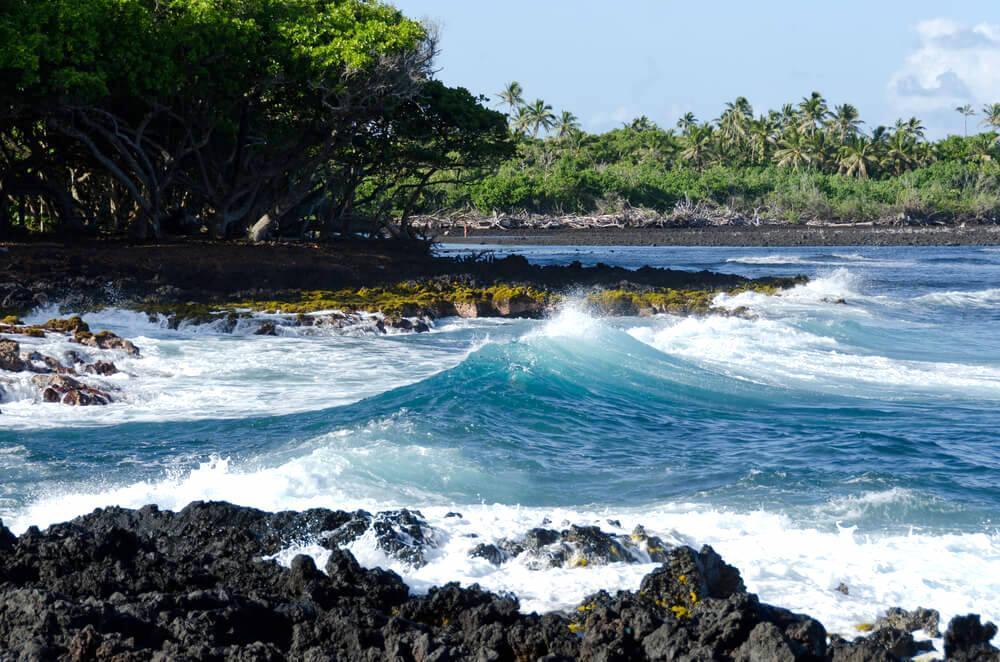 Let's start off in the good old USA. You really can't think of the word 'beach' without thinking about the tropical islands and palm trees of Hawaii, and you probably can't think of Hawaii without thinking of the tropics and palm trees.
Pahoa is the Big Island town with the little hippie vibe, so feel free to strip down and get baked. (This refers to the sun, of course.)
When you're in Pahoa, you definitely want to check out Isaac Hale Beach Park. There, you can pull yourself right up to the black volcanic rock and wait for the show to begin. At Isaac Hale, you'll see the bravest surfers ride the biggest waves, and if you think you've got the skills, you're more than welcome to put them to the test. Keep your eyes out for Enzo's Ice Cream truck. We recommend the vegan surplus starfruit, and if you catch Enzo in a good mood, he may even be willing to set you up with a little rambutan freebie!
If you're looking for something a little more "clothing optional," the Kehena Black Sand Beach may be right up your alley. Even the "no nudity" laws in Hawaii can't stop these lively beachgoers from showing their stuff. The drum circle on Sundays is not to be missed, but the waves can be gnarly, so think twice before heading into the waters.
2. The Beaches of French Polynesia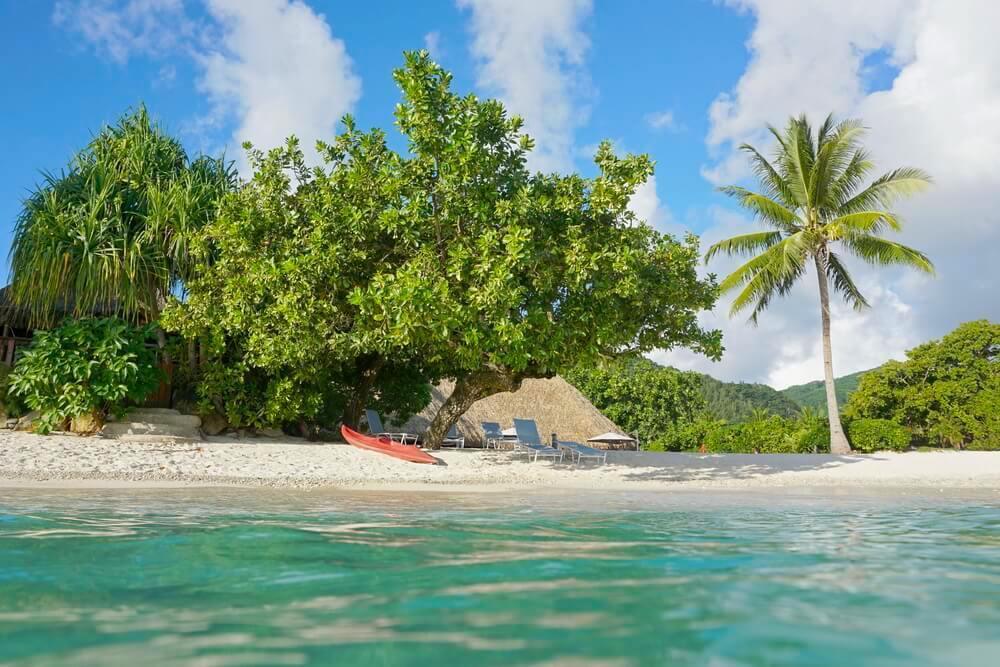 If you need a reason to visit the beaches of French Polynesia, how about Tikehau, Fare Beach, and Matira Beach? French Polynesia is known for its absurdly beautiful coral reefs, natural wonders, protected lagoons, and hideaways where even the most sought-after celebrities can get lost.
Fare Beach
Although it may be called Fare Beach, it is the lack of fanfare that surprises most tourists about this Huahine beach. With the popularity of Bora Bora and hype surrounding Moorea, most visitors to this area feel as if they've been given an all-access pass into French Polynesia's best-kept secret. Here you can spend a beautifully uninterrupted day staring at your toes in the clear blue waters against a backdrop of trees and mountain sun-bathing and swimming with the Farest of them all.
Matira Beach
Of course, if it has to be Bora Bora, Matira Beach is where all the cool kids can be found. It's Bora Bora's most popular beach, and ideal for snorkeling, and if it's the ultimate instagram that your after, be sure to hit Motu Tapu, the most photogenic of the South Pacific Beaches. This nook of sparkling sand and water was used for private functions by the Polynesian Queen Pomare IV.
Tikehau
And lastly, if you want a great place to snorkel and deep sea dive, you won't want to miss Tikehau. With a greater fish population than a human one, it's considered to be one of the region's most stunning atolls.
3. Bahamas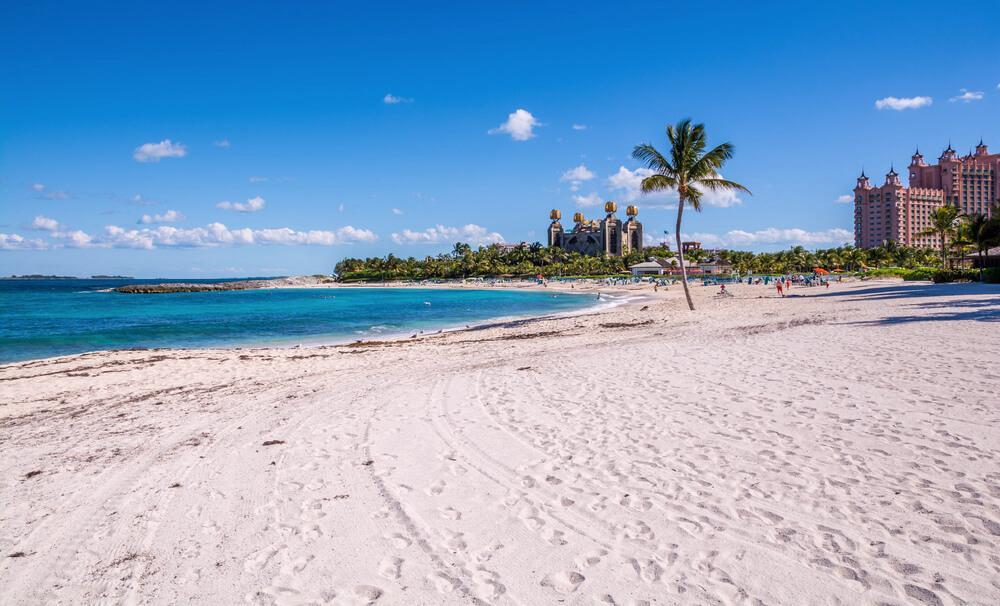 The sweet sound of calypso wafting through the air, the sound of the rapid indigenous language, the tropical climate, the hippie vibe – no wonder they say, "It's better in the Bahamas."
Pink Sands Beach
The Bahamas is known for its pink sandy beaches, and probably the best example is the Pink Sands Beach itself. The beach owes its name to the over 35 mile stretch of vibrant appearance to the mixture of fractured coral and foraminifera ( a one-celled organism layered across the beach's coast) and sand, and tourists will have no trouble finding accommodations in the nearby resorts.
Cabbage Beach
You may not find any cabbage on Cabbage Beach, but you just might find a few celebrities. Atlantis Resorts Bahamas is the six-hotel / casino/water park area and home to Paradise Beach. You may recall it as the backdrop for such such box office record breaking movies like "Pirates of the Caribbean" and 007's "Casino Royale" and "Thunderball." Just don't get so starstruck that you miss out on all the natural beauty. Cabbage Beach is swarming with aquatic life that any snorkeler worth his weight would be sorry to pass up.
4. Phuket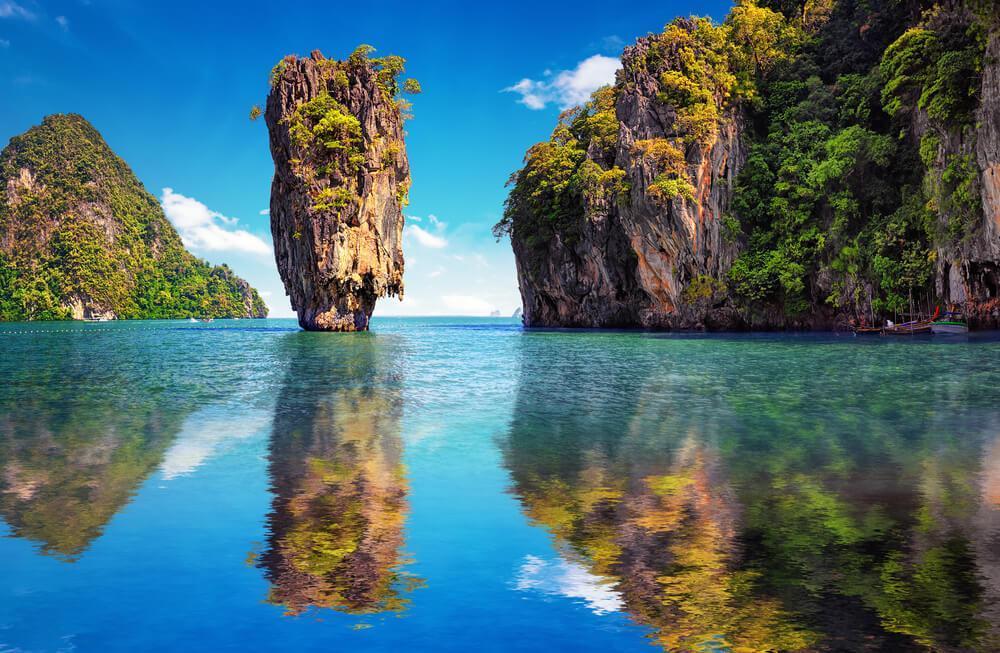 Now, let's first mention the elephant in the room here. It is a long u in Phuket, so get your minds out of the gutter, and don't even make a joke out of it with your kids. You'll regret it for the rest of your vacation.
Phuket is one of Thailand's most popular beach destinations, and when it comes to your Phuket to- do list, there is not much more to do than hang out on the beach.
Have you ever tried Snuba diving? It's not a typo. Snuba diving is the easiest and safest way to dive in Phuket. Think Scuba diving without the heavy equipment with a maximum 7-meter depth, accompanied by a professional at all times. Great for novices and children.
If you've already gotten your feet sufficiently wet when it comes to diving, there are plenty of dive sites in Phuket that can cater to your needs. One of the best known is Rachai Yai, known for its rocky reefs and coral forests. The wreck at Ter Bay is Rachel Yai's main attraction, allowing intrepid divers to explore the remains of an old ship at the depths of 25-35 meters.
And if you really want to take the big dive, freediving is the way to get a quick glimpse of the underwater world without the heavy equipment. Phuket has recently become the home of the South -Asian free-wheeling free-diving scene. If you think you've got the lungs for it, there are boats that go out for free diving trips from most local dive sites, and there are also several opportunities for free-diving off the beach.
However, if sunbathing, surfing swimming is more your pace, Phuket is full of wide coasts with white sand and clear waters, and you can usually do all of these right outside your hotel room. Just watch out for the big waves during monsoon season. It may be a surfer's paradise, but it could be a swimmer's nightmare.
5. Crete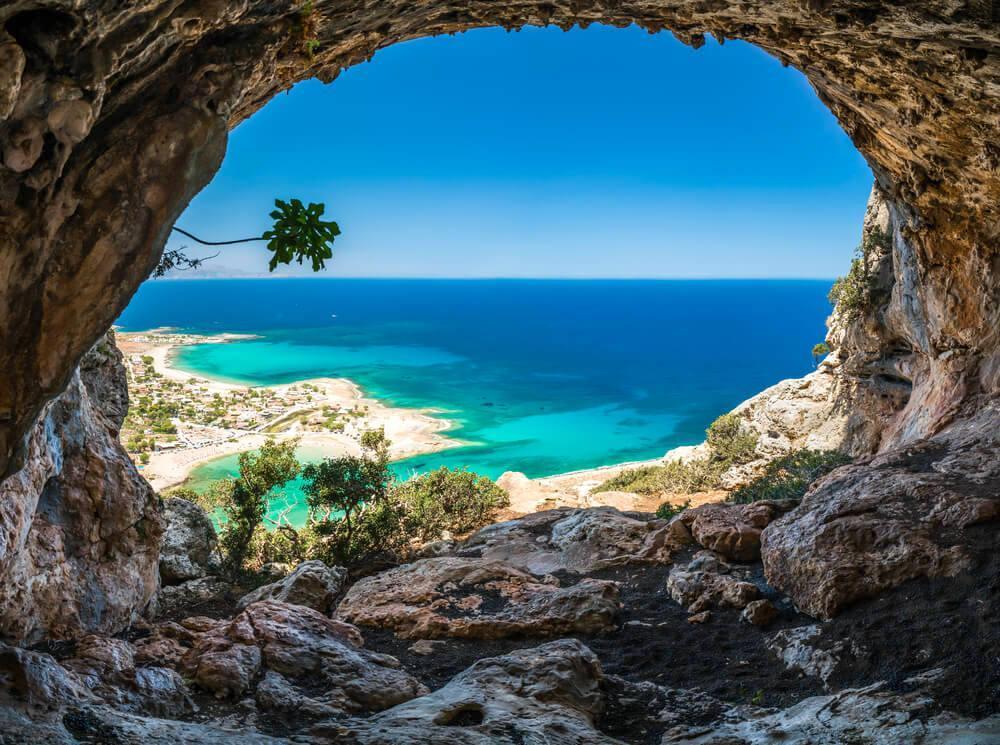 If you've seen the curvature on the Venus de Milo or the musculature on the statues of Zeus, you know that the beaches of Greece are home to some of the best eye candy on the planet, but that's only a small part of what makes Crete such a popular beach destination.
Crete is the largest island in Greece, and its 650-mile coastline is sprawling with some of the most beautiful beaches on the planet.
Vai
Looking for the shade of some palm trees? Vai is the site of one of the largest palm groves in Europe. Also known as Palm Forrest, Vai is backed by some 500 palm trees that have stood there for 3,000 years. How did they survive for so long? Apparently, this species of palm trees secrete a deadly goo which envelops creatures and suffocates them, which rendered them immune to the ravages of the weevil that killed so many other Cretan trees – you might not want to get too close yourself.
Elafanisi
Elfanisi Beach is sort of the poster child for all Cretan beaches. If you've seen advertisements and brochures featuring pink sandy beaches with turquoise lagoon-like waters, you were probably looking at Elafanisi. The whole area is actually a nature reserve and home to over 110 plant species, so no night visits, tents, or caravans allowed, and watch where you tread. If you're not stepping on a plant, you might just be stepping on someone's beach blanket. Elafanisi is known for its large amount of tourists.
6. Champagne Beach Espiritu Santo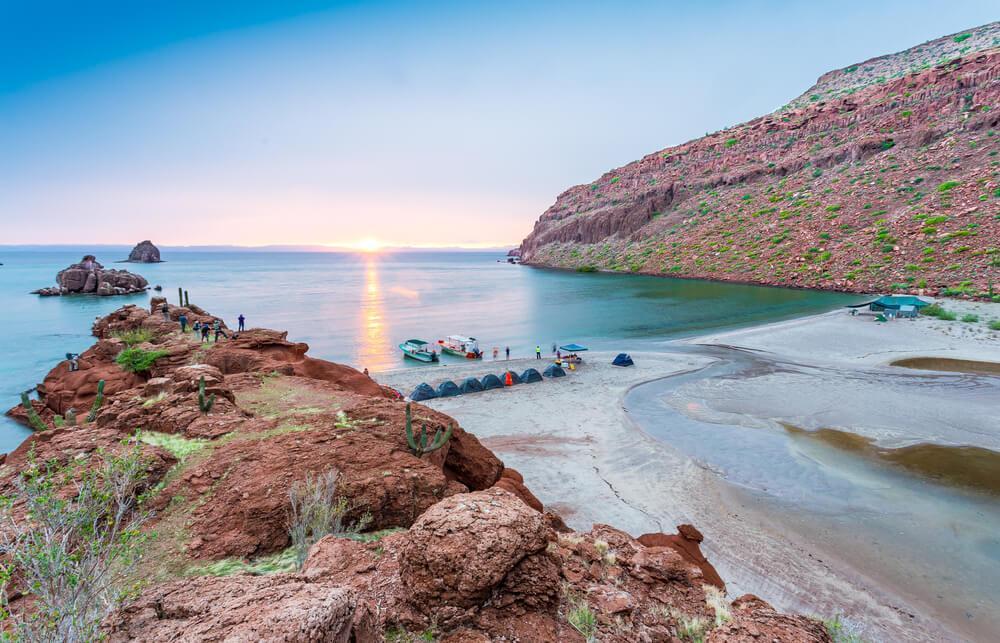 Dahling! How could you resist? From the name alone Champagne Beach is enough to conjure images of wine glasses and bubbly while dipping your toes in the water – and get this! The beach actually looks like a glass of champagne. The effervescent waters of the Champagne Beach lagoon bear a striking resemblance to sparkling wine at low tide, and the coastline is shaped like a champagne flute. Could anything be more enticing?
However, if champagne is not your drink of choice, there are other ways to get wrecked in Espiritu Santo. When it comes to dive wrecks, Espiritu is a veritable treasure trove. The Calvin Coolidge is such a large wreck, that there is evidence of divers getting lost in there and having to rely on oxygen bottles to and escape. Maybe you should stick to the champagne.
7. Seychelles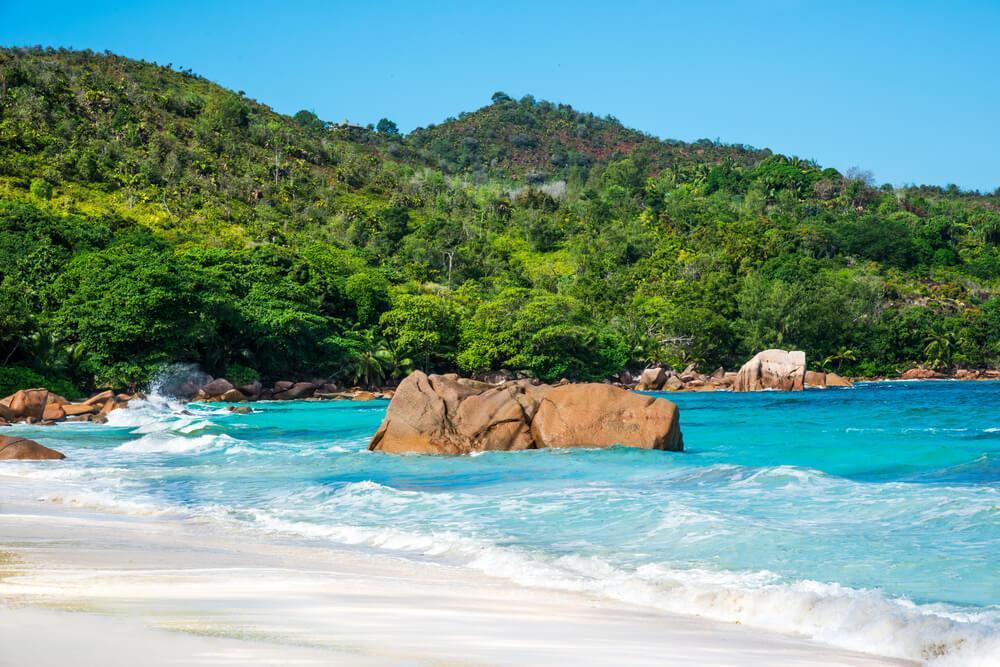 With a name like "Seychelles", it was destined to be one of the most sought-after beach locations in the world. However, while the origin of the name itself has nothing to do with the porcelain-like carapaces we find on the beach ( it was actually named for the minister of France in the reign of Louis XV), it has a sort of poetic justice to it.
Oh, if only there were more days of the year to spend touring the Seychelles Beaches. With each boasting azure waters and pristine sand, it may be hard to narrow it down to just one, but if it's a question of popularity, Anse Lazio would come in on top.
Anse Lazio
Anse Lazio is Seychelles' most famous beach, and is often considered to be the most beautiful in the country. In fact, it is currently ranked as #4 on Trip Advisors list of Best Beaches In the World, and with its turquoise waters and lush sand, it would be hard to argue otherwise. The granite boulders emerging from the seabed make it a great beach for snorkeling, diving, and with no reef to protect it, beachgoers can get a clear view of the waves crashing on the shore.
In addition, the large size of Anse Lazio means that you have some room for a good-sized beach blanket, just try and get there early.
Anse Intendance
Turtles may be slow, but who cares about time when you're on Anse Intendance in Mahe. One of the few places where turtles still nest, Anse Intendance may be one of the best spots for swimming in the world. Like Anse Lazio, it is unfettered by reefs, which also makes for excellent surfing and body surfing, and certainly has no shortage of white sandy beach expanse and turquoise waters.
Picked your destination? Now all you need to do is pick the perfect bikini and get packing. With the size of some of those suits, you can probably fit them all in your carry-on. It's just your shoes that are going to incur that extra baggage fee. Let us know which beach you picked, and how much fun you had. We want to hear every gorgeous detail!