If you're on the market for an eye-catching summer nail design that won't require a lot of effort, you've come to the right place!
We are here to present you with a list of gorgeous manis that are itching to be showcased in the season ahead of us.
From vibrant color contrasts to ethereal pastel looks to full-on evening opulence, we are sure every stripe of mani lover will be awarded with their perfect summer match.
So, let's dive right into it and find out what are some of the freshest nail designs for the sizzling days that await us.
Geometric Pink and Blue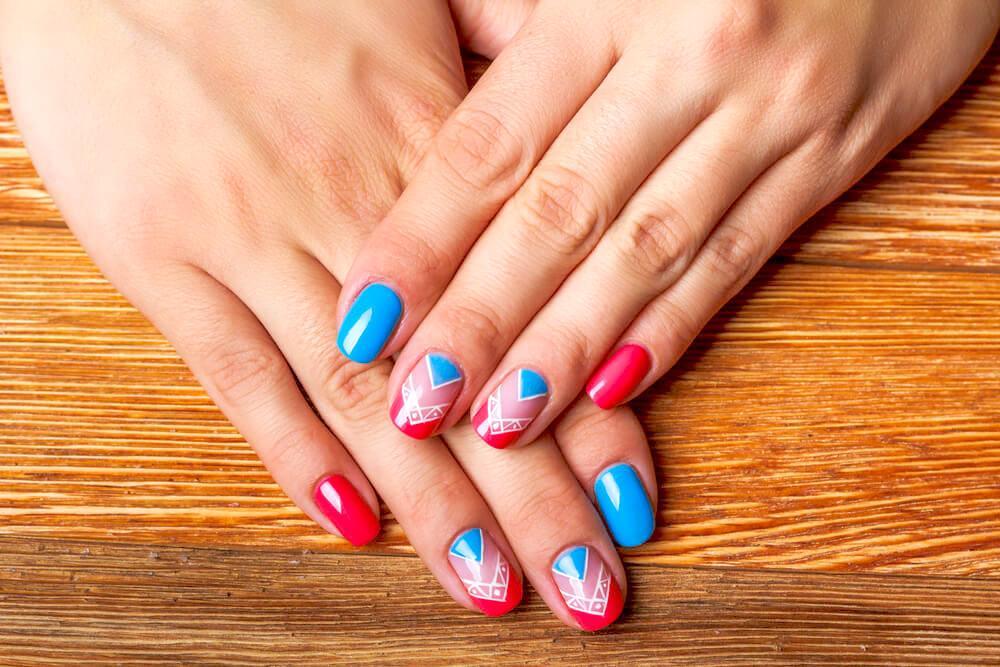 This mani is all about clean lines and geometric designs, featuring fun, season-appropriate hues.
When it comes to shades, combine any two colors that offer high contrast and you won't make a mistake – this look went with Olympic blue and bubblegum pink for a playful, pigment-packed effect.
Start off by cleaning your nails and shaping them using a nail file. Apply a single layer of clear base coat to ensure the longevity of your design. Apply pink and blue lacquer in alternate order on your thumb, your index finger and your pinky nail.
The main focus of your look will be on the two nails in the middle. To secure well-defined lines, stick angled tape and apply the blue at the bottom and the pink at the very tip of your nails.
Wait until completely dry, then remove the tape. Create outlines and add your design using a thin nail brush and matte white polish.
When you're happy with the outcome, apply a layer of clear top coat to even out the nails and seal your work of art.
Mermaid Vibes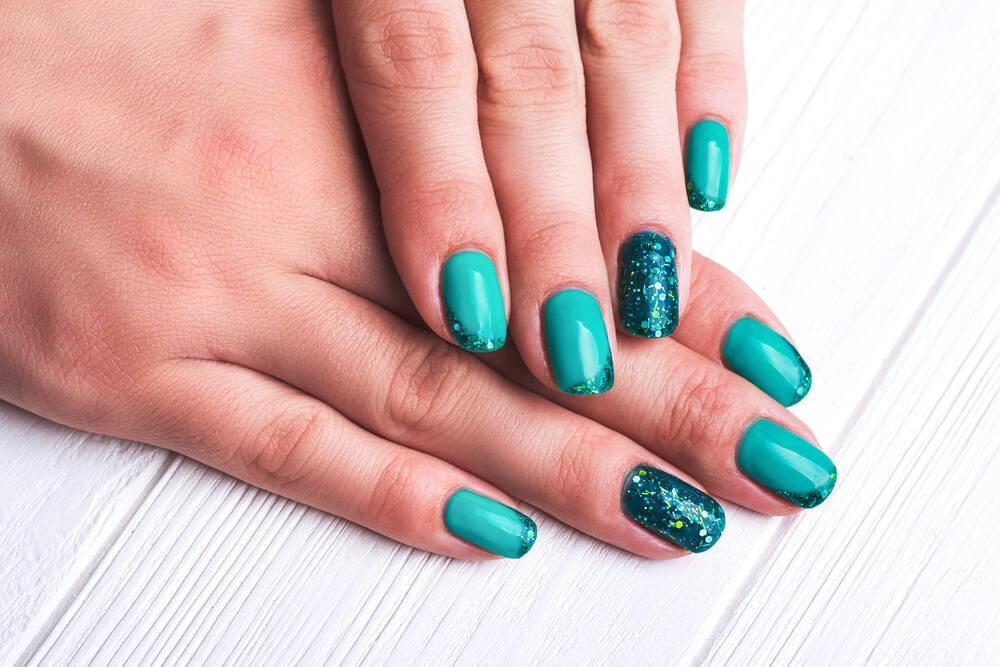 There is no better way to evoke seaside summer vibes on your nail than to adorn them in this beautiful, mermaid-inspired mani.
And the quickest shortcut to having your own creature-of-the-sea nail art is by drenching your fingers in lush teal and chunky glitter.
Nailing this aquatic look is easy as ABC – all you need to do is invest in your preferred teal lacquer and glitter in any iteration, whether it's nail polish or the loose kind.
Begin by cleaning up your nails and filing them so you have plenty of surface to work with. Coat all the nails except one on each hand in teal.
Once they're dry, grab a few curved nail tapes and place them just under the tips. Apply a layer of glittery polish on the tips. In case you're using loose glitter, coat the tips in clear nail polish, then dab the very tip in glitter while the transparent lacquer is still tacky.
Remove the tape and let your nails completely dry.
Repeat the same steps on the two clear nails and, when you're done, add an extra layer of top coat just make sure your mermaid mani doesn't budge. That's all!
Pastel with Polka Dots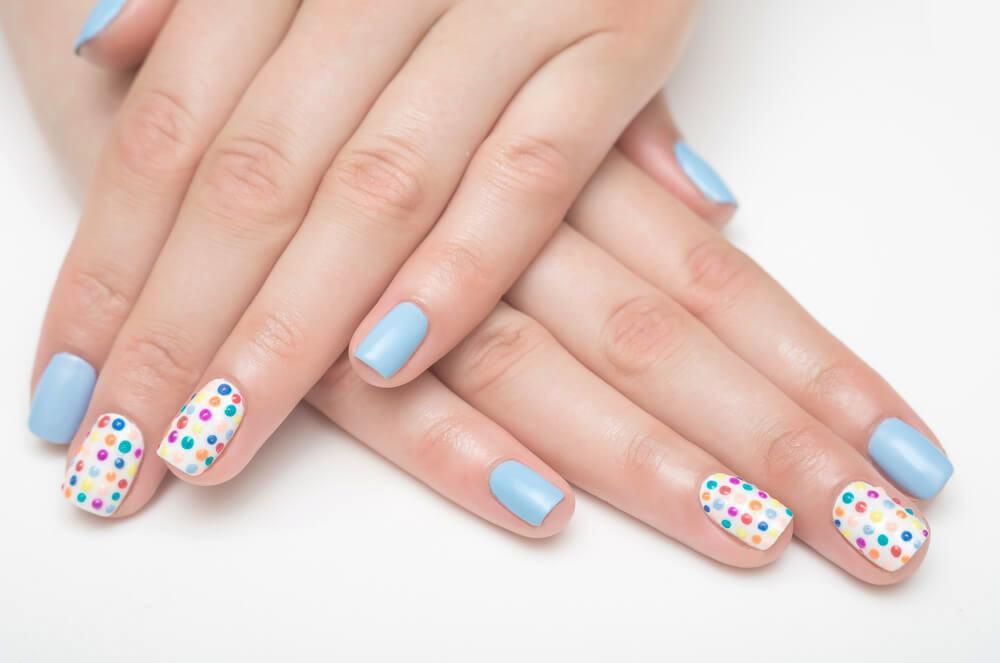 Summer nails don't always have to be all about those loud, bold colors.
You can encapsulate that flirty feel on your nails by coating them with gorgeous pastel colors and vibrant designs, as shown on this look that features baby blue hues and colorful polka dots.
Since this look doesn't entail any intricate designs, it's perfect for folks who nails tend to be on the shorter side.
To give your self a clean canvas, file your nails and clean them up from any leftover polish.
Coat three nails on each hand in pastel blue and two in opaque, matte white.
You can apply the polka dots using nail polish in different colors, but more eye-catching and time-efficient method is to simply use miniscule multi-colored stickers. You can apply them using a toothpick once your polish is completely dry.
To make the nail art look neater, stack them so they align both horizontally and vertically.
Once you're done, add a layer of top coat to make sure the stickers stay in place. Voila, your playful summertime mani is all done!
Ahoy, Matey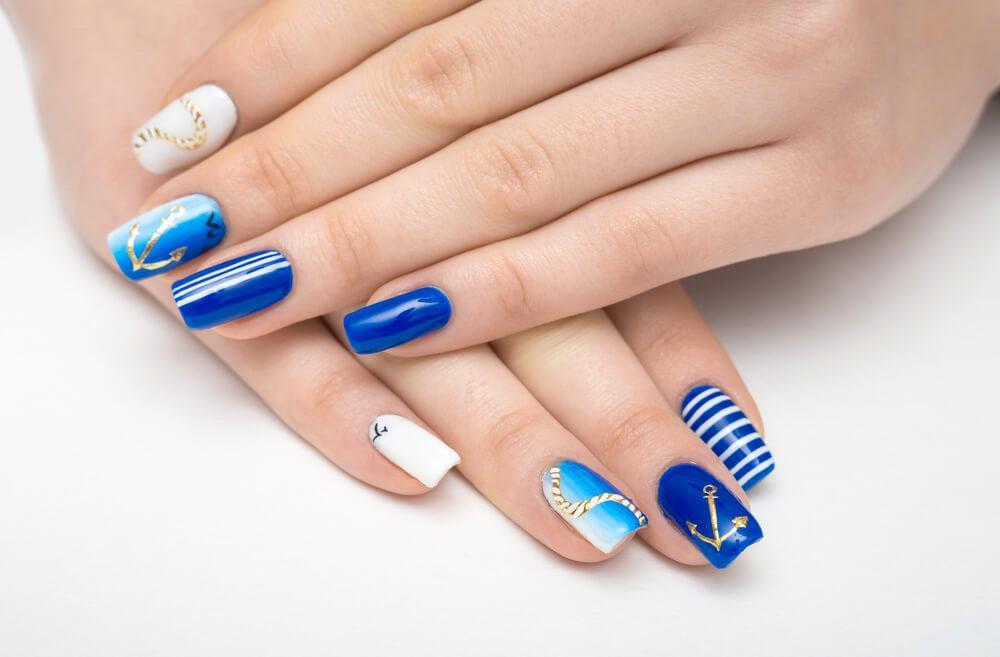 If you've wanted to rock a maritime mani for sometime now, summer is the ideal season to do so.
You can make your nautical nail art as simple or as detailed as you want, and here are some ideas to get you started.
Clean up your nails and file them into a square shape, so you have a more surface to work with.
Two colors are most important for creating the perfect maritime look – white and blue – so make sure to pick opaque lacquers with rich formulas.
This duo can be combined in all kinds of creative ways.
For example, you can create horizontal or vertical gradient by applying the two colors on a piece of sponge and lightly tapping it on the nail, in several layers to improve the opacity. When you're happy with the way transition looks, clean up the cuticles with a nail polish remover and add a layer of top coat.
You can also add a Breton stripe effect to your nail. This can either be done by applying a base color then drawing the stripes using a fine brush or nail tape to achieve clean edges.
Of course, you can also adorn your nails with all kinds of nautical motives, including ropes, anchors, waves, etc. If you're feeling creative, you can attempt to draw a few yourself using a nail brush. Alternatively, use stickers for a quicker and easier application.
When you're pleased with the way your mani looks, make sure to finish it off with a layer of top coat.
Kiwi Fantasy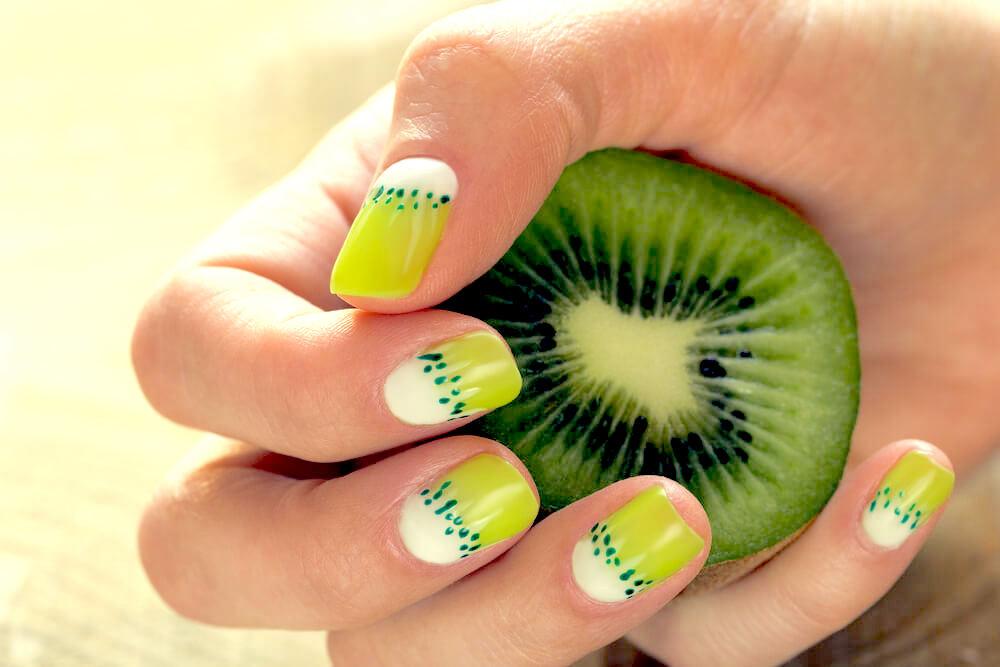 One of the most alluring summer motifs is, of course, lush tropical fruit.
Watermelon nails are already hugely popular, but if you want to try out something different, perhaps this kiwi-inspired look will be the ideal one for you.
The basis for this delicious mani is a green-and-white gradient, which can be easily achieved with a couple of tricks.
First off, apply a base coat to even out the nail and provide a clean surface.
Next, take a small sponge and load it with horizontally placed white and green polish.
Start dabbing the sponge on each nail, so the white lacquer is on the bottom. Add more lacquer as you apply the polish to the nail.
When you've finished painting your nails, wait for them to dry, then take a darker green lacquer. Take a toothpick and drench it in the polish.
Create kiwi "seeds" by applying the dark green polish where the two colors meet. When you're happy with the look, seal the deal with high shine top coat and your juicy mani is complete.
Gold and Glitter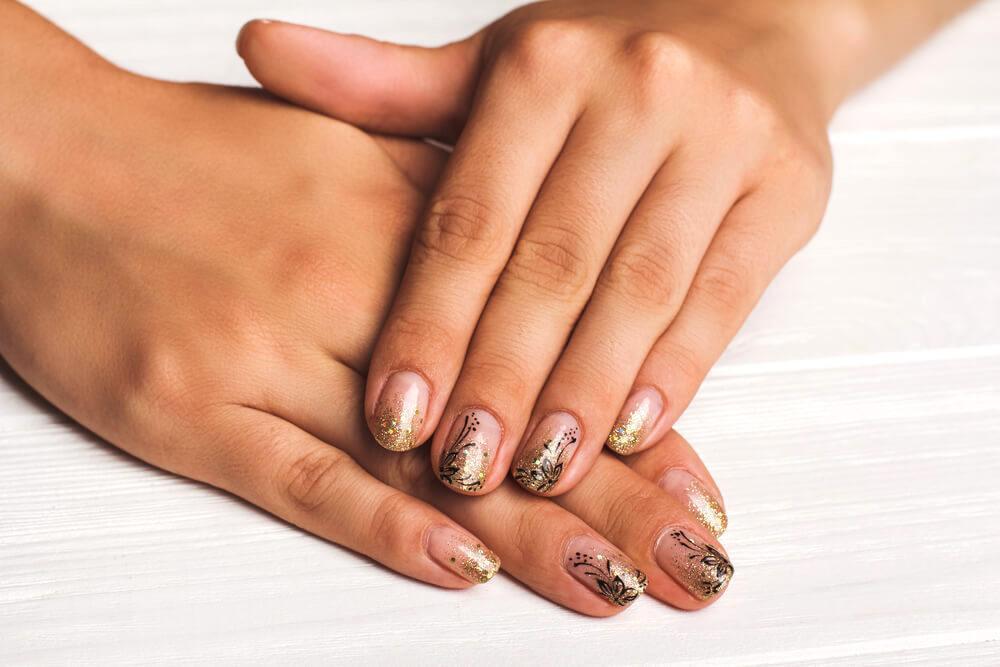 Okay, so you're all equipped with chic, youthful daytime manis, but what happens when you want to razzle and dazzle on those balmy summer nights?
Not to worry – we have just the look.
This stunning glittery gradient look will be the perfect accessory for any evening occasion during the summer.
And best of all? It's super-easy to recreate.
The first thing you need to do prep your nails by trimming them and filing them into a desired shape. Ensure the longevity of your nail art by adding a base coat. Then, take your golden glitter lacquer and apply the first layer, starting at about ¾ of the length.
Wait for it to dry, then apply a second coat a couple of millimeters above the first one.
Keep repeating this step, each time focusing on a smaller surface to create an ombré glitter effect.
To make you design even more sensual, you can adorn a nail or two with a couple of stickers.
Finally, set your hard work by applying a top coat and your extravagant nail art is ready to stun the world!
Two-Tone Yellow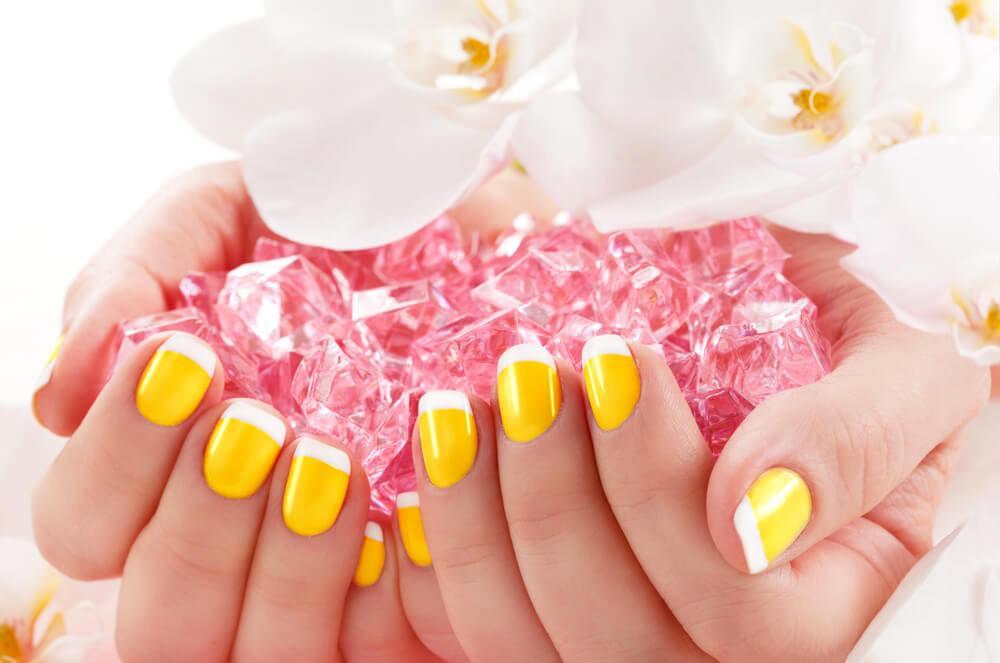 If you're a fan of the classic French manicure, but are looking to switch things up this summer, why not try this vibrant yellow take on the timeless nail look?
Not only will it look super stylish, it will go together awesomely with every summertime ensemble you decide to wear this season.
What's more important, this style is incredibly easy to recreate.
This mani requires some length, so make sure to grow out your nails, then file so the tips are ever-so-slightly squared.
Since yellow will be your base color for this look, apply several layers of the lacquer, until you're happy with the opacity.
Apply tape to each nail, so you can prevent the tip color from bleeding.
Add a layer of milky white to each tip and wait until completely dry before removing the tape.
Finally, clean up and excess polish, add a top layer and your citrus mani is all done.
Pink and Blue with Half-Moon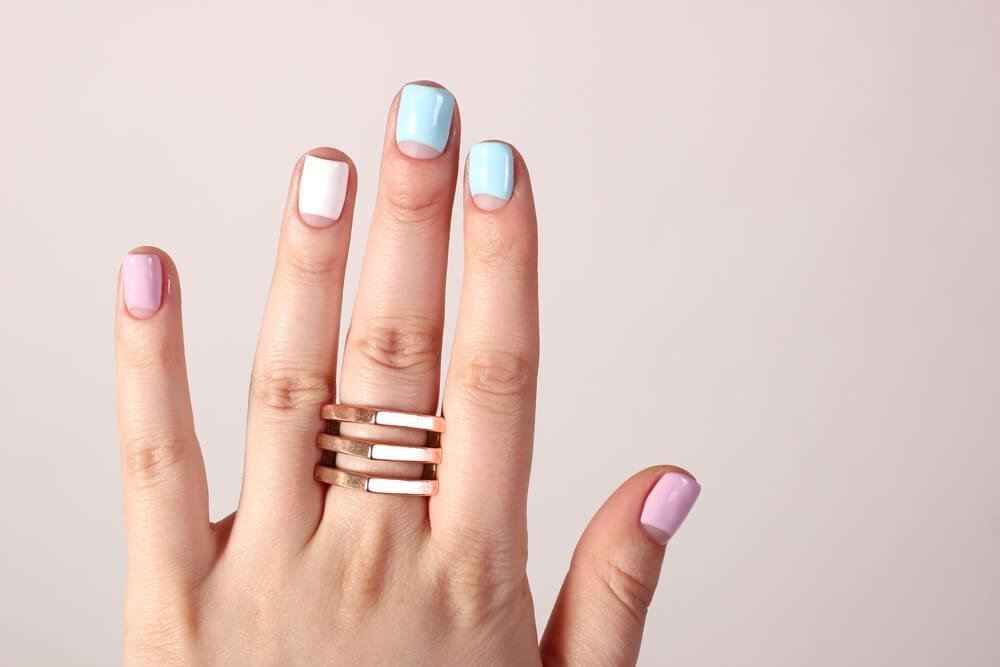 This quirky mani is a fresh take on the popular half-moon nail art and, thanks to the pastel hues it incorporates, it's perfect for the sun-filled summer days.
All you'll need is two to three pastel shades (or even one white or nude hue) and some curved nail stickers.
Place the stickers at the bottom of each nail and paint them in alternate order, switching between pale pinks, blues and white.
Wait until your polish is dry, then remove the stickers.
Leave the bottom parts clear and top off our mani with an extra layer of top coat.
French with and Orange Twist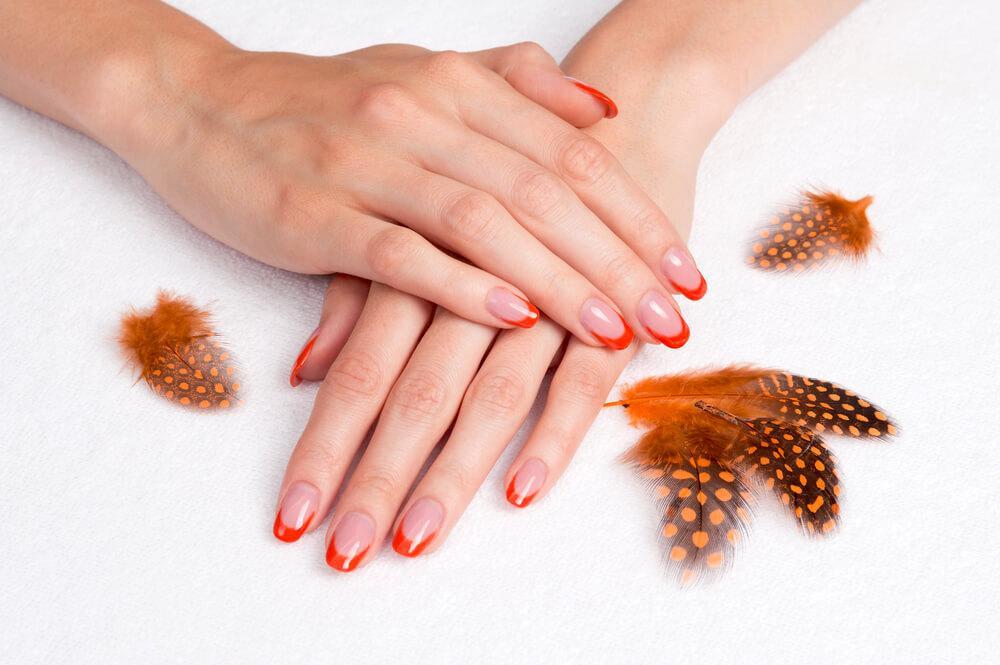 French manicure is an ever-elegant way to style your nails.
However, the sunny season might call for a more exciting iteration of this classic look, and a great way to do that is simply to switch the white tips with something a little more pigmented.
A perfect shade for the summer is orange, which will pack a punch and make your French mani instantly more eye-catching.
Start off this look by cleaning up your nails, shaping them, then applying a base coat – as you would with a traditional French mani.
Next, take nail tape and place them below the tips to prevent the lacquer from bleeding. Add the orange to the tips and wait for your nails to dry down before removing the tape.
Complete the look with a layer of glossy top coat and this stunning summery French mani is good to go!
Pinks and Lavenders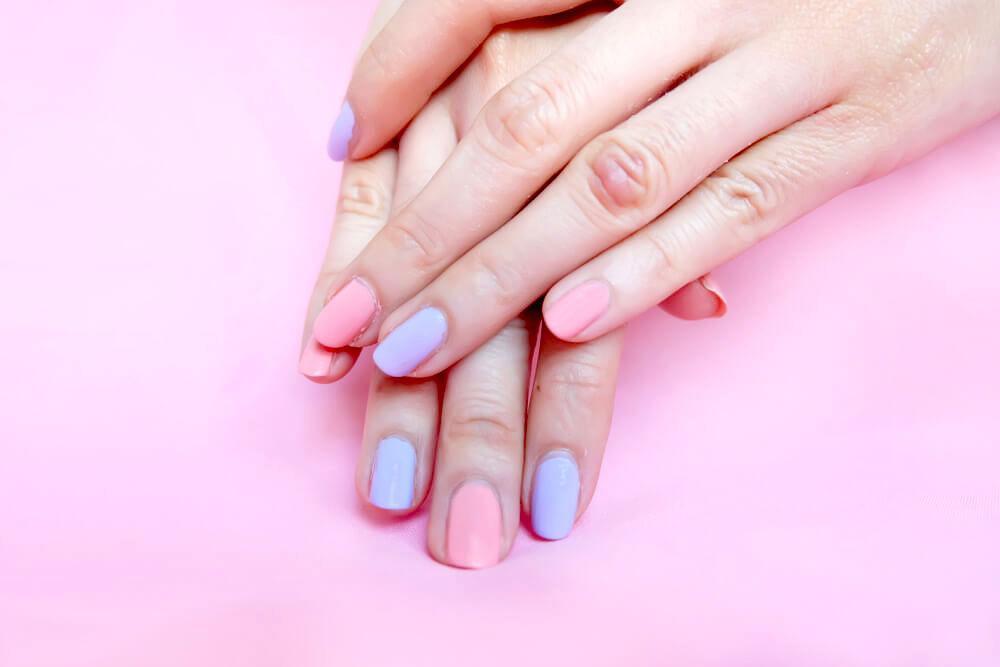 Sometimes, the trick to nailing a perfect summer mani is simply finding a flawless color combination to be your accessory on every scorching day.
And while we love our bright and bold reds, yellows and greens, the lesser obvious combos can be just as appealing.
So, if you're in a mood to try out a couple of new shades this summer, why not go for this delicate mix of pale pink and lavender?
Not only will it work with every nail length and shape, it's also subtle enough that it will never clash with the rest of your outfit and accessories.
To make the look even more understated, make sure to opt for lacquers with matte finish or top off your polish with a mattifying top coat.
Mellow Yellow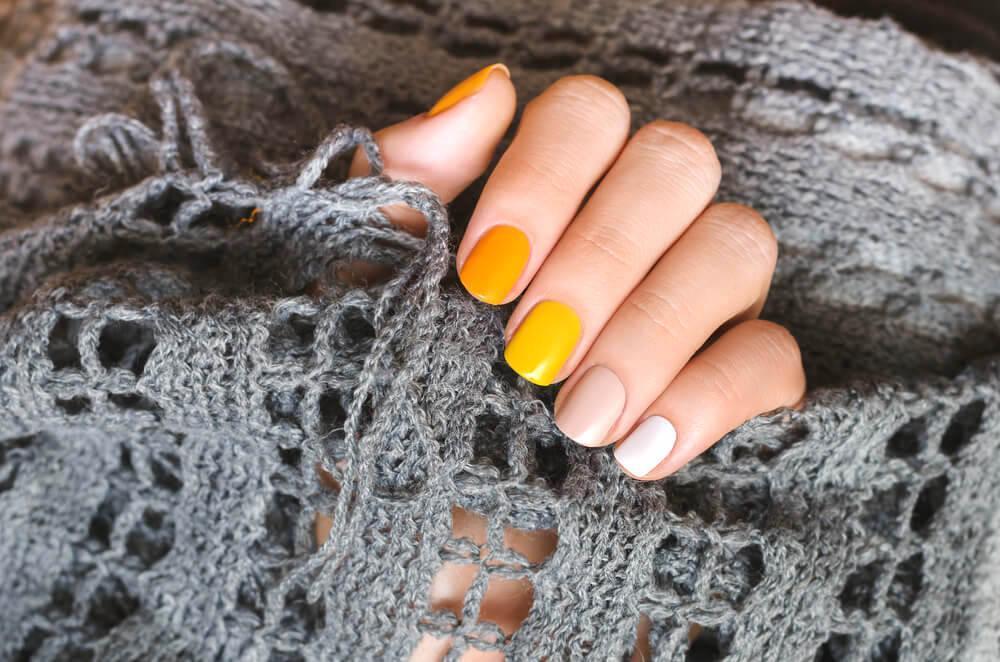 If you're wondering which color combo to choose this summer, you can't go wrong with the hues of the sunset.
However, rocking a full-on orange or yellow might be too much for you, especially if you're more of a muted tones kinda gal.
If that's the case with you, you will be pleased to hear that there are stylish ways to tone down the pigment while still rocking a healthy pop of color on your mani.
For example, you can do this by creating a gradient, so each nails is slightly less saturated then the previous one.
You can start with a deeper orange color on your thumb, then proceed to paint the index finger a more apricot shade. Middle finger nail can be more of a yellowish hue, while the ring finger can fade to a more neutral nude. Finally, apply a couple of layers of white polish on your pinky nail to complete the transition.
Finish off the look with a layer of glossy top coat and your simple, yet creative mani is complete.
And with this, we round up our list of the hottest manicures ready to be rocked for every summer occasion. Whichever of these looks you choose to recreate, we are sure your hands will stun wherever you find yourself this season!