Looking for some new beauty hacks to mix up your routine a bit? 
Here are eight hacks worth knowing about from some of our favorite social media influencers. 
1) Use a Post-Shave Balm for Men as a Makeup Primer

A Dutch beauty vlogger with millions of followers on social media, NikkieTutorials, otherwise known as Nikkie de Jager, has been posting about makeup and beauty since 2008. 
De Jager is known for her love of vivid colors and bold looks, but in order to create all of that, there is one product that de Jager always uses. 
For de Jager, a makeup primer is a must. 
Why? 
Well, firstly, a makeup primer gives you a smooth canvas to work on when it comes to applying your makeup. It also provides a base onto which your makeup can firmly grip, enabling it to last for so much longer. 
But what do you do when, for whatever reason, you do not have access to your primer? 
This happened to de Jager once, but she ended up finding a great alternative…
She decided to use her boyfriend's post-shave balm instead. As it turns out, one of the main ingredients in post-shave balm is usually glycerin, which is also known as glycerol. 
Glycerin has some extraordinary skin benefits, such as: 
Acts as a humectant, drawing moisture from the air into the skin

 

Keeps skin soft and supple

 

Minimizes the appearance of fine lines and wrinkles

 

Heals the skin and treats fungal infections

 

Can be used by all skin types

 
De Jager found that the post-shave balm kept her makeup looking completely flawless throughout the day, and worked even better than her primer did. 
It didn't take long for other beauty bloggers and makeup artists to give this a try too, with everyone from Manny Mua to KathleenLights turning to post-shave balm instead of their primer.
2) Prep Your Lipstick
http://www.instagram.com/p/BogZOcJDssM/?utm_source=ig_embed
Not only is Lisa Eldridge the Global Creative Director of Lancome, but she is also the makeup artist for some of the biggest celebrity names out there, from Cindy Crawford and Victoria Beckham to Nicole Kidman and Rihanna. 
Eldridge has so much knowledge when it comes to beauty, and some of her most useful tips involve lipstick. 
One of the greatest annoyances that women have with their makeup is their lipstick not lasting for long enough. 
How would Eldridge go about fixing this?
Eldridge believes that prep is so important. 
Exfoliate your lips first, either with a lip scrub or by applying a Q-tip into some balm and then rolling this around on your lips. This will help to dislodge any dead or dry skin cells. 
Once you have done that, apply a good layer of a hydrating lip balm to your lips. Lipstick will always last so much longer on lips that are moisturized and hydrated. 
Now on to applying the lipstick…
Use a lip brush to begin with, dabbing the lipstick onto your lips in a thin layer. Keeping it thin is key, and make sure that you work the color into your lips well. Then, continue on with a couple more layers, as the layers are key to ensuring that your lipstick lasts for longer. 
To give your lips an intense boost of color at the end, apply your lipstick directly from the bullet to your lips when it comes time for the final layer.
3) Try Frozen Green Tea Teabags for Puffy Eyes
You have likely noticed green tea appearing in more and more skin care products, and there is a good reason for this. 
Green tea brings with it a number of different skin benefits, such as: 
Anti-aging – green tea contains particular antioxidants, called catechins, that not only reactive dying skin cells, but also encourage healing and prevent damage to skin cells

 

Anti-inflammatory – these potent anti-inflammatory properties can help to treat a number of inflammatory skin conditions, from eczema to acne

 

Astringent – green tea contains tannins that are able to shrink pores and cut back on excess oil production

 

Sun protection – while green tea should not replace your sunscreen, it has been shown to have protective effects when it comes to the damage that UV rays can cause to the skin

 
Social media influencer Christen Dominique is well aware of all of these benefits, which is why she has come up with a useful beauty hack that makes use of green tea. 
If you ever suffer from puffy eyes, especially in the mornings, this is a trick that you definitely need to know about…
Christen recommends that you steep two green tea bags in a mug of hot water for a couple of minutes, before placing them onto a plate and then putting them into a freezer. 
Once frozen, remove the tea bags and place them directly over your eyes for about five to six minutes. Once you take them off, you will notice that your eyes have not only magically de-puffed, but the skin around them will look so much brighter and smoother too. 
What should you do with the leftover tea after taking the tea bags out? 
Place this into ice cube trays and freeze. You can then use these frozen tea cubes as a toner, rubbing them directly over your skin for some instant cooling purification. 
4) Achieve Fuller Brows with Soap
http://www.instagram.com/p/BLR6zIOhuO-/?utm_source=ig_embed&utm_campaign=embed_video_watch_again
Eyebrows have been in the spotlight quite a bit lately, but many people struggle when it comes to getting their brows on point. 
Want to know a secret to achieving thicker, more feathery brows? 
This is where the use of soap comes in…
This is actually a technique that used to be used by Hollywood makeup artists, but was recently picked up by beauty bloggers, after which it made its way around the internet. 
However, it gained official hack status after Anastasia Soare, the same Anastasia of Anastasia Beverly Hills, posted it on her Instagram account. 
Wondering how you would use soap to create gorgeous brows? 
It's actually quite easy…
The only things you need are a spoolie brush, a bar of soap, and an eyebrow pencil or gel. 
Once you have those three items, follow these steps: 
Holding the spoolie in one hand and the soap in your other, spin the spoolie over the top of the soap, enabling the brush to pick up all of the froth that is created

 

Using small strokes, brush the spoolie onto your brows. Make sure that you do this in the same direction that you want your hairs to stand in

 

To add some thickness to your brows, use your brow gel or pencil to fill in any gaps. This will make your brows appear fuller
5) Use Your Fingers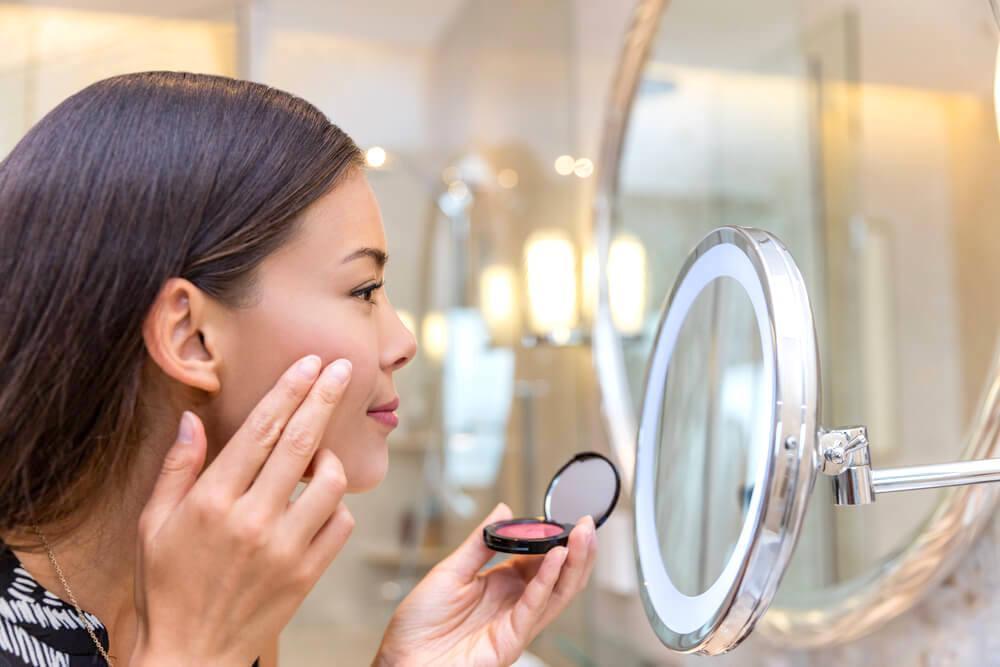 One of the biggest influencers in the beauty industry is Pat McGrath. 
She single-handedly sets so many of the beauty trends each year, thanks to the fact that she is in charge of makeup for some of the biggest runway shows, including Prada, Dior and Givenchy. In fact, McGrath is often referred to as being the most influential makeup artist in the world. 
So, what does McGrath have to teach us? 
Well, one of her best hacks is all about the tool you use to apply your makeup…
You likely have a few favorite, go-to brushes, but McGrath recommends something completely different. According to McGrath, the fingers are the way to go when it comes to applying makeup.
Why? 
For a couple of different reasons. Firstly, your fingers are able to do just about everything a brush can, from blotting and building to smoothing and layering. 
Not only that, but your fingers are warm thanks to your natural body heat. When a product comes into contact with this warmth, it becomes even creamier and more flexible, enabling you to apply it and blend it in so much more effectively. This applies to just about every makeup product out there, from your eyeshadow to your lipstick to your foundation. 
Of course, make sure that your hands and fingers are clean before giving this a go!
6) Coconut Oil As Shaving Balm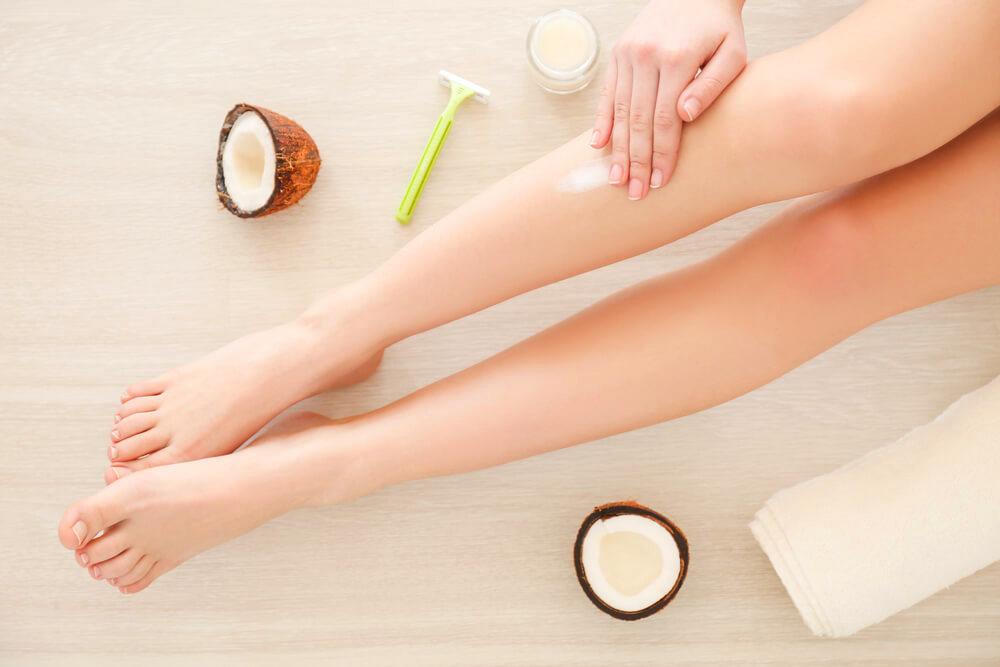 Coconut oil has really had its moment recently, and for good reason too! 
This ingredient is incredibly versatile, and Huda Kattan, an Iraqi-American makeup artist and social media influencer, has one use for it that she absolutely swears by…
Rather than using a shaving cream when shaving, Kattan makes use of coconut oil, as the oil provides a fantastic barrier between your skin and the blade. Not only does it protect the skin, but it also moisturizes it at the same time, leaving it softer and smoother as a result.
Has your coconut oil solidified? 
This is nothing to worry about. The oil solidifies if it reaches a temperature less than 76 degrees Fahrenheit. Fortunately, your skin is warmer than this, meaning that it will turn to a liquid when applied to the skin. You can either apply it directly and allow it to melt over your skin, or warm it up in your hands first before rubbing it on.
7) Use Lipstick to Hide Dark Circles and Spots
If you often have to deal with dark circles under the eyes, or dark spots on the face, then you likely already know just how frustrating these can sometimes be to hide away. 
Well, Deepica Mutyala, a beauty expert, host and blogger from Texas, has a hack that will help you to deal with these dark areas when you are in a rush…
The key is using the right shade of lipstick for your skin tone…
For those with fair skin, a peach shade tends to work best, while those who have darker skin tones would be better off with a red, but one that has orange tints to it. Don't be afraid of bright shades, as these will help to even out your skin tone even better. 
All you need to do is dab a makeup brush onto your lipstick, before applying this to any dark circles or spots.  
Then, reach for your concealer. Apply this over the red lipstick, and to any other parts of your face that need it, before blending it all in well. 
You will notice that your skin tone not only looks so much more even, but will also appear clearer and brighter. 
After that, carry on with the rest of your usual makeup routine. 
8) Give Your Foundation a Radiant, Glowing Finish
A Canadian makeup artist and beauty vlogger, Jamie Paige is known for her incredibly detailed makeup tutorials, making it easy for fans to replicate her looks. In addition to this, Paige loves sharing her favorite styling methods and beauty hacks with her fans, helping to make their lives easier. 
While she has many beauty secrets under her belt, one that everybody should know about is how to give your foundation a radiant and glowing finish. This can be especially important in the winter months, when foundation tends to look heavier rather than sheer and dewy. 
So, what do you need to do? 
Add a drop or two of your favorite beauty oil into your usual pump of foundation. The amount of oil you add will influence how sheer the foundation becomes, so spend some time experimenting with different ratios.
It is important to keep your skin type in mind with this hack too…
If you have oily skin, you will only need one drop of the oil. Any more than this and you risk clogging up your pores and encouraging breakouts. 
For those with dry skin, two, or maybe even three, drops of the oil could really help to give your skin some extra nourishment and luminosity. 
Everybody loves a good beauty hack, and these eight can really help to transform your beauty routine. Whether you need to de-puff those eyes or thicken up those brows, our favorite social media influencers never let us down when it comes to their tips and tricks!