Whether you are cooking for yourself at home, or dining out at a Michelin-starred restaurant, it is always exciting to see some innovation in the food that you eat. From beetroot-pickled devilled eggs to French toast waffles, here are 15 deliciously creative dishes to inspire your next meal.
1. French Toast Waffles
It is common knowledge that breakfast is the most important meal of the day, but coming up with new breakfast ideas can be tricky.
For those who love French toast, as well as waffles, French toast waffles will be a dream come true.
A dish that looks like waffles, but tastes like French toast, this is the perfect base onto which you can then get even more creative with toppings.
Ready to get cooking?
Follow these steps:
Preheat your waffle iron

Mix together a cup of waffle mix, two teaspoons of sugar, and a pinch of cinnamon

Stir in half a cup of milk, two eggs and a splash of vanilla

Pour this mix onto your hot waffle iron, and then cook until it is golden brown
2. The Ramen Burger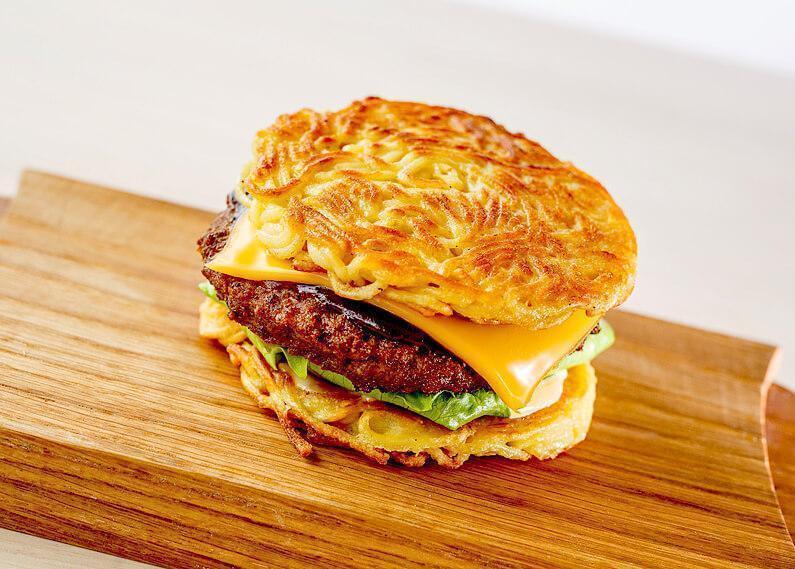 The ramen burger is a dish that was first conceived in 2013 in New York, so you have likely seen it plastered all over Instagram countless times since then, as it did not take long for the dish to shoot up in popularity.
The dish itself is fairly self-explanatory – beef burger patties sandwiched between two ramen "buns".
How does it work?
Fresh noodles are used, and these are boiled before being pressed into buns. They are then lightly seared with sesame oil, so that they are crispy on the outside, but chewy on the inside.
Want to make this yourself at home?
Do not be afraid to experiment with this dish, in the same way you would a standard burger dish. Whether you get creative with the fillings or go all out with condiments, the ramen burger is one that is definitely worth trying.
3. Savory Beignets
Beignets are a classic sweet treat from New Orleans, but chefs around the world have been turning this sugary pastry into delicious savory dishes.
For those of you who would like to try these in New Orleans itself, head to Basin for their crab and crawfish beignets, or to SoBou for their sweet potato beignets.
Alternatively, you could try making some yourself at home. Here are a few ideas to get you going:
Black pepper and Gruyère

Rock shrimp and sweetcorn

Cheddar and chive
4. Rolled Ice Cream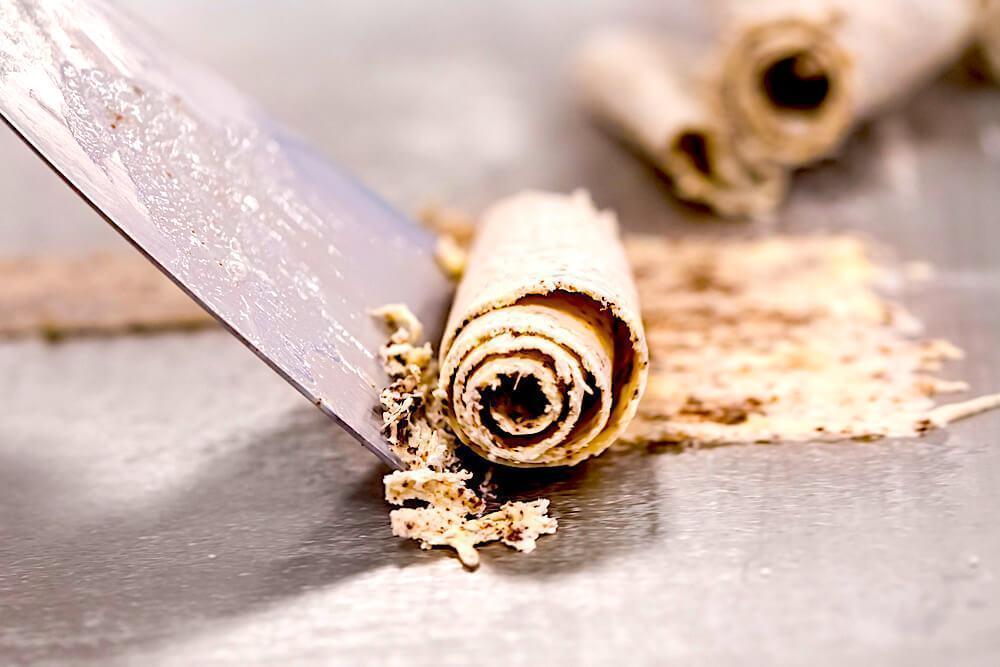 A traditional Thai dessert, rolled ice cream has exploded in popularity recently, and can now be found in ice cream parlours all around the world. 
Here is how it is made:
A milk-based ice cream is poured onto a metal plate, which has been frozen

Using small paddles, it is kneaded and then spread over the plate, so that it will freeze in an even layer

The ice cream is then scraped off the plate in rolls, before being placed into a cup
What about toppings?
You could use anything that you desire, from marshmallows to shaved coconut to hot fudge.
5. Grilled Lamb-Stuffed Pitas
This dish featured grilled pita breads that have been stuffed with lamb, and is actually a traditional Lebanese dish. A popular street food that can be found all over the Middle East, the innovation comes from the way in which the meat is cooked from within the pita bread.
Wondering exactly how to make it?
It is really quite simple…
All you need to do is season some ground lamb and then spread it inside a pita bread. Place this onto a hot grill, and, as the meat cooks, its juices will soak into the bread, turning it crispy.
If you decide to give it a go, here are a few tips to keep in mind:
Use bread that is as fresh as possible, as older pitas tend to become brittle, making them harder to stuff

The traditional seasonings for this dish are

cumin, coriander

and

onion

, but you could experiment with other spices, such as

cayenne

and

paprika

, and even add in some

lemon zest

and

cilantro

to balance everything out

Your fire should be medium-hot. If it is too cold, the dish will not cook properly, and if it is too hot, the bread will burn

Whip up a yoghurt-tahini sauce to serve alongside this, as the cooling flavors complement the lamb perfectly
6. The Rainbow Bagel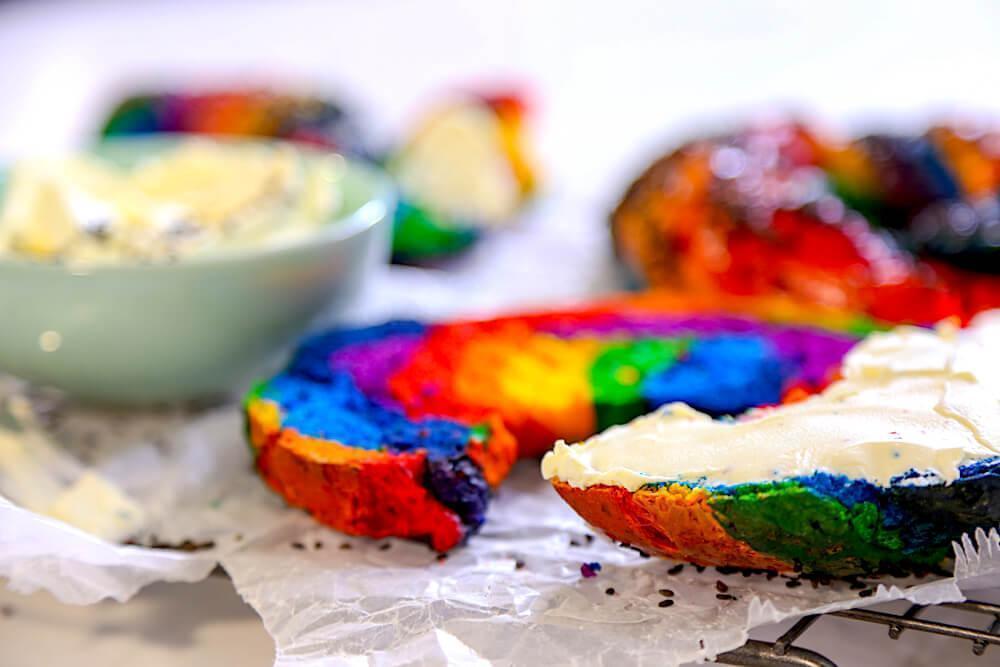 While the rainbow bagel was first introduced to New York a few years ago, it has only recently begun to make its way around the world, and is now a huge hit in London.
Wondering how the bagels are made?
They contain seven different dough mixtures, each of a different color.
But what about the taste?
They are slightly sweeter than other bagel varieties, but not too much so. There are also different hints of flavor within each color, such as banana in the yellow, strawberry in the red and mango in the orange.
In New York, these bagels are commonly eaten with cheese, but, in London, salt beef rainbow bagels are quite a big hit.
7. Amaranth Patties
Also known as Chinese spinach, or as callaloo in Caribbean cuisine, amaranth is a plant that produces thousands of tiny little seeds. These small grains are actually a fantastic source of protein, and can be used in a way similar to quinoa.
While there are so many ways in which you can cook amaranth, turning them into patties is always a good idea, as this is such a versatile dish that can be served in so many different ways.
Simply boil the amaranth and then mix it with some egg, bread crumbs, parmesan cheese, parsley, garlic and onion, before forming them into patties and then frying on each side.
You could serve these up in a salad, or as a burger, for vegetarians, or use them as a side dish to accompany meat in a larger meal.
8. Spicy Moroccan Carrot Salad
The carrot is quite a humble ingredient, and can often be difficult to really elevate.
However, turning them into a spicy Moroccan carrot salad really takes the ingredient to new heights, bringing out bold and exciting flavors.
Cooking the carrots is simple, as all you need to do is blanch them for a few minutes, until they are tender.
The innovation comes with the marinade…
While you can use whichever spices you enjoy the most, here are some suggestions:
Chilli powder

Cumin

Garlic

Red pepper flakes

Paprika

Salt and pepper
Mix these together with some vinegar, and then toss the carrots in this, before marinating for a couple of hours. Once it is time to serve them up, top them with some micro greens, and give them an extra season with some sea salt.
9. Crispy Chicken Skin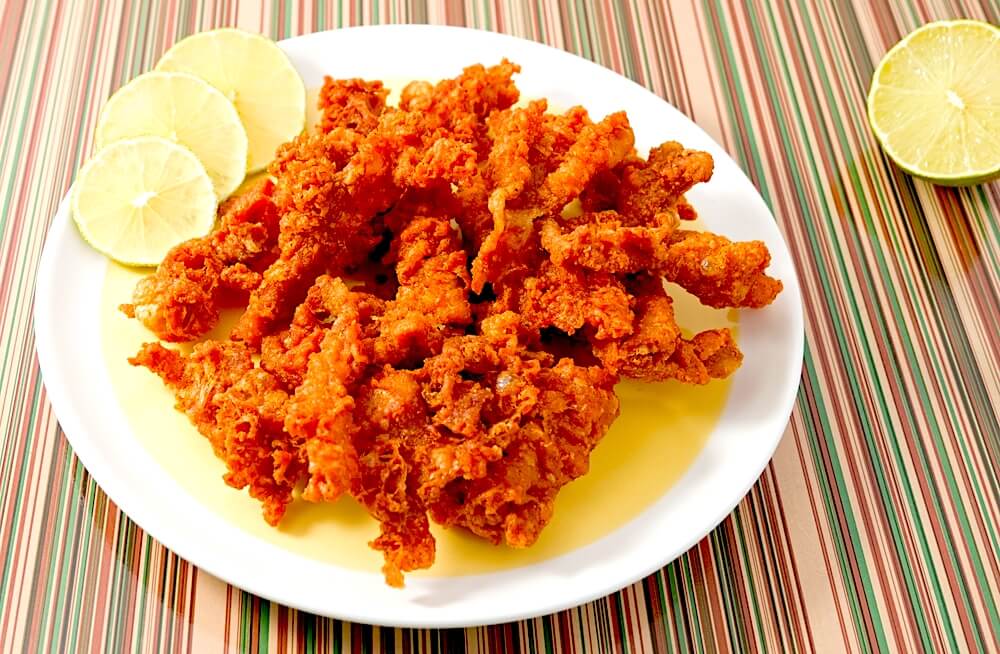 Crispy chicken skin is often used as a bacon substitute by many Jewish communities, and, just like with bacon, the possibilities are endless when it comes to this crunchy snack.
There are a number of ways to make this dish, from deep frying to baking, but if you want to taste the very best of the best, here are the restaurants to head to:
Cockscomb, San Francisco, California – The crispy chicken skin at Cockscomb is used in their much talked about appetizer, Oeufs Mayonnaise. Consisting of hard boiled eggs with mayo that has been made in-house, the chicken skin accompanies seared foie gras as a decadent topping.
Tori Shin, New York City – Tori Shin is known for being one of the best yakitori joints in New York, with one of their dishes being organic chicken skin that has been skewered and then cooked over charcoal.
Husk, Charleston, South Carolina – In Charleston, the restaurant Husk puts a special twist on crispy chicken skin, by braising it in buttermilk before frying it. Topped with hot sauce and honey, these skins are still deliciously crunchy, but have a sticky, tangy coating too. 7
Slab Sandwiches + Pie, Seattle, Washington – Avocado toast is quite a common dish these days, but Slab Sandwiches + Pie takes theirs to a whole new level, thanks to the addition of crispy chicken skin. Alongside some tomato ginger jam, the chicken skin gives the toast some extra texture, while still managing to allow the meal to be quite healthy.
10. Plancha-Grilled Seafood
You are likely already familiar with grilled seafood dishes, but when they are cooked on a plancha, this gives the ingredients a whole new depth of flavor.
Wondering what a plancha is?
It is basically a flat slab of cast iron that works like a griddle, in that you place it onto a grill, and then cook your ingredients on top of this. This makes it perfect for creating more delicate dishes, such as with fish or shrimp, but with an intense taste.
Does cooking on a plancha actually make the food taste different?
Most definitely, yes. Thanks to the plancha, your food will take on quite a different sear and crust, and will still have a smoky flavor from the grill.
Here's another advantage…
Since the plancha does not have slats like a traditional grill, this means that you can smother your ingredients in glazes and sauces, allowing them to soak up these extra flavors and textures while they cook. 
11. Zucchini Carpaccio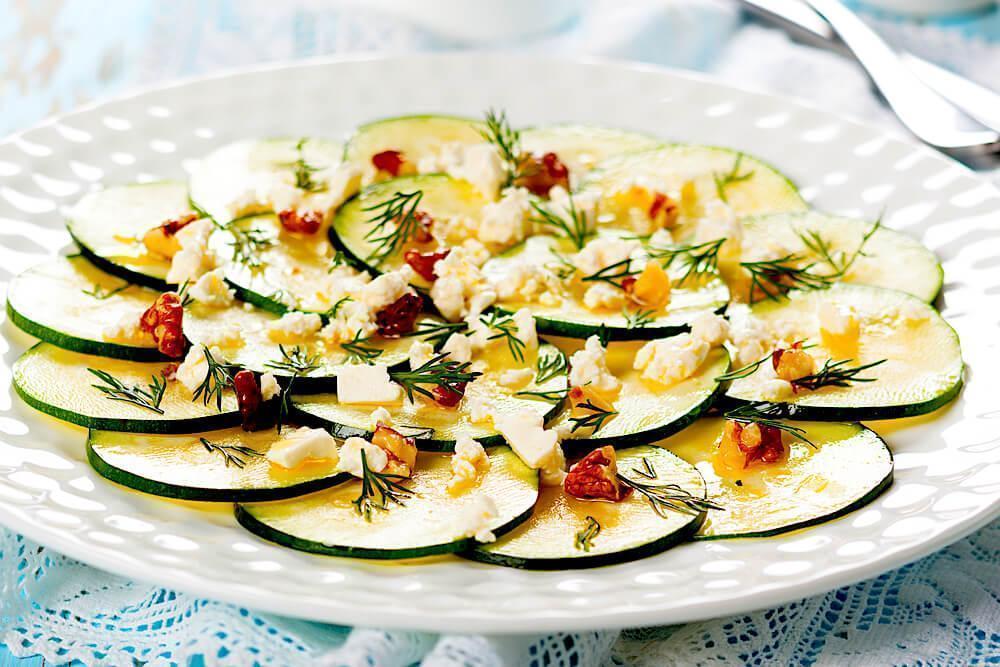 Carpaccio is an Italian dish that usually features thinly sliced raw meat or seafood, from beef and venison to salmon and tuna.
However, this version features thinly sliced fresh zucchini, and is just as satisfying as the meaty versions.
Never tried raw zucchini before? 
It has such a fresh, green flavor, which is often lost during the cooking process.
This is an easy dish to make, and the dressing can be customized to your own tastes.
If you are making this dish for the first time, give this feta, walnut and dill version a try:
Slice zucchini thinly, so that they are almost transparent

Drizzle with extra virgin olive oil and lemon juice, before seasoning

Arrange the slices on a plate so that they are overlapping in a circular shape

Top with chunks of feta cheese, walnuts and dill
12. Crab Fluff
When you are a chef in the city of Baltimore, which is surrounded by the blue crab-filled Chesapeake Bay, it only makes sense to make the most of this versatile ingredient.
Unlike many other seafood varieties, the blue crab population in the bay is actually increasing, with around 550 million of them in the water last year.
While you will find blue crab featured on many menus around Baltimore, head over to Locust Point Steamers if you want to try one of the most innovative of blue crab dishes. 
Named crab fluff, this dish consists of a fried crab cake that has been dipped in a batter, which is similar to a funnel cake mixture, before being fried again. This twice-fried, golden brown, beauty is served with crackers and mustard, which really helps to enhance the "fluffiness" of the dish.
13. Blistered Shishito Peppers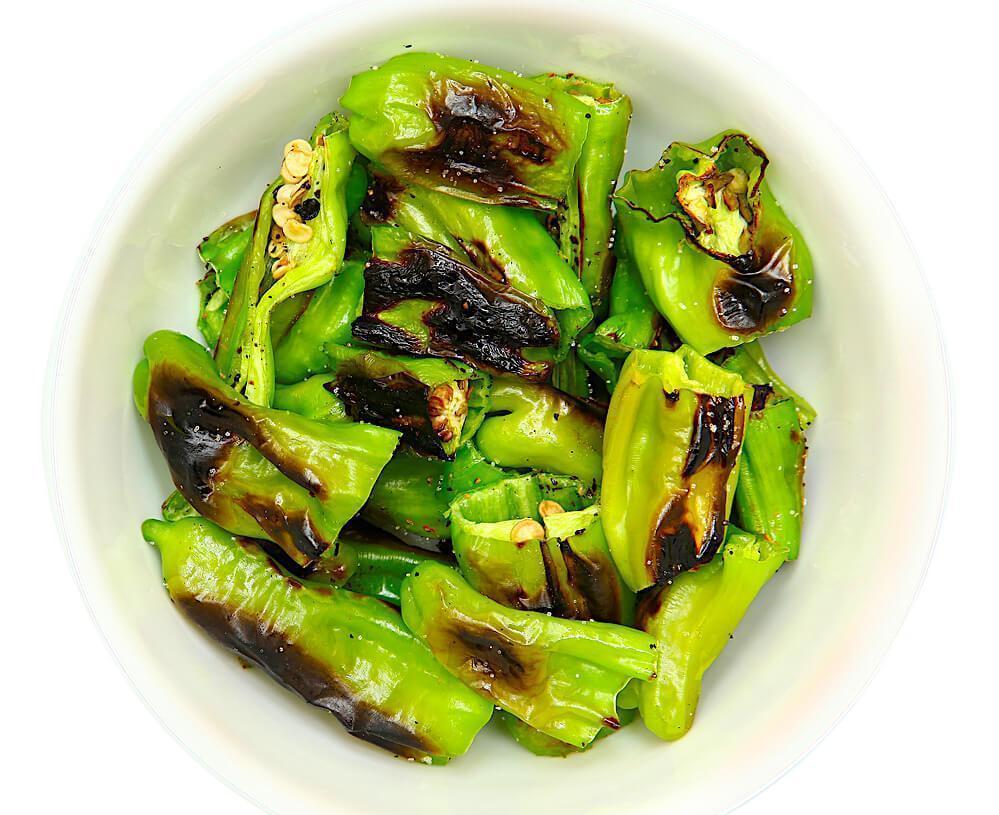 Blistered shishito peppers is a staple dish at many Japanese joints, but are now starting to make their way onto menus all over the world.
How is this done?
The peppers are simply cooked over a high heat, until their sides start to blister. 
If you want to give this a try but cannot find shishito peppers near you, there is no reason as to why you cannot make this dish with other peppers, as each variety will impart its own unique flavor.
Shishito peppers are sweet and spicy, while padron peppers are similar, but spicier. Of course, you could always just use standard sweet peppers, adding in some chilli for some extra heat.
14. Barbecued Spaghetti
If you regularly dine out in Memphis, then you are likely aware of all of the barbecue options available to you.
However, the Bar-B-Q Shop has added their own bit of innovation to the technique, and have come up with a rich, smoky barbecued spaghetti dish. 
How is this made?
The noodles are mixed with a thick base, of which the recipe is closely guarded, before being smoked in a pit for 12 hours, ensuring that the shreds of pork are amongst some of the most tender you will have ever tried.
15. Cauliflower Steaks with a Cauliflower Purée
Cauliflower steaks really made a name for themselves a couple of years ago, and while you may not think that they are that innovative, this dish, which makes use of the entire cauliflower, really is. 
The idea arose in New York, thanks to chef Dan Barber, from the nose-to-tail concept, where produce is used in its entirety, with no part going to waste.
In this case, the center of the cauliflower is used to make the steaks, which are cooked in a skillet over high heat, until they are golden brown.
When it comes to the individual florets, these are blitzed into a cauliflower purée to accompany the steaks, and seasoned with fresh herbs.