When the Beatles hit the United States in the 1960's, the mop top was enough to inspire fear in the hearts of wholesome American parents. One can only wonder what those same parents would make of the sight of the man bun.
While most members of "the Great Generation," are no longer here to weigh in on buns for dudes, it's fair to say men's hair has come a long way from the sixties. Since the arrival of the Fab Four, we've seen mohawks, faux hawks, shaved heads, long hair, no hair, afros, dreadlocks, fades, gnarly beards, sideburns, and just about everything in between.
In fact, some of the most iconic names in history and pop culture have been noted for their hairdos as much as their accomplishments. Just think of how much less memorable Albert Einstein might have been, were it not for his 'mad genius' do. In fact, it may be safe to assume that more of us recognize Albert Einstein's hairstyle than know why he won that pesky Nobel Prize.
Suffice it to say, a man's hair can speak volumes about him, so its important that men get it right; and when it comes to styling, it seems to be the case that not many men consider navigating their way around salon products and hair tools within their field of expertise.
So in an effort to correct this great inequity, and to aid the follicle-y challenged, here is some info on hair trends for men, for all who want to know, but never had the opportunity and/or nerve to find out.
The Man Bun
Love it or hate it, the man bun seems to have gotten the A-list stamp of approval, with seldom a red carpet or runway without one. If you want to rock a bun, there are a few things about the look that may surprise you.
You Don't Need Long Hair To Rock A Bun
Styling a bun may come with a few prerequisites, but long hair isn't one of them. Of course, the more hair, the bigger the bun, but the man bun and the woman bun are two different animals.
Men don't need bobby pins, and they don't need to worry about strategically place strands of hair. All you need to have is hair that's long enough to tie into a knot, so if you can gather your hair into your fist, you can make a bun.
Man buns can be made with comb over haircuts and undercuts; as long as the hair on top is long, you can make a bun. This type of bun is more accurately referred to as a"top knot," but it is a bun none the less.
Guidelines
So exactly what are the length requirements for a man bun?
Well, if it's a full bun you're after, you need about 10-12 inches, minimum, but if you've got the undercut, you can manage with 4-6 inches.
Sometimes you can get some shorter hair into a top knot, but you'll have to do some trial and error testing while your hair is growing.
The Best Man Bun Hairstyles
There are man bun haircuts for practically every hair length. Some of the best examples of man bun-dom are: Up In Dreads, the Tiny Top Knot, the Top Knot Fade, the Messy Half Bun and the Messy Full Bun.
Low Man Bun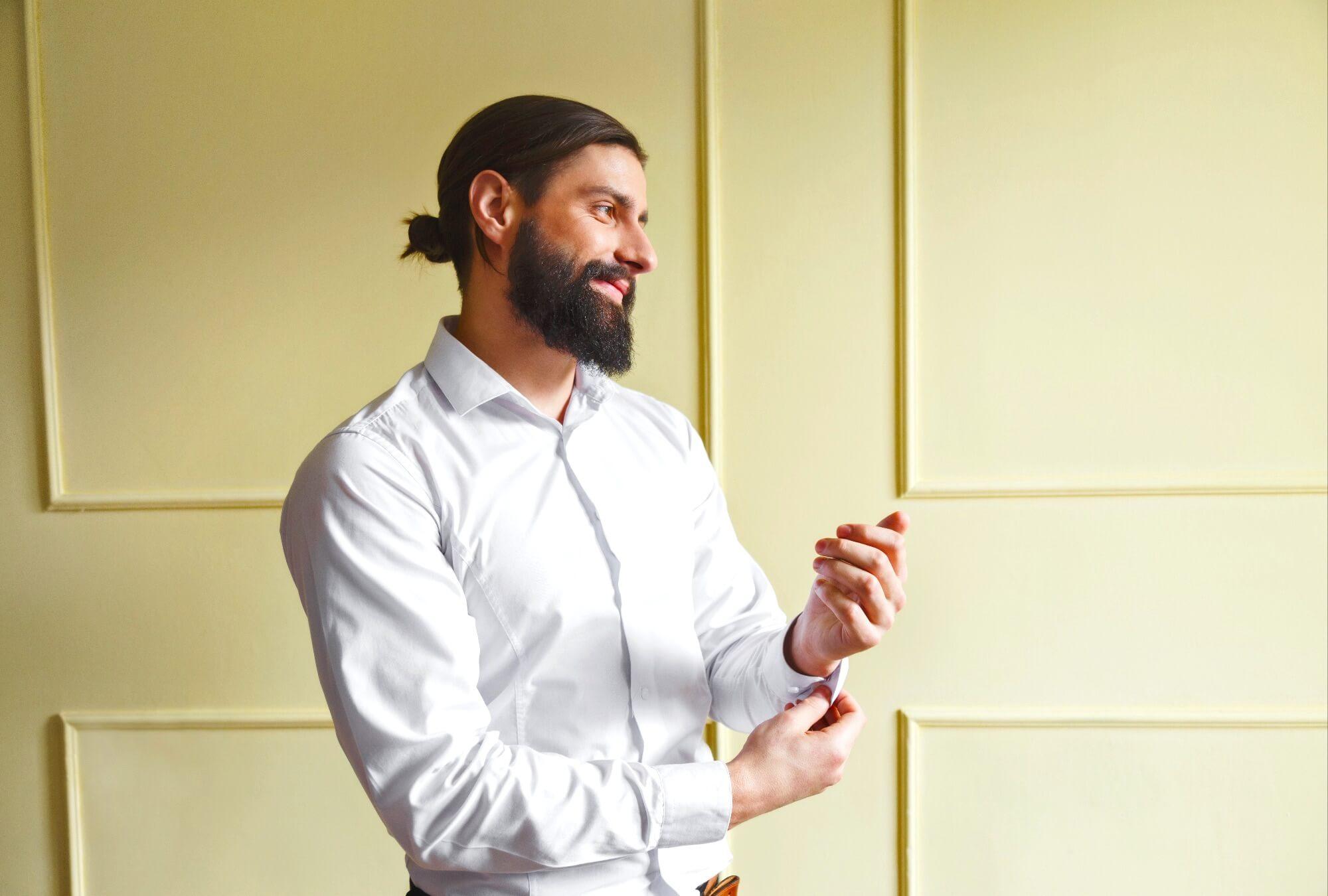 Get down and dirty with this low man bun. This look has been hitting the red carpet lately, thanks to stars like Leonardo Dicaprio and Chris Hemsworth, and for good reason:
It's so easy to achieve.
All you have to do is gather your hair at the nape of your neck, and pull it together with a simple hair tie.
This man bun is best for medium-length hair — hair between your jaw and your shoulders — and should take less than a minute to achieve. Most loved by writers and artist-types.
Double Bun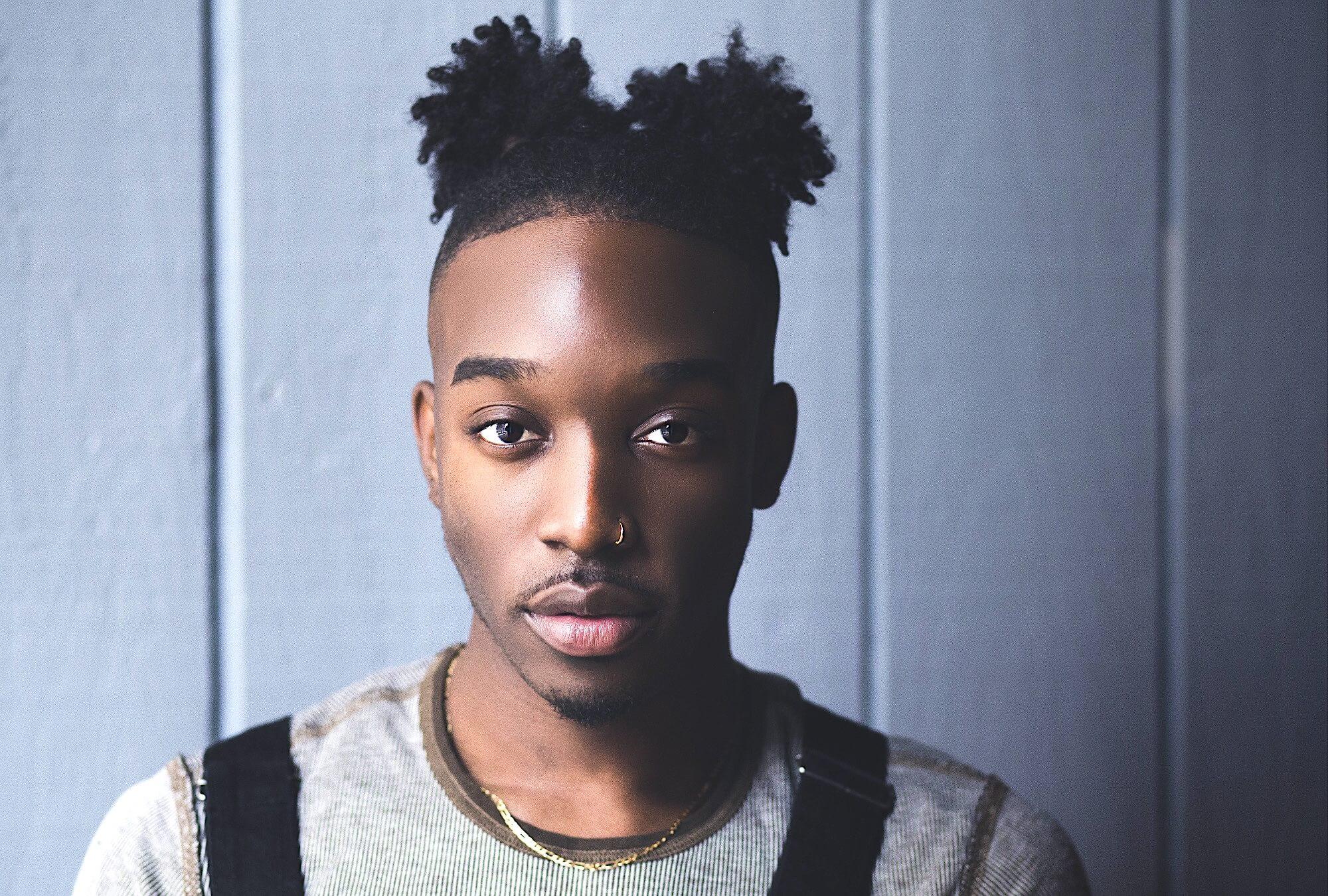 Move over, single ladies — there's a marriage of buns in town, and it's only for men. This hairstyle is best sported by the gents with short-ish hair (not crew cuts, mind; just short hair that's about 4-5 inches long).
Simply part your hair down the middle, and tie up the hair on each side accordingly. Two hair ties will be needed.
Messy Half Bun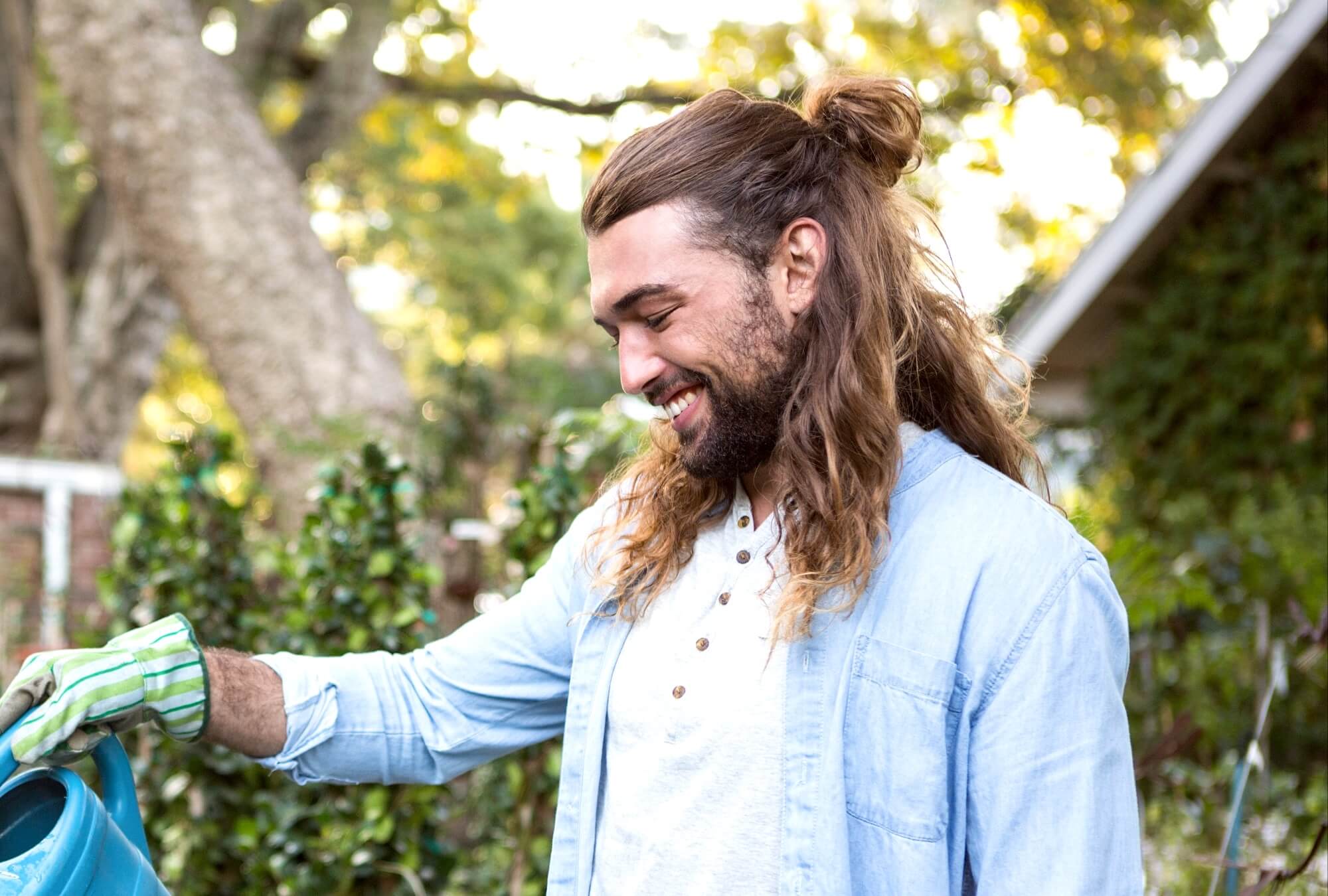 Did you think the messy half bun was only for the ladies? No way! Men all over the world are embracing this trendy, messy look. Big advantage: you don't even need a brush.
The hairstyle is best for men with long hair (past the shoulder). Instead of tying up all your hair, simply gather your mane from the ears up, and pull it together into a bun. Feel free to tease out the loose strands for better texture and flair.
Dreadlocked Bun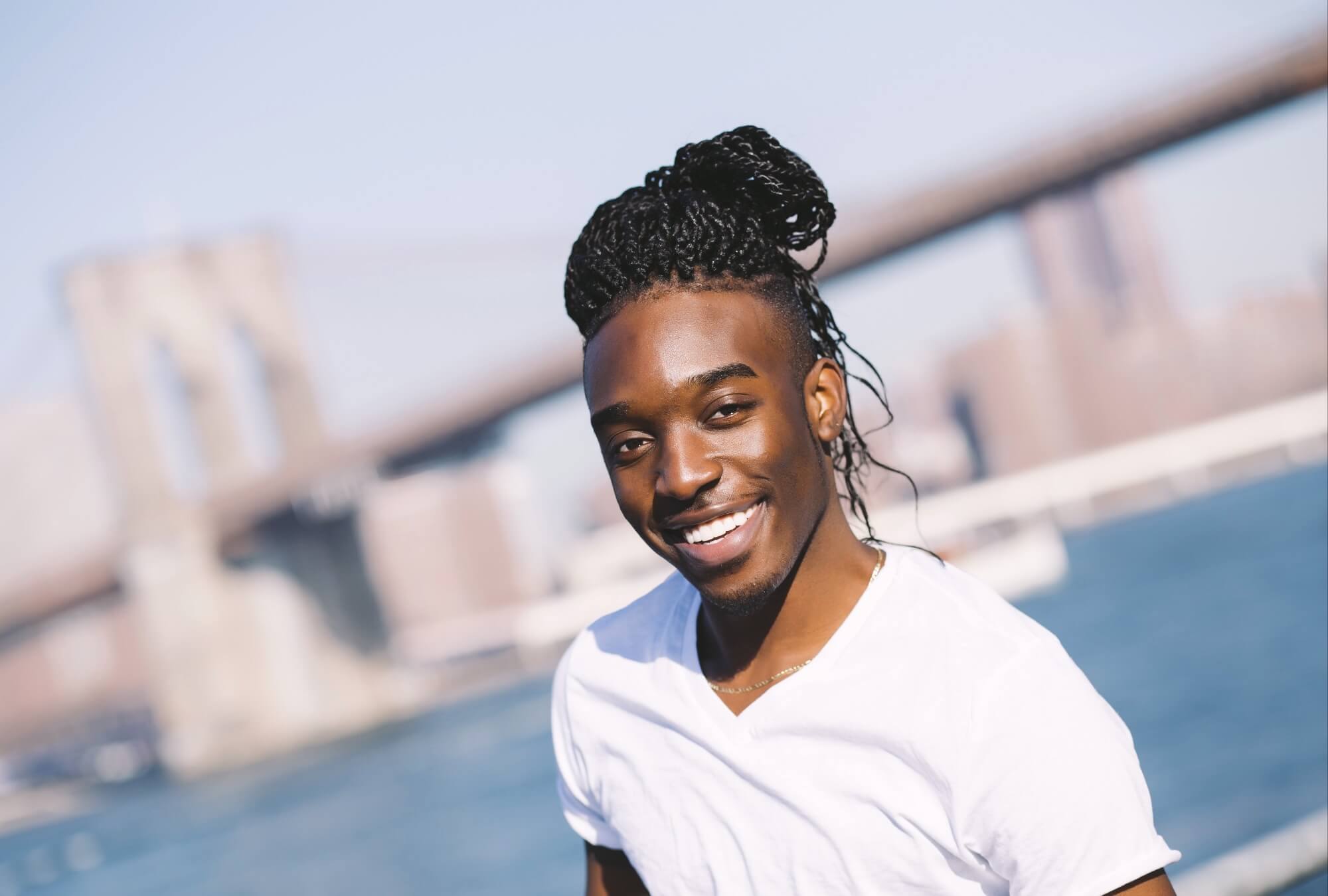 Dreadlocks are making a comeback! (or maybe they've never gone out of style, thanks to Justin Bieber). But whatever the controversies, there's no denying that dreads and buns were meant to go together.
This is good news for men who're already sporting dreads. Gather up that mop of hair and top it with a bun. This look is also cool for the office.
Undercut Bun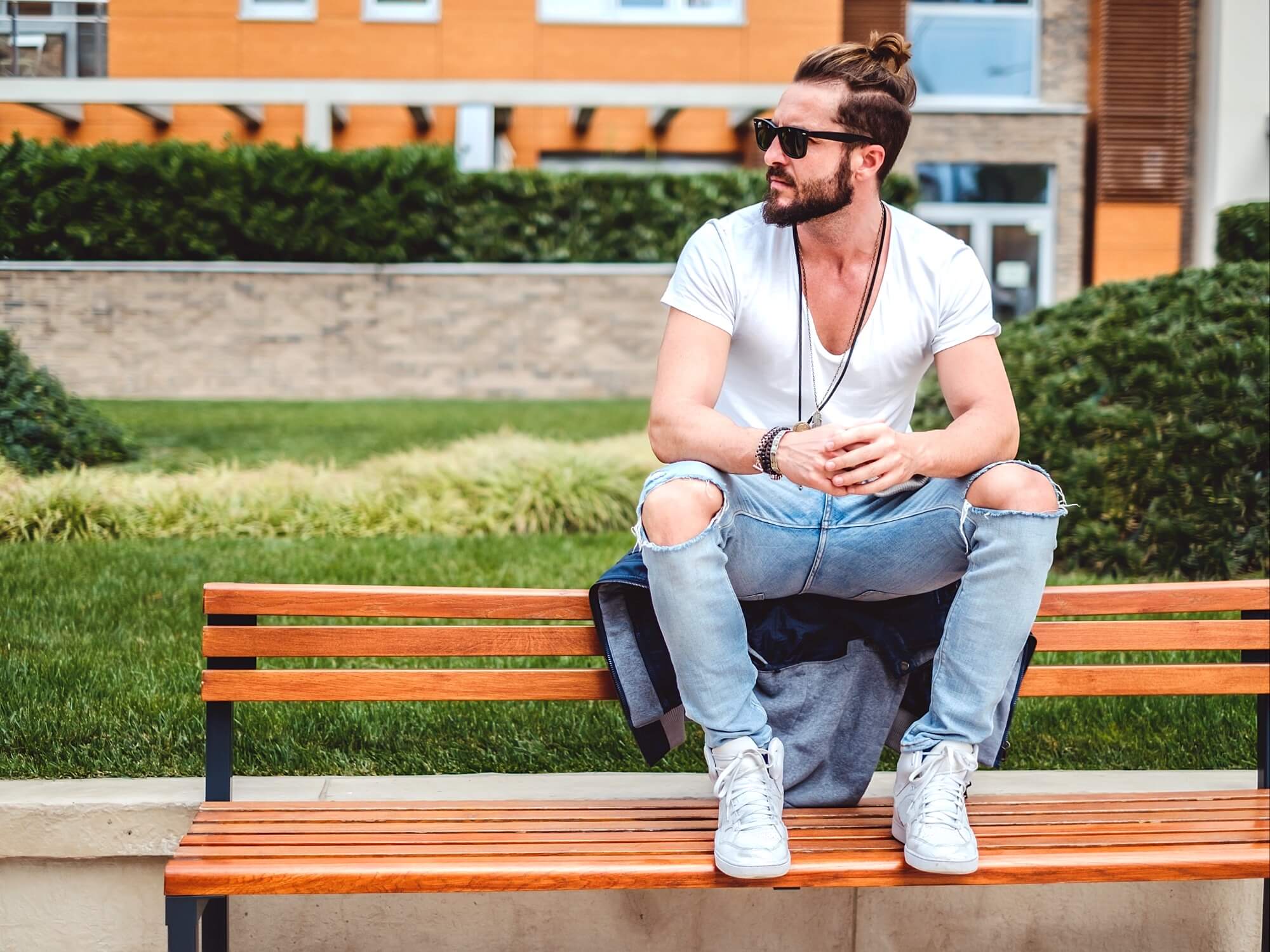 It's practically impossible not to look smokin' with this man bun! Undercuts are all the rage these days, from two-way undercuts to pompadour undercuts, but none is more dashing than the undercut bun.
If you're heading to the hairstylist's, be sure to let them know you're intending to pair your undercut with a bun. This will leave the top of your hair long enough for any style of bun you wish— messy, tiny, doubles. The world (of buns) is yours!
The Right Man Bun For Your Face Shape
Hey, your face is your ace, and one cannot underestimate the importance of choosing a hairstyle that does it justice Even the best do can become a don't if it doesn't flatter the wearer.
Luckily, the subject matter has been fully investigated, and has been broken down into easy to follow guidelines, so no man has ever to worry that he has picked the wrong style for his face shape, and can rest assured that he is always putting his best foot forward.
There are six distinct shapes that all men's faces fall into: oval, square, oblong, heart-shaped, triangular, and diamond. Although beauty is in the eye of the beholder, the oval is considered the most pleasing to the human eye, and thus the ideal when it comes to balancing facial shape.
Therefore, to do so, some faces require lengthening, others: shortening. Here are some of the guidelines for determining the best style for your face.
Oval
If you had the good fortune of drawing the oval face from the gene pool, you have the luxury of choosing any hairstyle. It seems there is no hair do that will do this face wrong. However, you may want to leave as much of this fortunate face exposed, so you might want to avoid heavy bangs.
Square Face
These are the faces with a marked jawline and hairline that form a somewhat square shape, giving the subject an almost chiseled appearance, and has the effect of making man look strong and virile.
When it comes to choosing a style for the square face, the aim is to take the edge off. A layered cut will accomplish this, making the face appear longer. Bangs should be kept off the forehead, and center parts should be avoided.
Oblong
The oblong face is a sort of stretched out version of the oval. Most styles will work with this type of face, but the best ones will be those that add volume to the sides of the face.
Bangs that skim the brows often work well with this facial shape, and anything with a full fringe will help to keep balance and add volume. Hair should be kept medium in length for the most flattering overall appearance.
Heart-Shaped
If your face is wide at the temples and hairline, and narrows to a small chin, you have what is known as the heart-shaped face. Longer styles are usually well -paired with this facial shape, as they tend to add volume below the cheekbones, while shorter styles tend to emphasize the upper facial area.
The general rule of thumb here, is to avoid top-heavy dos, which tend to put the weight of the hair on the top of the head, and try to keep to more volume at the bottom.
Triangular
The triangular face is sort of like the heart-shaped face turned upside down. It is characterized by a narrow forehead and wide jaw line, and hairstyles that flatter this facial type rarely extend past the neckline.
Triangular faces are best put into prospective by styles that widen the forehead and temples with volume on top, so consider going spiky or try rocking a pompadour.
Diamond
Diamond faces are almost as rare as the gem itself. Men with diamond shaped faces have narrow foreheads and chins with wide cheekbones.
When choosing the style that best suits this face, go for one that adds width to the chin and forehead and narrows the cheekbones.
Cuts that emphasize the ears may make the face look wider, and usually diamond faces can really rock a shag.
If You Need to Straighten Your Mane … 
While girls love the look of sexy, curly hair on men, sometimes guys have a hard time keeping their curls under control. Straightening hair is an option, but if done the wrong way, it can make hair look limp and lifeless. Luckily, there are ways to keep the volume and lose the curl.
Prep
If you're starting with wet hair, blow dry hair so that about 15% moisture is left, and apply a little heat protectant. If the hair is dry, apply protectant into dry hair. Then prep hair by using a dime-sized amount of volumizing gel or mousse.
Activate product by rubbing it between your hands and apply, making sure to concentrate on the roots with little to none on the ends and tips.
Straightening
Once you're done prepping, use a wide-toothed comb to separate hair into 1/4 inch sections. Iron each section using a flat iron at a lukewarm setting, starting from the middle of the head, and working your way gradually along the sides.
Avoid setting the temperature too high, as smoking hot irons can scald hair and cause damage.
Once the section is done, turn your head upside down and blast hair with some cool air from your blowdryer, directing the nozzle along the roots to keep the volume and sell off the strands so that your style will stay in place for longer.
Comb into place, and you're good to go.
Dry Shampoo
Depending on your product savvy, you may or may not have heard of this new phenomenon. Dry shampoo can be great for the guy on the go, and can also act as a styling aid, adding volume and definition to hair while soaking up excess oil. Dry shampoo can be used in the morning or after work before a big night out for a quick style boost.
Simply apply the shampoo along the natural part of your hair, holding the spay an inch or two form the roots.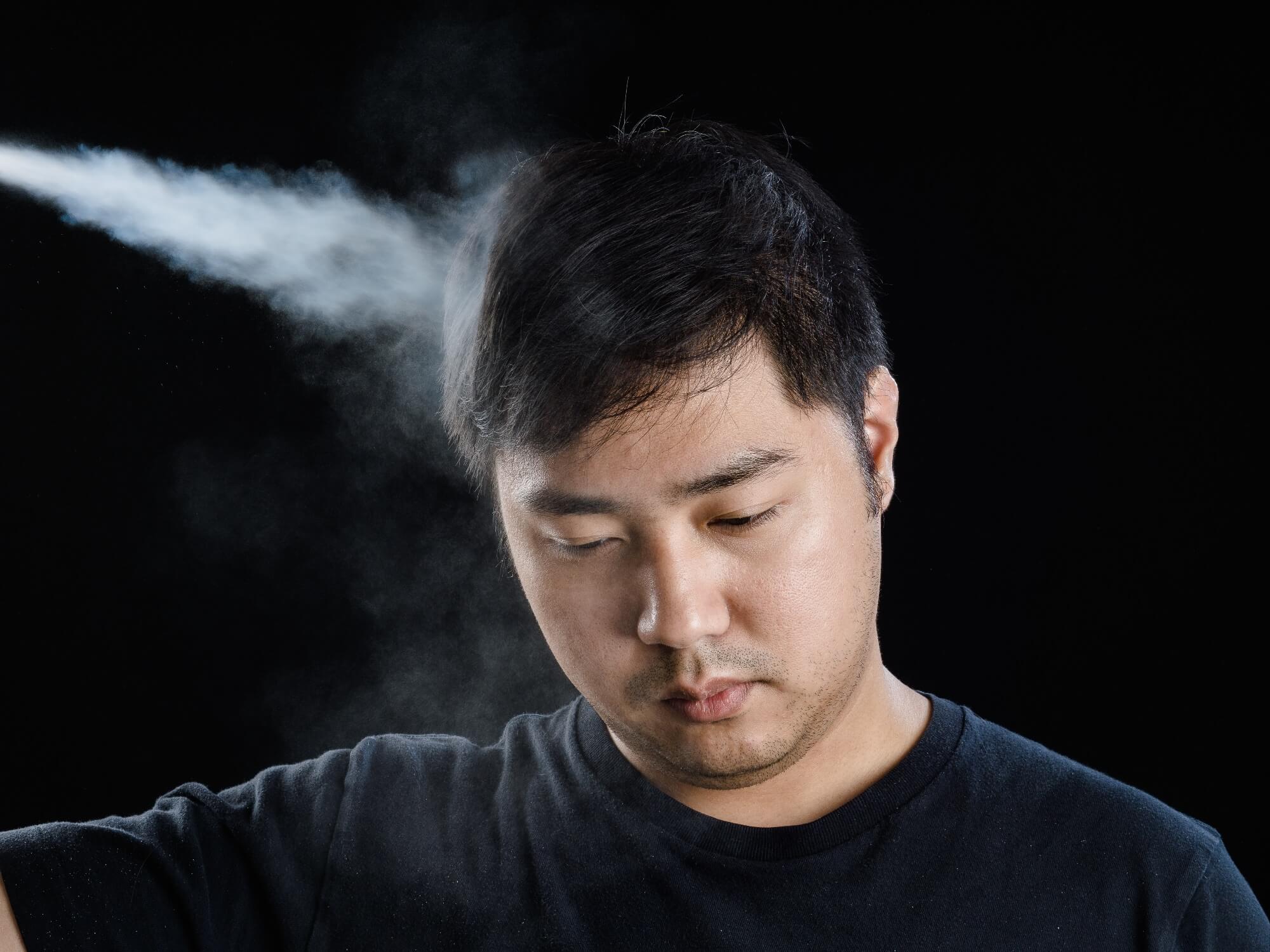 Spread the product through your hair and massage it into the scalp. If you want to add some texture to the tips use your fingertips to scrunch hair and give it a little more definition.
Avoid using too much product, which tends to weigh hair down, by focusing on the areas that tend to have the most oil.
Dry shampoo works best on guys with slightly wavy or straight hair, with fine to normal stiffness, and should not be used for more than two days in a row for best results. By this time, dry guys will probably have product buildup that can only be remedied by a good shower.