Review by Heidi Kim
I have a confession. I'm a big skincare junkie. If you look in my makeup drawer, you'll find bottles, jars, and tubes galore. My medicine cabinet is no better. And somewhere in my closet, there are boxes full of skincare samples I've collected over the recent years — all barely touched. 
You see, I like to keep my pulse on the latest skincare buzz. And as a 31-year old, I like to get my hands on products that promise to turn back time and help me achieve a perpetual youthful glow. 
So when I discovered that Cannabis Sativa seed oil (aka, hemp seed oil) can combat early signs of aging, I jumped at the chance to try the Cannabis Collection from Vou Pre. 
Before I go into my review, it's worth mentioning a thing or two about the history of hemp and hemp seed oil. 
Read on to learn more about this buzz-worthy ingredient. 
Brief History of Hemp Seed Oil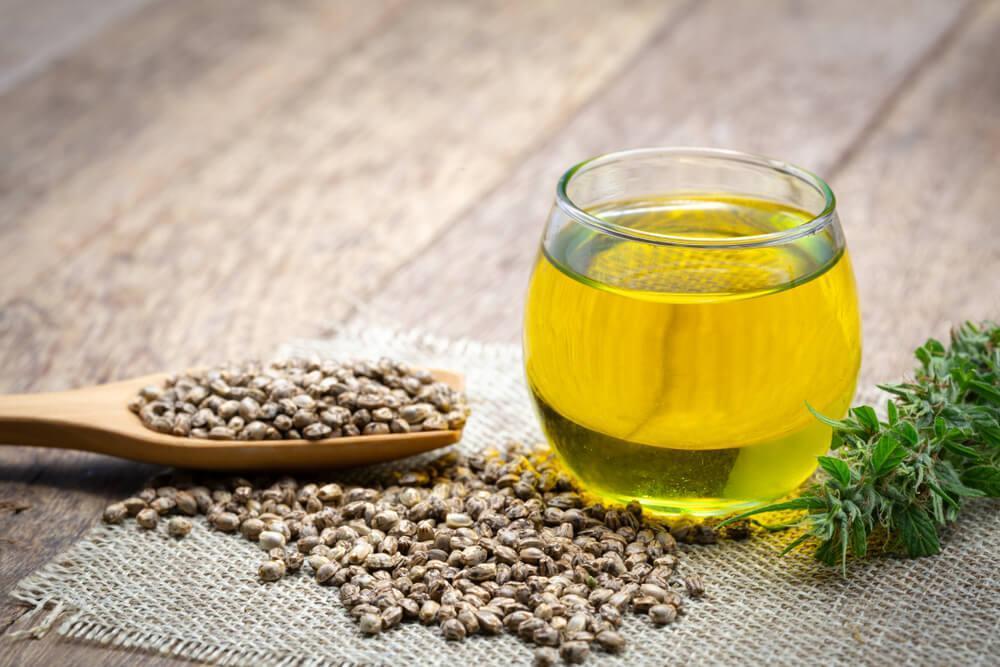 Cannabis Sativa, or the hemp plant, was historically used to produce clothes, shoes, ropes, and other utilitarian items. Known for its mind-altering effect, it was also used during spiritual rituals. For centuries, people used the plant and hemp seed oil for culinary, medicinal, and practical reasons. 
And it's no different today. 
In the context of skincare, hemp seed oil offers the following benefits:
Anti-aging qualities 

Anti-inflammatory 

Excellent moisturizer

Doesn't clog pores 
…and much more! 
(There's simply too many to list!)
Now that you're armed with this information, let's move onto the product review. 
First Impression: Glass is Classy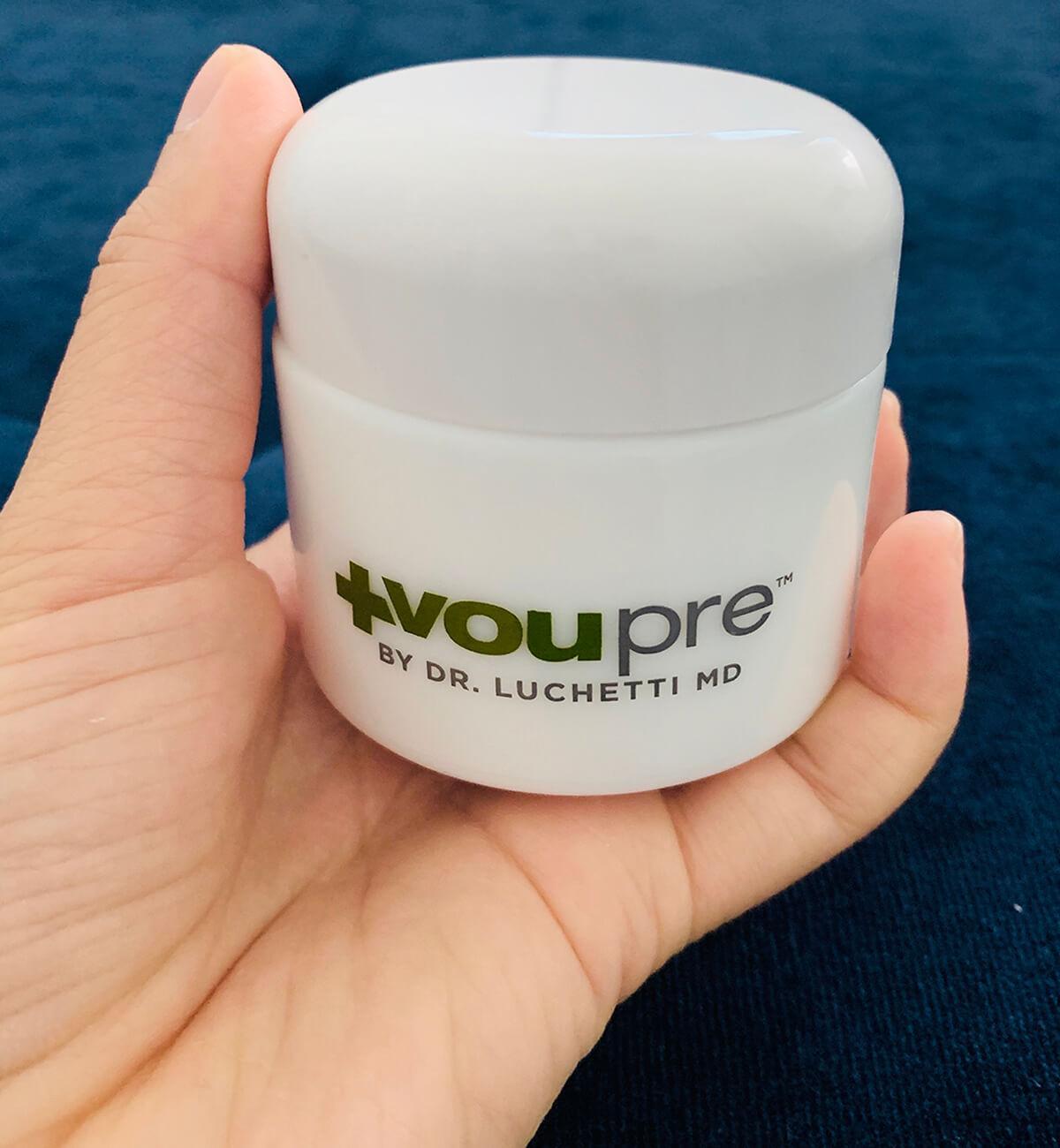 'Wow!' is the first word that came out of my mouth when I saw the four-piece set. It comes in a sturdy, white box with a hinged lid. There's minimal design throughout it, giving it a sleek appearance.
I'm not sure what the material is, but it's not your average cardboard box. I don't even think it's cardboard. Whatever the material is, the box is beautiful and worth keeping for future use. 
The actual products come in white, opaque glass jars and a bottle. 
They include: 
Cannabis Facial Serum (30ml / 1fl.oz)

Cannabis Silk Cream (50g / 1.76oz)

Cannabis Caviar Transformative Mask (100g / 3.52oz)

0.2mm Microneedle Roller 
As a bonus, it comes with a silicone-tip applicator for the mask. 
I don't know about you, but I'm a sucker for products that come in glass packaging. 
Why? 
Because it tells me about brand values. It also communicates quality, sustainability, and premiumization (just a fancy way of saying quality and exclusivity).
Also, glass packaging comes with a slew of benefits: 
Protects ingredients in natural and organic skincare products

Protects products from biochemical integration

Extends shelf life

Environmentally friendly 
Even though glass is more expensive and fragile than plastic, I prefer this method of packaging. As I mentioned earlier, I like to collect (OK, more like hoard) skincare products that often go untouched. So they should be stored in glass to ensure integrity and longevity. 
At this point, you might be wondering…
I get it. You like glass. You also like to hoard products. Can you talk about your experience using the products, pretty please? 
Of course! I was saving the best for last. 
Scroll down to find out what I think of the collection, starting with the Cannabis Facial Serum. 
Cannabis Facial Serum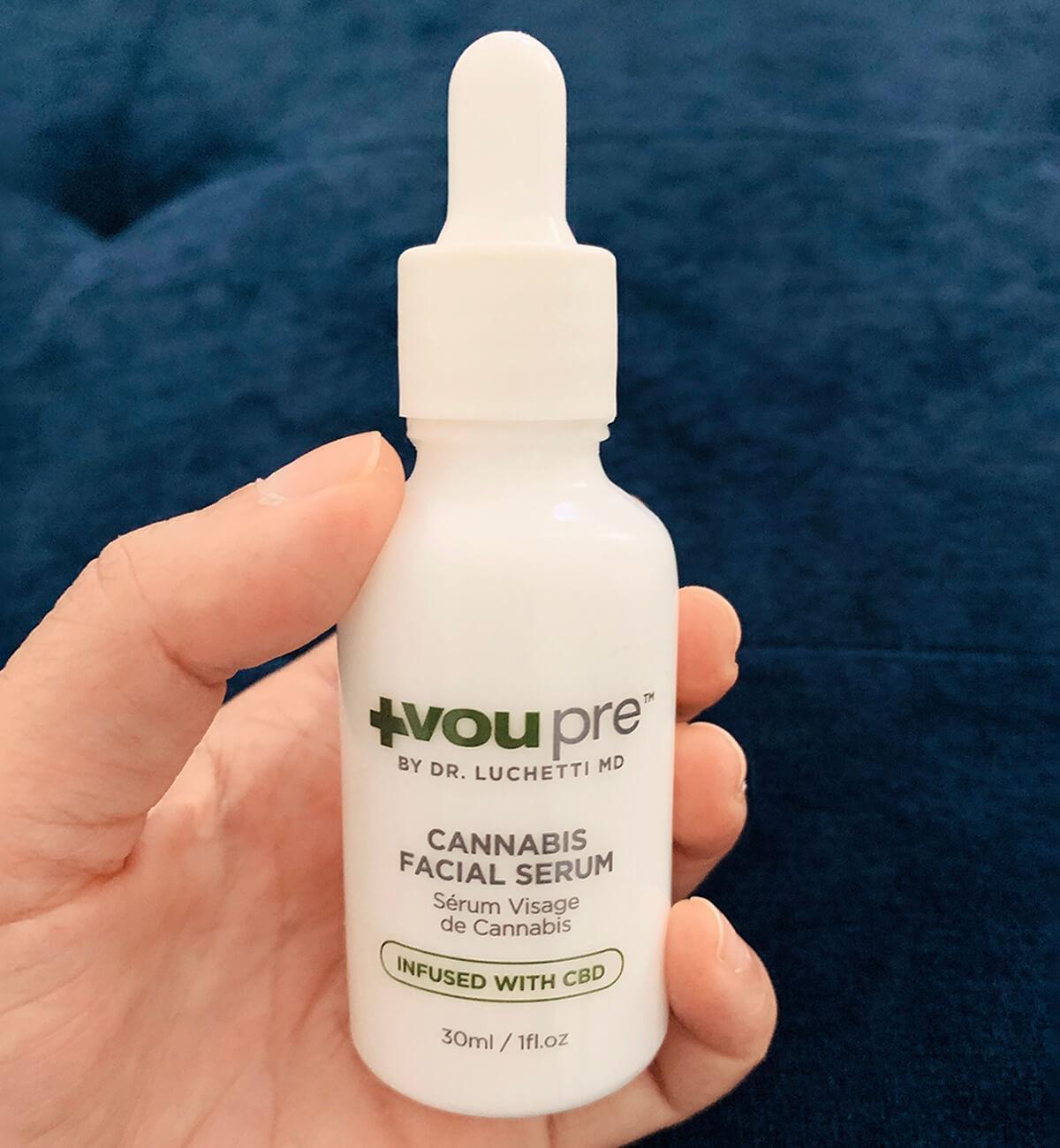 Instructions: Apply 2-3 drops on skin, massaging over face and neck until absorbed. Use daily.
Ingredients: Water/Aqua/Eau, Cyclopentasiloxane, Glycerin, Dimethicone, C12-15 Alkyl Benzoate, Cetyl Alcohol, Sodium Hyaluronate, Propylene Glycol, C13-14 Isoparaffin, Polyacrylamide, Laureth-7, Dimethylaminoethanol Tartrate (DMAE), Cannabis Sativa seed Oil, Sodium PCA, Retinyl Palmitate, Ascorbic Acid, Lactic Acid, Organic Glycine Soja (Soybean) Oil, Organic Cocos Nucifera (Coconut) Oil, Xanthan Gum, Disodium EDTA, Cannabis Sativa (Hemp) Seed Oil, Ethylhexylglycerin, Phenoxyethanol.
I love serums in general. I find that most of them are moisturizing enough for me to skip other products, especially if I'm pressed for time and/or feeling lazy. 
And the Cannabis Facial Serum fits the bill. 
It applies smoothly and melts into my skin with zero stickiness. It goes beyond moisturizing and hydrates my skin. In other words, I can feel the hemp seed oil working its magic.
But here's a small problem… 
The serum's thick, gel-like texture makes it hard for me to grab the product with the eye drop applicator. I have to gently shake the bottle a few times to "activate" it. Even then, it's hard to dispense 2-3 drops of serum into my hand without scraping some product from the tube. Or using my finger to the excess serum that collects on the top of the bottle. 
I always wash my hands before I apply anything on my face, but neither method is very hygienic here. In this case, an air pump bottle would've been better as it would reduce product waste and help dispense the product more easily. 
Despite its texture and the not-so-great packaging, I like the serum a lot. I'm going to finish every drop (or should I say glop) of its hemp oil goodness. 
Next up is my favorite item from this collection. 
Cannabis Silk Cream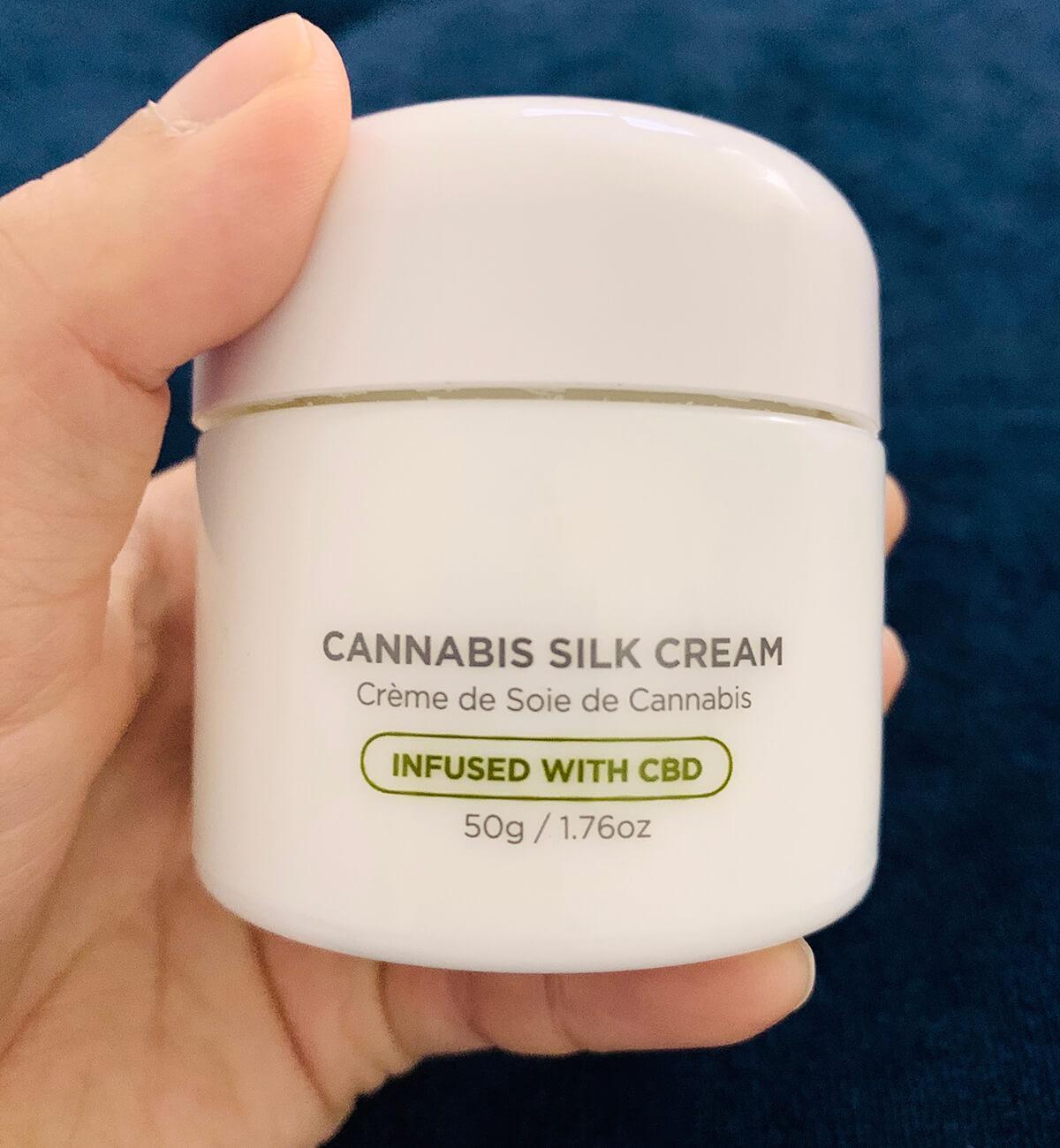 Instructions: On clean skin, spread evenly on face and neck. If necessary, gently massage until fully absorbed. Use daily.
Ingredients: Water/Aqua/Eau, Polysilicone-11, Cyclopentasiloxane, C12-15 Alkyl Benzoate, Polymethylsilsesquioxane, Isododecane, Dimethicone, Steareth-21, Organic Algae Extract, Organic Chamomilla Recutita Flower Extract, Organic Camellia Sinensis (Green Tea) Leaf Extract, Organic Glycyrrhiza Glabra Root Extract, Organic Rosmarinus Officinalis Leaf Extract, Cannabis Sativa Seed Oil, Vitis Vinifera (Grape) Fruit Cell Extract, Caffeine, Collagen Amino Acids, Acetyl Hexapeptide-8, Sodium Hyaluronate, Tocopheryl Acetate (Vitamin E), Retinyl Palmitate (Vitamin A), Sodium PCA, Laureth-12, Potassium Sorbate, Carbomer, Aminomethyl Propanol, Ethylhexylglycerin, Phenoxyethanol, Fragrance (Parfum).
I love this cream. It has a pleasant smell that's not too strong. Color-wise, it's similar to the serum but less opaque. Texture-wise, it's a gel-cream that glides like silk on my skin. 
Unlike other gel-creams I've tried in the past, the Silk Cream gets absorbed quickly and dries to a smooth, matte finish. It looks as though I put on a face primer, which is something I rarely do. This is attributed to the fact that hemp seed oil is a "dry" oil that mimics the natural oil on your skin, which explains the non-greasy feeling. 
After using this cream for two weeks, I'm happy to say that my skin is noticeably softer and smoother. Not quite as soft as a baby's bottom, but getting there. The fine lines around my mouth appear reduced as well. 
I can wax poetic about this cream for days. 
But I'll save that for another time. 
Let's move onto the third item in the collection. 
Cannabis Caviar Transformative Mask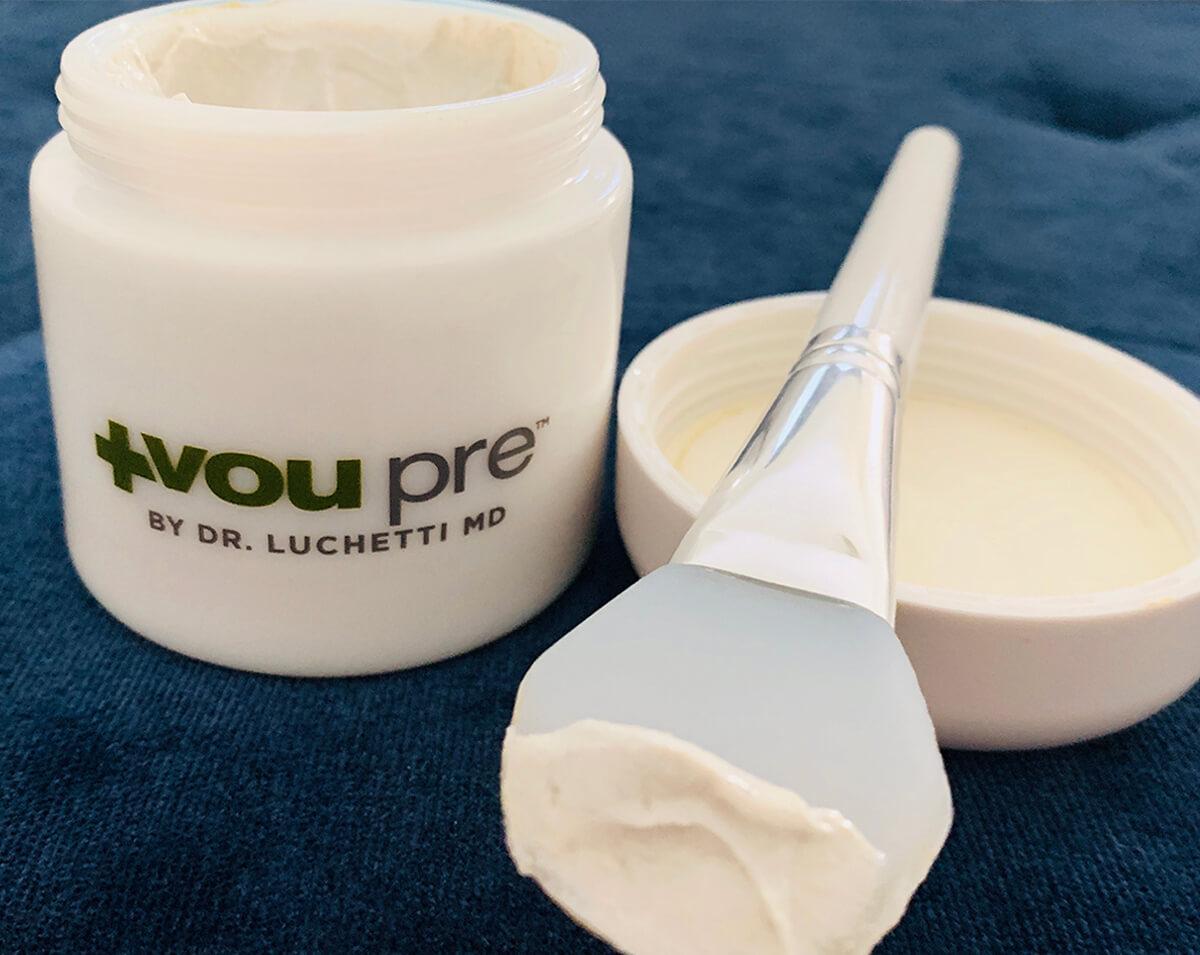 Instructions: Apply evenly on clean face and neck. Massage this in until mask fully transforms from white to gold. Leave on for 10 minutes. Rinse well with water. Use once a week.
Ingredients: Water/Aqua/Eau, Bentonite, Kaolin, Glycerin, Cetyl Alcohol, Carthamus Tinctorius (Safflower) Seed Oil, Stearyl Alcohol, Stearteth-21, Iron oxides CI 77492, Titanium Dioxide, Glyceryl Stearate, PEG-100 Stearate, Mannitol, Hydrogenated Lecithin, Acrylates/Ammonium Methacrylate Copolymer, Triethyl Citrate, Cannabis Sativa Seed Oil, Vitis Vinifera (Grape) Fruit Cell Extract, Organic Salix Alba (Willow) Bark Extract, Organic Cucumis Sativus (Cucumber) fruit extract, Organic Honey, Organic Glycyrrhiza Glabra (Licorice) Root Extract, Coconut Alkanes, Polyhydroxystearic Acid, Stearic Acid, Alumina, Coco-Caprylate/Caprate, Laminaria Japonica (Seaweed) Extract, Panthenol, Cellulose Gum, Carbomer, Sodium Dehydroacetate, Phenoxyethanol, Capryl Glycol, Ethylhexylglycerin, Hexylene Glycol, Fragrance (Parfum).
One of my favorite ways to unwind is by giving myself a homemade facial. This usually means applying a rich, luxurious mask, such as the Cannabis Caviar Transformative Mask. 
This mask comes in a big jar. Given its size and quantity, I know it's going to last me a long time. Running out of the product is a non-issue, unless you're a mask addict who uses it frequently. 
Color-wise, the Caviar Mask is a pale gray that turns into a light orange shade upon application, hence the Transformative aspect. Texture-wise, it's smooth with a slightly grainy feeling, like how I imagine caviar to be (I've never tried it before). And like the Silk Cream, it has a pleasant fragrance that's not overpowering. 
To apply the mask, I used the silicone-tip applicator to distribute the product on my face. This helps prevent the mask from getting all over my hands. It also prevents germs from spreading in the jar. Genius! It never crossed my mind to use a mask applicator before, but I'm a believer now. 
So, what do I think about the mask?
Honestly, it lacks the oomph factor for me. My skin doesn't look or feel drastically different. Granted, I only used it once, so it's hard to gauge its effectiveness. I also don't expect any mask to give me amazing results. It's one of those "nice-to-have" products that helps me relax after a long, stressful week. The only transformative effect it has is on my mood. 
Last but not least, let's talk about the fourth (and last) item in the collection. 
The Microneedle Roller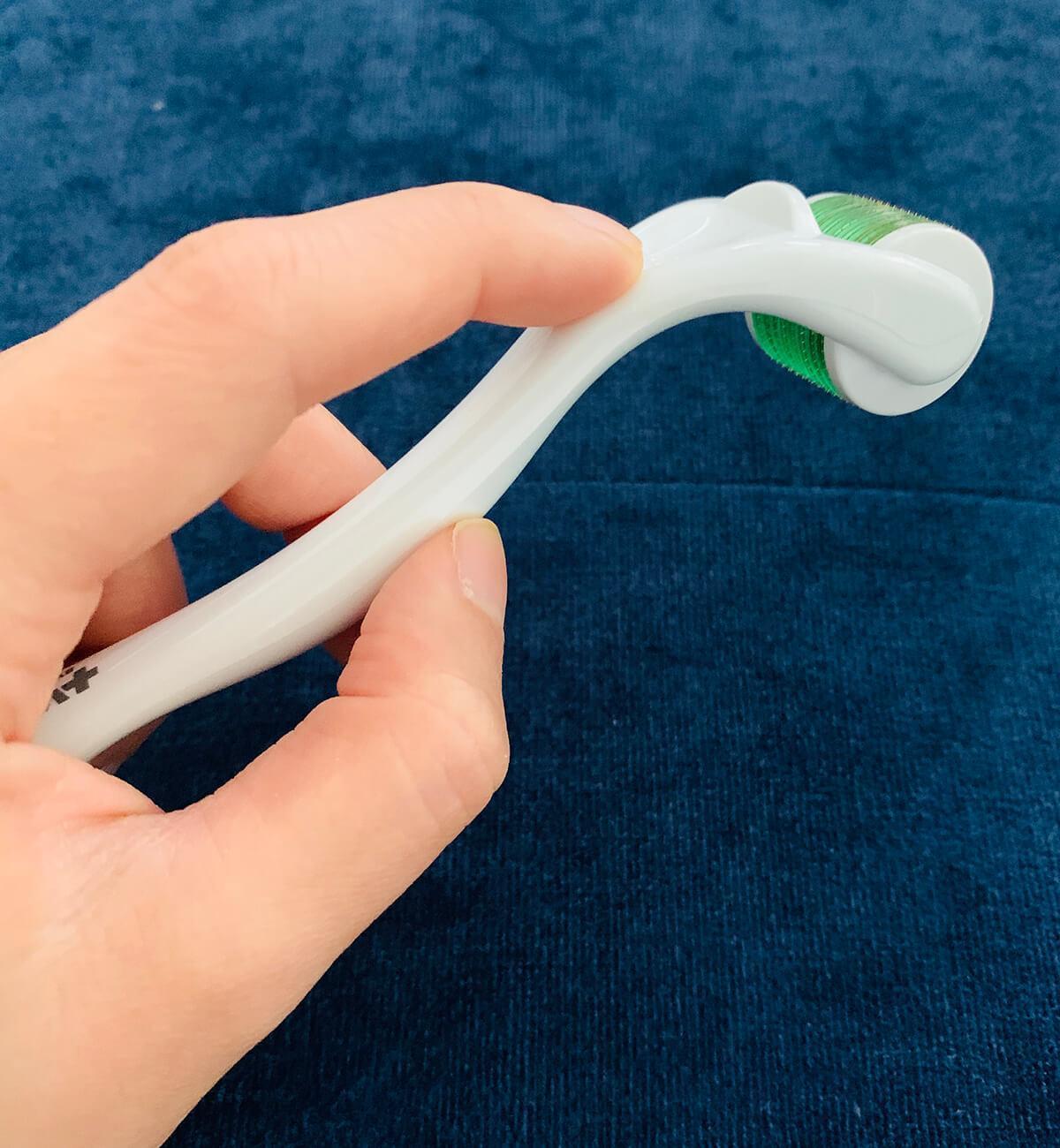 Instructions: Use on clean face. Glide roller across targeted areas, taking care not to apply too much pressure. Roll across each targeted area for 60 seconds, for a total of 4-10 minutes. You may wish to pay extra attention and time to work on stubborn areas with more wrinkles or more enlarged pores.
Before I talk about the microneedle roller, there's something I have to tell you. 
I'm terrified of needles. 
(Who isn't?)
Ever since I was a little girl, I dreaded getting shots at the doctor's office. I used to hide from my mom on days I was supposed to see my doctor. 
To this day, I'm not a fan of injections, but I'm more mature about it now. Instead of locking myself in the bathroom, I simply look away and pretend that a friendly bee is saying hello with its stinger. 
My fear of needles means I don't have any tattoos or excessive piercings. I also don't get Botox or fillers on my face. Not yet anyway. To err on the side of caution, I didn't use the microneedle roller. The last thing I want is to accidentally harm my skin. 
But don't let me discourage you. 
There's plenty of studies that support the use of the microneedle roller.
That said, let's briefly talk about it…
Microneedling, aka collagen induction therapy, is the practice of puncturing tiny holes on your skin to stimulate collagen growth. In 1995, two European doctors discovered that creating microscopic holes was effective for treating acne scars, wrinkles, and stretch marks. Over time, other doctors found a way for people to treat their skin concerns at home — with the help of a dermaroller, or a microneedle roller. 
Using a dermaroller maximizes product absorption and increases its effectiveness. Puncturing tiny holes on your face allows the product to fully sink in and work its magic. Since I didn't use the dermaroller, I can't speak to its effectiveness. 
As with any beauty tool, it's important to sterilize the dermaroller before and after each use, with rubbing alcohol, hot water, or both. It's equally important to store this properly to prevent the needles from getting damaged. The needles are delicate, so you don't want to compromise the shape in any way. 
Final Thoughts: To Buy or Not to Buy?
I love the serum (despite its quirks) and the silk cream. They feel luxurious on my skin and make me look refreshed. The mask, while not mind-blowingly great, is a nice pick-me-up. As for the microneedle roller, well, you know my fear of needles. 
Now, is the Collection worth the steep $1,500 USD price tag? 
My answer is yes. 
I place a premium on my skin so I'm willing to try new products at least once. 
If you're serious about pampering your skin and have some cash to spare, go ahead and give these a shot. It might be all the buzz you need in your skincare repertoire!