When a ball comes down, fireworks go off and people get intoxicated enough to hug complete strangers, you know its New Years in the USA. That's not to say it's not great, though.  When every city in America throws a party, there are bound to be more than a few worth attending. 
In some cities, every night is a party, so when it comes to New Year's the city throws a party to end all parties. Those are the ones that are really going to have people talking, and we're all going want to be part of those conversations. Here are some of the parties in the United States that will be making the scene you'll want to be seen in. 
New York, New York
Not invited to a party on New Year's? Everyone is invited to watch the ball drop at Times Square where exhilaration and the scent of alcohol are in the air.  Times Square is big and bright all the time, but it's especially "lit" on New Year's, and with over 100,000 places to have a drink in New York, it's not hard to see why. 
For a real New York-style pub crawl, look into buying a Times Square party pass. You'll get to glide past the velvet ropes in the entertainment district's finest bars, party under the neon lights and hopefully make it back to Times Square time to see the ball drop. 
Then head over to the STK rooftop, where you can dance until dawn and watch the sun come up over the Empire State Building. Breakfast at Ellen's Diner and home of the singing wait staff to start your years off right. 
Honolulu, Hawaii
If you want to spend your New Year's in a more "lei'd" back atmosphere, don your grass skirt and head on over to Honolulu, Hawaii for fireworks on the Beach. Both Waikiki Beach and the Aloha Marketplace host fireworks displays on New Years and their so lei'd back you can even bring your kids. 
Honolulu holds one of the most family friendly New Year's celebrations. The Kakao Waterfront Park is full of carnival rides, beer gardens and several stages for entertainment so there's something for the whole family. But if you want to wake up on the beach the next morning, leave the kids at home and head over to the themed dress up parties where you can dance the night away.
Los Angeles, California
Los Angeles is the city of lights, how could it miss on New Year's? From upscale parties with celebrities to dive bars with beefcake security guards, Los Angeles is one of the hottest hot spots for New Year's in America.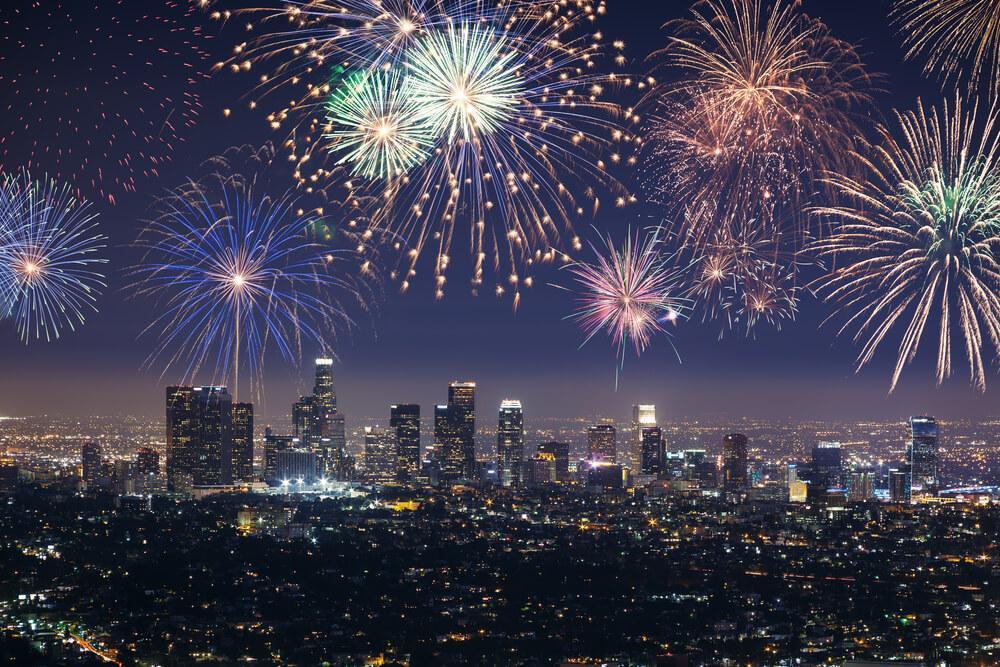 If you're picturing waking up in Elton John's pad don't count on it. The info about the most exclusive parties doesn't get released until the last minute and chances are Elton's people aren't talking.   A better bet might be a club crawl ticket which gives you access to multiple clubs, and celeb sightings are not rare in Los Angeles.
The annual Cleopatra Ball at the Egyptian Theater is the New Year's Eve go-to in LA. With a DJs spinning, an LED light display, balloon drop and confetti blast to ring in the New Year, you get all the bells and whistles. 
Check out free events in downtown Grand Park with live entertainment and food vendors for something a little more PG-rated.  
Chicago, Illinois
When Frank Sinatra wrote "My Kind of Town" about the city of Chicago, it probably was on New Year's Eve. With Chicago's firework cruises and posh dinner parties, Frank would have had a lot of inspiration.
Nay Pier in Chicago is most beloved for its kaleidoscopic fireworks display which "dances" to the music over Lake Michigan. The pier also features entertainment, rides, and attractions for a family friendly New Years. 
However, if Frank was having it "his way", he was probably more likely to be found getting down and dirty at the Chicago Resolution Gala. With over 30 bars, buffet stations and access to the Lakeview Terrace and Grand Ballroom, you can count on things getting busy in more ways than one.
Portland, Oregon
The Portland Champagne Ball is New Year's wonderland in Portland. What more could you want from a New Year's party than four dance floors, four themed rooms, 17 bars, a hot and cold buffet with dessert and wine, late night pizza, party favors, and photo booths? Not to mention a chance to dress like a celebrity and show off your moves.
If keeping it a bit quieter on New Year's is more your mug of beer, Portland has some of the best craft brew pubs in the county that are terrific for hanging out with friends and listening to live music. Try the Beer Mongers for a no-nonsense beer and bottle, or Deschutes on 11th Avenue for some gourmet grub to accompany it.
Las Vegas, Nevada
It's New Years and they're going to shut it down in Las Vegas, the whole strip that is. Every New Year in Las Vegas the entire strip shut down for an epic Vegas style block party for 300,000. 
What's that going to look like? With a fireworks display courtesy of Gucci; fab-u-lous, of course. The best advice for New Year's in Las Vegas, get the nosebleed seats. There are several rooftop venues offering a bird's eye view away from the madding crowd where you can drink and celebrate the night away. (The Stratosphere is highly recommended.) 
Just make sure to get tickets early, even though they say what happens in Vegas stays in Vegas, there's not much chance that they're going to keep an event like this under wraps.
New Orleans, Lousiana
In New Orleans, they have a little bit of experience when it comes to partying. Perhaps you've heard of a little thing called Mardis Gras? When it comes to New Year's parties, it's safe to say that New Orleans has been studying up the whole year and you're going to want to be there for the major presentation.
The French Quarter is always party central in New Orleans. Bars stay open late and people walk along with beverages in hand hopping from one to the next. But when New Year's Eve comes to New Orleans, there's only one place to be, and that's Jackson Square. That's where the entertainers play throughout the night and the fleur de lis drops against a backdrop of fireworks over the Mississippi. 
After that spectacular site, head down to Bourbon Street where you'll find the locals ready to "laissez les bon temps rouler." (Let the good times roll.) From there, who knows where the night may take you.
San Francisco, California
For most residents will tell you that on New Year's in San Francisco the smoke is on the water -the San Francisco Bay that is. On December 31, San Francisco capitalizes on its unique proximity to the bay to launch a must-see fireworks spectacular.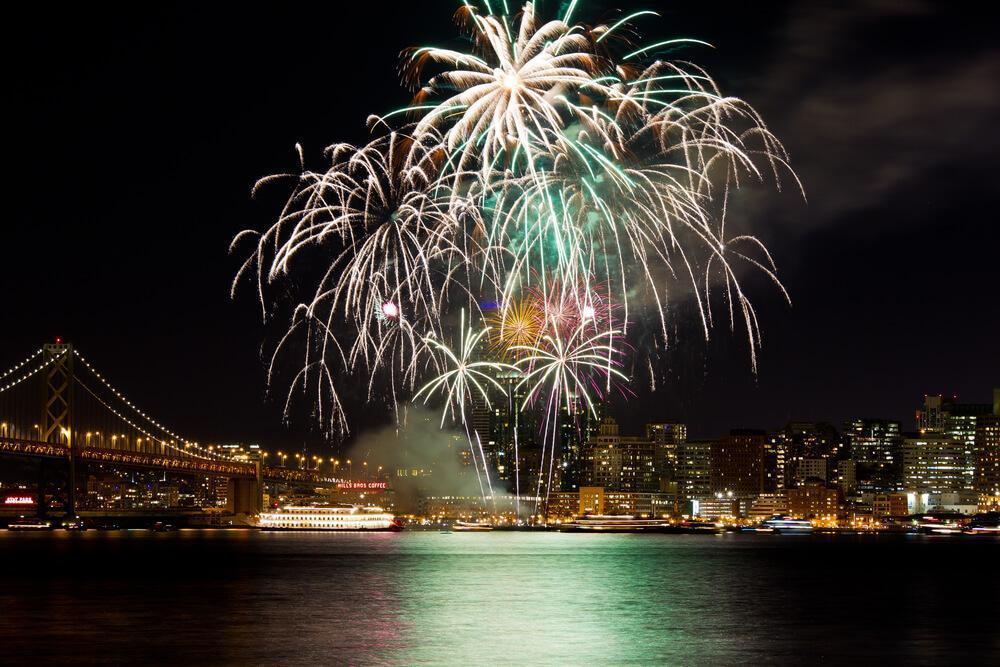 Some choose to watch from the land, others cruise right through it. Festivities on the Hornblower include brunch, dinner and fireworks cruises. If you prefer to keep your legs dancing rather than balancing on a boat, there are a number of balls, to attend, including the San Francisco Symphony's Black and White Ball and the Passport to the World's New Year's Eve Ball complete with open bar, live DJs and entertainers. 
To elevate things, head to the Twin Peaks rooftop or the Embarcadero to end your year watching fireworks on a high note.
Orlando, Florida
Count on the mouse to bring a little Disney magic to New Years. Mickey and his crew are planning a throw down for adults and children alike. There you'll find flowing libations and positive vibrations, decadent dining, dance parties and, of course, a magical fireworks display done as only Disney can.
Every December 31, Walt Disney world offers one of a kind packages at various hotels so you can wake up on New Year's Day to find all your childhood dreams have come true. Many choose to watch the fireworks from the California Grill at Disney's Contemporary Resort. Other options include welcoming the New Year in with music and tasty treats at the Atlantic Dance Hall at Disney's Boardwalk Resort.
San Antonio, Texas
Texas may be the Lone Star state, but even Texas is down with the rest of the states in celebrating New Year's in the USA.
Spend your New Year's in San Antonio, where the spring-like weather alone is reason enough for celebration. Head to the San Antonio River Walk for a down-home New Year's jamboree. There you'll find southern hospitality galore and River Walk restaurant specials and packages for prix-fixe meals and VIP seating.
Find yourself downtown at 5 pm to witness the San Antonio New Year's celebration, for a night of music rides and food leading to a grand firework finale that's sure to get you – in Texas lingo- "ready and rarin" to go."
Atlanta, Georgia
If you're looking for some straight-out hard partying without too many bells and whistles, Atlanta, Georgia is a peach of place for a New Year's party. When the 362-kilogram peach drops on the Underground Atlanta shopping and entertainment district at midnight, prepare to get your juices flowing. 
Spend the hours before the peach drop taking in the local flavor. The Underground will be flowing with food drink, entertainment and DJs and admission is free. Then party until the wee hours at any one of the city's bars and nightclubs for a peachy keen start to the New Year.
Nashville, Tennessee
In no particular order, Nashville is known for country music, hot chicken and southern hospitality and you'll find all of the above on New Year's in Nashville. Nashville's nickname is music city so it's only fitting that Nashville kicks the year off with the annual "Music Note Drop" at midnight at the iconic "Bash on Broadway."
Big name bands open the show, but the Music Note always gets the headlining slot, accompanied by confetti cannons and a full-on fireworks displays. Elsewhere, parties and events are in full swing, including annual festivities at the world-famous Ryman Auditorium.
If its bang for your buck you're looking for, head over to M Street, home of several of the most beloved bars and restaurants in Nashville, where one ticket gets you into four parties. New Year's brunch at the Garden Brunch Café comes highly recommended.   
Lake Tahoe, Nevada
Looking for that vintage snow globe New Year's Eve scene? You'll find yourself inside a winter wonderland at Lake Tahoe. The action goes down at the Heavenly Mountain Resort where there's ice sculpting, live music, and entertainers galore. The world's only Gondola Ball Drop." happens at midnight and, believe us, your jaw will drop when this gondola does. It is as heavenly as the name promises. 
Then hightail it to the North side of the lake to Squaw Valley for the big live music party, with fireworks (best view from KT base bar) and an afterparty at the Olympic house. 
For an urban New Year's Eve in a mountain town, travel 30 miles to Reno, Nevada to catch the fireworks show at the Reno Arch. Find casinos throwing open their doors at the Grand Sierra Resort LEX Nightclub and Peppermill and Silver Legacy with live music and party favors.
So, how will you roll this New Year's and more importantly, how will you dress? Let us know if your planning to show up in any of these destinations this year. We'll tell them to make sure your name is on the list.