When most of us  put on our makeup, we want to end up looking like the complete package. We want our eyes and lips to complement one another perfectly, hair that has just the right balance of toss and hold, and the ideal blend of foundation that screams, "flawless."  
But what about the packages that the beauty products come in? Are they the complete package?  Shouldn't we be getting a product packed in a container that is sturdy, attractive and eco-friendly? 
Typically, beauty has been  about aesthetics, and so it follows that traditional packaging has been about aesthetics as well. However, in the last five years, beauty has become ethical, and in order to get the complete package, we need to add the  component of ethicality. Here are some of the ways the beauty industry is working to give us that" more "complete package."
Why the New Beauty Packaging?
With the  higher customer demand for environmental friendliness the make-up mavens are  opening  their carefully painted eyes to the idea of sustainable packaging. It has become clear that the waste from packaging and plastic is harming our land, our oceans, and our atmosphere and the beauty industry can do something about it.  That's why they're stepping in and stepping up  their packaging and exploring new ways to make it more sustainable.  Survey says, so far, so good. Recent efforts to upgrade include:
Fully recyclable packaging: This refers to the

 

reduction of the number of components used in the package and the use of mono materials as often as possible.
Biodegradable or compostable packaging: Packaging can be composted in an industrial packaging facility.
Using renewable or bio-based

 

plastics for Greenhouse Gas

 

(GHG reduction), such as green polyethylene derived from sugarcane.
The big beauty players have heard the call of the people and it's a call to nature.  Here are some of the companies we want to give a shout out to for listening and what they're doing to play their parts. 
L'Oreal: The Sustainable Packaging Initiative
Loreal was one of the first companies to get on board with ethical and sustainable beauty products. Way back in !986, the company took measures to ban certain raw material in their formulations, so it comes as little surprise that they are now taking measures to improve the quality of materials in their packaging.  
L'Oreal, along with environmental sustainability consulting firm, Quantis, is heading up the  Sustainable Packaging Initiative (SPICE) to "collectively shape the future of sustainable packaging." 
As of now, SPICE  consists of eleven major players in the beauty industry "developing and publishing methodologies and data to support a resilient decision making to improve the environmental performance of the entire packaging chain." The findings will be based on the results of meetings   where  leaders will exchange knowledge and formulate ideas about how to drive the sustainable packaging campaign on a "grand scale and  recyclables, bio-based plastic, and finishing and decorating processes are just some of the  subjects on the table.
  According to L'Oreal's  Global Head of Packaging and Development, Phillipe Thuvien, "L'Oreal's commitment to be a co-founder of SPICE was driven by a willingness to collectively share on sustainable development principles and allow cosmetic industry players to work more effectively together." Quantis concurs. Managing director Dmitri expounds, "'If you want to go far, go together' the proverb states, and this applies to SPICE." Hopefully, a little unity is just what it will take to  SPICE things up in the move toward sustainable packaging.
Proctor and Gamble
And the winner is….Proctor and Gamble. That was the highly awaited announcement heard at the Dow's 30th Awards for Packaging Innovation. At the ceremony, P and G became the first company to take home the trophy in all categories: Diamond Winner, Diamond Finalist and the Gold and Silver awards for their groundbreaking packaging concepts.
The company received the most highly coveted and well deserved Diamond Award for its Air Assist, Described as  "a breakthrough in performance and sustainability for e-commerce and brick and mortar packaging." 
 How does this breakthrough work? According to P and G representatives, the liquid packaging technology uses compressed gas to give rigidity in order to create structure for flexible films. Using a  one way valve the packaging allows for a cleaner method of dispensing, a more controlled dosage, and one hand usage while still being able to withstand the …. Amazon shipping without extra packing.  
Guess with all the other awards P and G took home, you could say they cleaned up the ceremony while cleaning up the environment.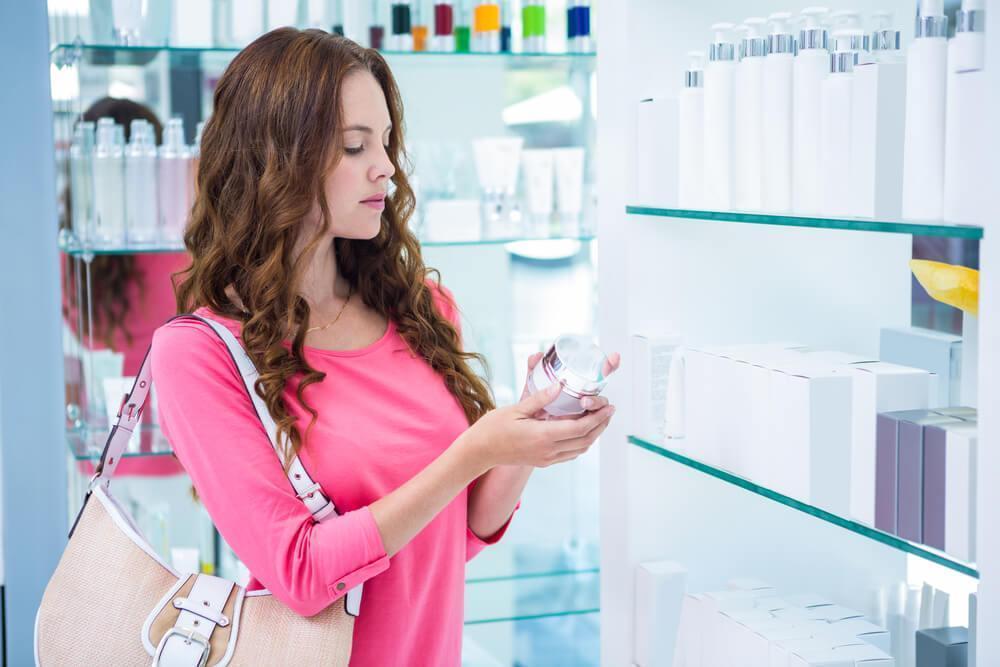 If you're wondering what else the future of sustainable packaging might bring, event organizers make mention of " a facial duo cleaner that uses dual plungers to dispense the product in the shape of a blooming flower, and cleanser that comes perfectly packaged to resemble a fine cut diamond." Looks like we're in for some (heart) pumping action in the not too distant future of beauty packaging.
Lush
While other companies think of new ways to revolutionize their packaging, Lush has come up with their own solution – to eliminate it completely. The recently released Slap Stick meets a trifecta of consumer demands – its vegan, designed for a diverse number of skin types and is package free. 
This "out of the box" creation is a range of  egg shaped foundations made with 100% natural fully vegan ingredients available in 40 shades to suit a variety of skin tones.
Market research firm, Mintel, explains, " The long standing 'naked' packaging free range from the brand offers an alternative to liquid products that generate plastic waste that often ends up in our ocean."
Furthermore,  Kayley Thomas, Lush project manager actually suggests that makeup may be the worst candidate for plastic packaging. "When bought on line," she says, "Slap Sticks arrive in a small matchbook style cardboard box. These are pretty durable and fully recyclable, with a vegan coating that minimizes the chance of the product staining the box."
Will 'going naked' be the next step in the evolution of sustainable packaging? So far, it's still a work in progress, but with Thomas promising  new long term packaging solutions and " a makeup bag specifically designed to house naked products," it seems like Lush 
L'Oreal and the Alibaba Group
China has always been known for its innovative beauty concepts, now, with the help of L'Oreal, it will be known for its innovative beauty packaging as well. 
On June 25, 2018, the Chinese branch of L'Oreal signed a partnership agreement with e–commerce leaders Alibaba to ensure all the packaging used on its products sold in China is environmentally safe. As part of this agreement, L'Oreal China pledges to use only Forest Stewardship-council certified sustainable papers, zipper paper cartons and paper adhesives in place of plastics and non-biodegradable materials in an effort to improve the air quality and  
As stated by Alibaba representatives, the trend toward green consumerism is not new to China and the new collaboration reflects the increasing green mindedness of Chinese consumers. In fact, a report by Chinese Chain Store Association shows that over 70% of the respondents surveyed said that the were actually willing to pay a 10% premium for sustainable products that had the potential to reduce environmental harm.
Says Jet- Jing, head of Alibaba's B2C marketplace, Tmall, "The upgrade of consumption is both and upgrade in quality of life, as well as consumer awareness" and a step toward creating, "green, healthy sustainable social values" as well as a green healthy sustainable world.
Bulldog
Let's hear it for the boys! The ladies aren't the only ones getting tough on sustainable packaging. Recently, the British male skin care and grooming company Bulldog has shown its 'no bull' support by launching its Original Shower Gel Refill Box, a product which it claims will contain the equivalent of 25 bottles in an effort to cut down on plastic packaging waste. 
The Bulldog Company states that by using and reusing the refill box made from FSC certified recycled cardboard, customers will be reducing plastic waste by 85%. As the brand drolly puts it, "It's our mission to do things properly at Bulldog, and we are dedicated to minimizing our pawprint."
Some see Bulldog's newer, and greener, profile as an attempt to attract a wider audience.  Jaime Mills, Senior Consultant for Global Data sees Bulldog's shift toward sustainability as a strategy to attract more men to the idea of personal care and grooming.
As Mills states, "The pressure is on for these brands to showcase their proactivity and awareness of the issue in their own product ranges and innovate accordingly to provide more responsible eco- friendly solutions."  If so, Bulldog is not stepping down any time soon. With its newest innovation, the bamboo razor, packaged in fully recycled stock, set for release, the old bulldog may just be learning a few new tricks.  
Henkel
And while we're at it, hats off to Henkel. The parent company of Schwatzkopf not only has a passion for hair, it has a passion for sustainability as well. 
Be sure to check on Henkel in the year 2025. That's the year the company has promised that all of its packaging will be recyclable, reusable, and compostable. Henkel sees this as a step toward creating a "circular economy;" that is one in which all  packaging materials come from recyclable and sustainable sources and end up the same way, thus making a full circle in the environment.
The framework for this plan has been separated into three key phases:
Sustainable Materials: All the materials used in their packaging will come from sustainable sources. These include recycled

 

plastics, and renewable

 

materials such as cardboard and paper.
Smart Packaging Design: Will there come a day that your new hairdryer comes in a box shaped like, well, a hairdryer? Smart packaging is about minimalizing packaging while maximizing customer convenience and product longevity. Henkel promises to reduce its packaging to only the bare essentials.

 

Back to the Earth:

 

Henkel doesn't just want their customers talk the talk, it wants them to walk the walk as well. Henkel knows that true recycling has more to do with just buying a recyclable package, customers need to know what to do with that package after they're through with it. To facilitate this, Henkel is planning to enter partnerships centered on promoting appropriate recycling practices and explore solutions such as refill systems and alternatives materials that allow packages to return to nature.
Options For Sustainable Packaging
So now that we're finally getting the complete package, (eco-friendly, convenient, and aesthetically pleasing) what can we expect that package to look like? Here are a few of the current options that may end up being the new "face" of beauty.  
Bamboo: Don't worry about the pandas, when it comes to bamboo, there's plenty to go around. Talk about sustainable, bamboo is the fastest growing material in the world, and it actually grows faster after its cut down.  
Glass and Metal: They may not make the best candidates for shipping, but they may make some pretty good candidates for ash trays or containers. Glass and metal can be infinitely recycled into new packaging without losing quality and they always come in handy.
Recyclable Plastic: Environmental concerns aside, plastic does serve its packaging purposes. Many companies use recyclable plastics to keep environmental damage to a minimum. It may not be the most eco-friendly way to go, but it is a step in the right direction.
Silicone: It's always been said that it is impossible to count the number of grains of sand on a beach. Sand is used to make silicone, which makes it a popular choice for sustainable packaging. Expect to find  silicone both  inside and outside of your beauty products in the near future. It's also used to calm irritation in personal care items.