There are some designers so fashion forward, you might say they  have written the "bible on fashion." These days, there are other designers  who are equally fashion-forward, only it may be more accurate to say they're taking their fashion cues "from the bible." 
With its, "You can be covered and stunning," theme, today's modesty fashion movement is not limited to religious garb, it combines elements of modern fashion as well, with easy effortlessness and sumptuous fabrics.
Modesty dressing has a heavy focus on diversity and multiculturality,  incorporating elements of everything from traditional Indian dress to traditional Orthodox Jewish dress to  Mormon dress, and other religions in which concealment of the flesh is part of the appropriate dress code.  The key is appropriating the right components to create a sophisticated modern look. Here is a little more info on this globe-sweeping phenomenon.
Modesty Fashion In the Mainstream Fashion Industry
When women have money, women buy clothes, cultural backgrounds notwithstanding. You only have to look at the numbers for proof. According to the Global Islamic Economy Report, the transition to modesty clothes has a lot to do with the rise of millennial Muslim women in the workforce. Statistics say that the amount of money "Generation M" is expected to spend on clothes is estimated to reach $467 billion by the year 2020.
Add to that the influence of social media. In the past years, the increasing emphasis on diversity in fashion is serving as more of a call to action than a passing trend. Social media is being used to show that women of all shapes, sizes, and ethnicities are not just valuable customers, they have influence in the fashion industry as well.
When DKNY marketed a Ramadan dress collection to the public in 2014, the media coverage was phenomenal, and when H and M used model Mariah Idrissi sporting a hajib in its video, it went viral within minutes. 
Nonetheless, it seems that modesty dressing is just making humble beginnings. Reina Lewis, professor of cultural studies at London College of Fashion,  believes that Mariah's appearance had a lot more to do with the video's popularity than what it represented. However, she does allow that it was "innovative in a number of ways in terms of the way it presented diversity in fashion."
Modest Fashion Festival
At the IMFDF, it's not unusual to find a woman wearing cat eye sunglasses pushed up on her hijab or kitten heels peeking out from under her palazzo pants.
https://www.instagram.com/p/BVRFKbnBlH5/
In fact, that's just a small sample of what you might expect to see at the International Modest Fashion and Design Festival (IMFDF). The Radisson Admiral Hotel in Toronto opened its doors to the fifth installment of the festival in August 2018, with founder Nateka Pitter at the helm.
The designing genius behind Victorious Me, Pitter began to host her own fashion shows as a platform to promote her own brand.  The overwhelmingly positive response led to the creation of IMFDF. 
While in the past five years, Muslim women have made up a vast majority of festival attendees, Pitter finds it most gratifying to see an increasing number of non-Muslim women taking an interest in the movement as well. She asserts, " All conservative women are considered boring, frumpy, oppressed – the list goes on. Not just Muslims. This year, we had a Jewish journalist and Mormon blogger Emily Smith attend. They all felt part of the sisterhood. "
Featuring pop up runways, and a shopping bazaar with notable vendors including the festival had something for everyone, yet most would agree that the ModernNisa runway show was the highpoint of the festival.  The luxury modern fashion brand (with evening gowns fit for a princess) show a strong Middle-eastern influence.
Explains designer Nina Buran, "My style is Middle Eastern. You know, they like extravagant, all the bling, everything to showcase a woman's beauty. I like cultural stuff,  I like traditional stuff, so I do all that and I'm venturing into modest bridal wear. It's my third year at IMDF and it's a great opportunity for me to mingle."
https://www.instagram.com/p/BuSbo6EhHYl/
While ModernNisa started things off on a luxurious note, more formal other designers showcased collections ranging from casual, eco-conscious, and children's wear. The SAHA collection focused on vests embellished with Bangladeshi handi-work.
Natasha Saha, the designer behind SAHA says, "It's very luxurious, elegant, but we're selling them at reasonable prices. The main aspect is to gain an audience and spread awareness for sustainable and eco-friendly fashion."
And gaining awareness seems to be exactly what events like the modesty festival are doing. With the genre projected to grow to $368 billion by 2021, festival director Fatima Beg sees it as an inspiring time not only for women of all diversities but for the fashion industry as well.
'Since this industry is growing at an exceptional rate, it's really exciting for the focus to still be on the creative ingenuity this brings to the runway," Beg posits. "Modest fashion to me is an expression of empowerment while exuding an aura of humbleness. It's not a matter of standing out, but standing up. Fashion is personal for modest women, this is one of the most exciting spaces."
What Does Modesty Clothing Look Like?
Modesty dressing is personal – it can mean a lot of things to a lot of people. To the sister wives, modesty clothing meant loose fitting garb, slacks, scarves and a vast selection of cardigans. But to folks like those at the IMFDF, modesty clothing has more to do with creativity, elegance, sophistication, and style. Here ruffled blouses and palazzos are the order of the day and maxi dresses are the new minis. If you're thinking of taking a closer look into a bolder approach to modesty dressing, here are some of the words you might want to think about adding to your fashion vocabulary.
Hijab
Whether you're thinking of showing your solidarity or your style by adding a hijab to your wardrobe collection, here are some easy every day tutorials you can use to make sure you do it with some fashion flair.
Place hijab overhead, fasten under the neck.
Bring left panel of hijab over the right panel of hijab letting it drape over your right shoulder. Allow the right panel to hang down under it.
Place hijab overhead, fasten under the neck.
Bring left panel of hijab over right panel pulling it high, so it does not drape the shoulder, but tightly. wraps the neck, like a traditional scarf.
Allow the right panel to hang under it.
Place hijab overhead, fasten under the neck.
Take both panels of hijab and fold them over one another.
Bring them behind opposite shoulders to form a cape-like effect.
The Abaya
The abaya solves a multitude of wardrobe dilemmas, it's a stately one piece, flattering to the figure, comfortable, no fuss, with an easy robe-like elegance adaptable to both day and night. With signature design elements such as pleats, loose-fitting cuffs, colors, and embellishments plus an ability to stand up to day to day wear, abayas can be styled in a multitude of ways for many occasions.
Classic High Neck Abaya
Sophisticated in its minimalism, the classic high neck abaya in brown nude or a similar dark or neutral tone can be draped easily over other layers or on its own. Simple details, such as soft flowy sleeves and plain neckline give plenty of opportunity for adding a bit of your own personal style. Pair with jewel tones, heels or a well-draped hijab, or even belted.
Charcoal Ruched Abaya
Adding a little femininity to the austere classic high neck, the charcoal ruched abaya features bishop sleeves and gathered details at the waist and the cuff. The versatile sashed waistline gives way to a flared skirt that flows easily with each movement. Add some kitten heeled sling backs to nail the look.
Black High Neck Kimono Abaya
Taking a page from Rei Kawakubo couture, the elegant black high necked kimono is a fluted sleeved abaya, poetic in its simplicity and impeccable detail. Its banded collar and exaggerated shift like hem drop add to its chic design and witch-y aura adding an element of sheer fashion magic.
Power Dressing
Who said power and modesty ever had to be mutually exclusive? With modesty dressing becoming increasingly prevalent in the workforce, the days of frumpy, ill-fitting clothing are so empoweringly over. Fortunately, there are several pieces that combine both categories seamlessly.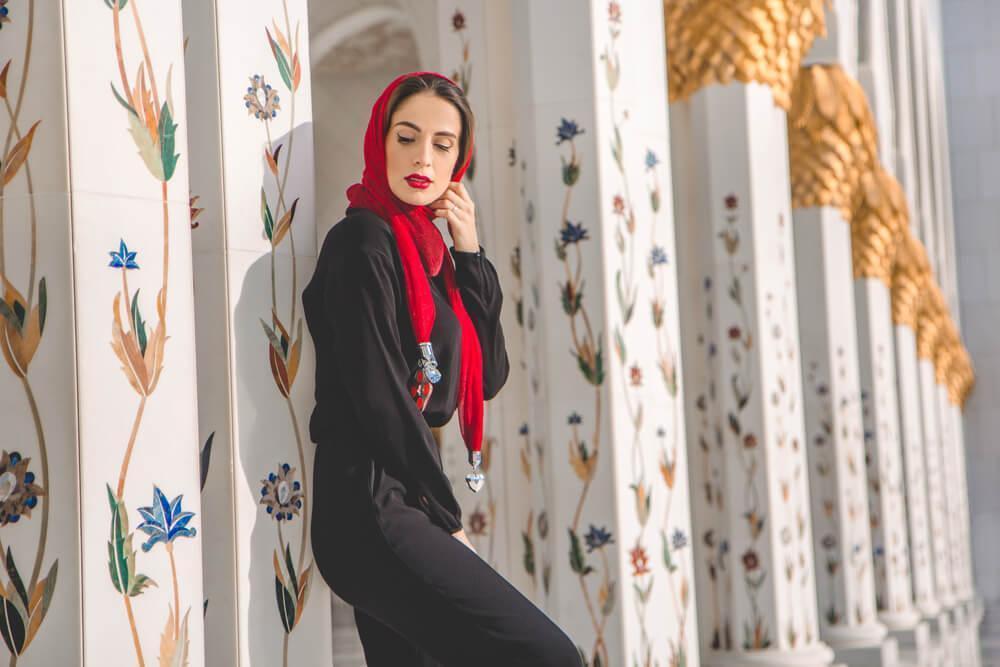 Pants
You don't have to be Amal Clooney to pull off a-rockin' pair of palazzos, although you may want to take some inspo from her. Just picture yourself pulling off some power glamour in wide-legged comfort with maximal draping and a sturdy pair of heels to put things in perspective. Tailored pants are another option for showing modesty in your dress and still bringing your top game in the boardroom.
Putting It Modestly
Now that you've studied up on your new vocabulary words and chosen the hijab style and color that works best with your skin tone, you'll want to get down to the essentials. How can the savvy modern modest dresser keep the size of her wardrobe in proportion to the extent of her needs?
As boutique owner, Suzy Faux so famously nailed it when she created her Capsule Wardrobe in the 1970s, "Less is more and quality over quantity." Here are a few wardrobe essentials that no modern modest closet should be without:
A knee length pencil skirt: Silhouette forming and so flattering and stylish, try to get one in black or a dark color for maximum versatility.
Layering Dress: Layering dresses are great for a modern boho look and can be draped effortlessly over other layers.
¾ Sleeve Layering Top: Perfect for those transitional weather days, can be worn over a long sleeved top for a great wardrobe addition.
Long Sleeved Layering Top: An absolute essential for the modest wardrobe. This doesn't need to be fancied or embroidered, save the embellishments for the top layer. Can also be worn alone as a basic.
Tailored Jacket: Modesty wardrobe or not, a dark tailored jacket will raise the respectability of any outfit exponentially.
Tunic Top: Another fun, boho and stylish modesty wardrobe essential, the tunic top is perfect for wearing over tailored pants or even jeans and creates a more seamless line between the bottom and top half of your outfit.
Tailored Shirt: A good button up crisp tailored shirt can offset a casual look and complete a more formal one.
Tailored Skirt: Besides the pencil skirt, it's good to have a tailored A-line or pleated skirt for when you're wearing something tighter on top. Full maxi skirts can be used very interestingly and effectively in power dressing.
The Olsen Twins
And what story on modesty dressing would be complete without a salute to the queens of modesty themselves? Mary-Kate and Ashley Olsen have always gotten coverage for their artistic use of coverage and, even though their dressing style does not seem to be rooted in religious practices, the two definitely have some usable fashion ideas that make the cross over rather nicely.
As ambassadors of three profitable fashion companies, the pint-sized fashionistas are anything but shy about sharing their modest clothing designs with the public. The twins have been known for their lace trimmed maxi dresses, cardigans hung loosely around their shoulders and almost nun-like dresses (at the 2014 Grammy's), in a show of true sisterhood.
Check their clothing line out for some guidelines and inspiration on modesty dressing and all things Olsen.