Review by Kathleen Hingan
For some girls in their early 20s, vanity is admittedly an inevitable interest, among many others. We're surely speaking on behalf of other girls when we say that this point in our lives is our prime. Therefore, it follows that we always strive to look our best—whether it be for other people or simply for our own.
Others get into fashion, some in health and fitness, while some invest in, yup, you guessed it, skincare. In this day and age, where skincare companies have been sprouting here and there, it's hard to find a brand you can trust. So imagine our surprise when we found a skincare brand we know we can finally be comfortable with! Ladies and gents, let's talk about Lavelier.
What's Lavelier?
Admittedly, it's only recently that we discovered Lavelier. We know some of you have experienced skincare emergencies right around the holiday season, and we're no stranger to that. That's why we were on the hunt for something that would soothe your skin and ours. And then we stumbled upon Lavelier's site! Clean, simple, and straightforward—that was our first impression of the brand. And because we like to keep things simple, we were already smitten.  
But, of course, we're smart consumers here. With the multitude of "scam brands" who don't really know what they're talking about, we had to study Lavelier carefully. The brand's mission is quite different from many skincare brands we know. Instead of focusing solely on beauty, Lavelier seems to be in touch with what truly matters.
"We believe that health, wellness, and the environment are interconnected," their mission states. And seriously, how many brands would have this consciousness? I bet you couldn't even name a lot. Not many people are aware of the beauty industry's impact on the environment. Because of this, it has become even more vital for consumers to invest in Earth-friendly brands, whose goals are aligned with protecting our environment. Who needs excellent skin when your home is being destroyed, right? And yes, it gets better knowing that Lavelier also promotes natural beauty when they say, "Self-love and confidence can inspire and be the stepping stone to even greater achievement."
That's it. You got us.
Aside from Lavelier's stance in the beauty industry, there are more things we love about the brand!
For instance, we like how Lavelier is consumer-friendly. If you take the time to visit their website, you'll notice they have a dedicated tab for skin concerns. Clicking on each, you'll be redirected to a webpage for all their products targeting that specific skin concern. These are the following:
Daily maintenance

Dry skin

Enlarged pores

Loss of firmness

Sun damage

Tired eyes

Wrinkles
Whatever concern you have in mind, Lavelier has a curated catalog for you! It's perfect for someone like who's too lazy or busy to research the right products for their skin type, a bad habit we know we have! 
Red Coral Seaweed as Lavelier's Star Ingredient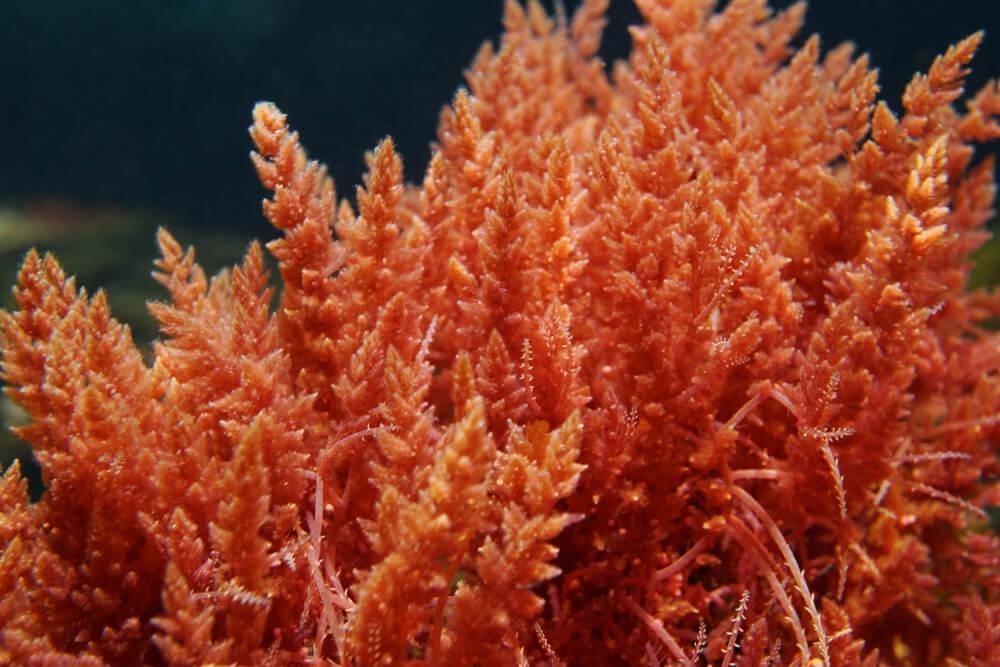 Many brands' claim to fame is through unfamiliar, hard-to-pronounce chemical ingredients. It becomes easily intimidating for someone new to skincare. And even for veteran skincare enthusiasts, it's still challenging to get the hang of tons of chemicals. What's worse is it's hard to determine whether or not they will work on your skin. It's either your skin gets used to it the first time, or it breaks out badly before you realize it's not for you. And yes, it happens for both natural and chemical skincare ingredients. The skincare game really is a lot of trials and errors. However, natural ingredients are undoubtedly a safer bet than brands banking on chemicals alone.
You know what else we love?
Sticking to simple, natural, but active key ingredients is what we instantly loved about Lavelier! Besides, natural ingredients have been taking the spotlight nowadays. More and more brands realize that turning to naturally-given products might be the best way to go. Lavelier is ahead than most, and they boast one primary ingredient—the red coral seaweed, which is claimed to enhance skin smoothness through its calcium-rich properties. It's said to have anti-inflammatory properties while having the ability to repair skin cells.
That's great and all, but if you ask us, Lavelier's being too decent about the complete wonders of this great ingredient. 
If you go through the entire Lavelier catalog, you will notice that almost every product is infused with this red coral seaweed ingredient. They weren't kidding when they said that the entire brand was built on the premise of just how awesome this ingredient is. So we took the initiative to research more about it! It turns out there are a lot more benefits to it than just making our skin smooth and baby-like! 
Seaweed as a skincare ingredient wasn't a new thing for a lot of us. We remember owning some seaweed-infused face masks previously. But other than that, we didn't really get the chance to know more about it than we do now. Just a few Google searches will lead you down a rabbit hole that is seaweed skincare benefits. 
Benefits of Red Coral Seaweed
https://www.instagram.com/p/BenbY2cAB7U/?utm_source=ig_web_copy_link
Hydration
Seaweed is naturally rich in humectants found in the environment. The only thing you need to know about humectants is they work by making sure things are kept moist. Because of this, they are mostly used in beauty products like lotions. Well, with Lavelier, you're sure to get the most out of this hydrating benefit from all their products. 
Skin Healing
If you've ever experienced skin problems like acne, or less common ones like rosacea or others, we have some excellent news for you. Seaweed contains a lot of minerals like zinc, magnesium, and even omega-3, all of which acts as skin barriers against harmful environmental pollution. While working as a barrier, it simultaneously exerts effort to heal existing skin problems. Win-win! When mixed together with other skin healing ingredients, imagine the wonders it can do for your skin.
Acne Prevention
Acne is an all too common skin problem experienced by any person at any given age. This is probably the most annoying to deal with, as it can mess with your self-confidence and can leave long-lasting skin problems in the long run. You might need more or stronger ingredients to combat this entirely, but it doesn't mean you can completely scratch out seaweed from the picture. In fact, the role of red coral seaweed comes in preventing you from suffering another breakout again. 
One of the leading causes of acne is oil, that's true. But it's a common misconception that if you have oily skin, you have to dry out your skin to avoid acne automatically. In fact, properly hydrating your oily skin is the way to go. This way, you do not accidentally trick your skin into producing more oil because you're drying it out. Hydrating it will keep your natural oil levels at par, making it an undesirable environment for that pesky acne.
So, what better way to hydrate your skin than a seaweed-infused skincare routine with products from Lavelier?
Hyperpigmentation Issues
We're done telling you how great seaweed is for skin healing. But allow us to emphasize by saying that on top of skin healing, it can also clear out any hyperpigmentation you may be experiencing. 
If you're unfamiliar with the term, hyperpigmentation is the after-effect of any skin problems which leave trauma on your skin. If you've ever experienced an acne breakout, you may be annoyed to realize that though there are no bumps, instead, there are dark patches left behind. It might take a while for these to go away naturally. This is why seeking help from the proper ingredients, like seaweed, is the best course of action. 
While seaweed works to heal your skin problems, it can also encourage new skin cells to grow. Thus, bye bye dark marks! Say hello, to brighter skin!
Other Key Ingredients
You may now be convinced that seaweed is the holy grail product ever. While true, it's only the tip of the iceberg for Lavelier. We've gone through all of their products, and we're happy to note we found some recurring key ingredients we happen to love using! These are the following:
Hyaluronic acid

Green tea

Collagen

Shea butter
Hyaluronic Acid
Hyaluronic acid has been the talk of the town these past years. Almost every dermatologist and beauty guru have recommended us to incorporate this into our routine, stat! And they all have a good reason why they've put the holy grail label on this superstar ingredient.
Like seaweed, hyaluronic acid is a powerful humectant (remember what that is?) for the skin. With this ingredient working together with red coral seaweed, your skin is sure to be moisturized 24/7. There are too many skin concerns surrounding dry skin, so on top of drinking tons of water a day, try Lavelier's hydrating products. For a boost of hydration, check out their Hydrotherm Completion Creme and their Marine Facial Toner.
Green Tea 
Green tea is another cult-favorite we've all tried to incorporate into our beauty regime at least once. While therapeutic to enjoy for an afternoon tea, the benefits extend beyond relaxation time. It has a lot of proven skin benefits, such as reducing redness and irritation, as well as treating acne. 
Green tea's anti-inflammatory properties come from polyphenols. This means it can soothe redness, irritation, and can even be an effective initial remedy for several dermatological issues. On top of that, green tea can also moderate our skin's sebum production.
Do you know what that means?
Less acne breakouts! But if that isn't good enough, it also aids in retaining moisture for our skin. 
Indeed, green tea has proven its mark in the skincare world—and Lavelier is taking notes. Our personal picks are the Nano Gold Serum, Marine Deep Moisturizer, and their Moisture Allure Cream if I want a dose of that green tea goodness.
Collagen
Do we even have to say why collagen is a great skincare ingredient? So many celebrities and beauty influencers have been on the collagen trend for a long time now.
Collagen is a protein naturally present in our bodies, which is responsible for enhancing the strength and elasticity of our skin. This is why it's a top of the mind ingredient for people looking into reducing wrinkles and fine lines. However, our body's collagen production decreases drastically with age. But that doesn't mean we have to say goodbye to it; it just means we have to work extra hard to get the collagen we need. 
Proper diet is the best way to boost collagen production, but supplements, as well as using products with collagen is also quite helpful. It's a good thing Lavelier offers several collagen-induced products. However, two of our personal picks are the Rapid Eye Collagen Contour and the Collagen Firming Complex Serum.
Shea Butter
If you haven't noticed yet, Lavelier is a brand that is big on hydrating and moisturizing your skin, and we're all here for it. Too many brands are focused on drying products meant to strip away your skin's natural oil. They think that a super tight face is key to healthy skin. While that technique may work for some, we're certainly all for the gentle approach. 
Shea butter is a type of fat derived from shea tree nuts. Because of its creamy consistency, it's an ideal ingredient for facial products used to soften the skin. Aside from this, it can also reduce inflammation and heal skin conditions. We personally have used this in our skincare routines before, and we prefer using it every night before sleeping. We find that the fatty nature of shea butter makes it difficult to incorporate it into a morning routine. 
Lavelier incorporates shea butter in a lot of their products. Knowing this, you're sure to be hydrated and moisturized for the gods! For that extra oomph, we think we'd go for their Marine Evening Repair Cream and their Seascape Body Butter.
Lavelier doesn't boast any new ground-breaking skincare ingredients. But what's great about this brand is how they choose to utilize ingredients that are already used worldwide. The magic is not in how unique the ingredients are, but how they let these ingredients work with each other for the best results. We think Lavelier is smart in pairing up ingredients with one another, ensuring you get the best of all worlds in one jar, bottle, or whatever!
Final Words
https://www.instagram.com/p/BwK8lkyhglT/
After everything we learned about Lavelier, we stand by what we said, this is a brand we know we can trust. There is simply no hidden tricks and compromises in Lavelier. We can't emphasize enough how much of a relief it is to find a skincare brand that offers a simple, straightforward, and no-fuss approach to beauty and wellness. If, like us, you're interested in learning more about Lavelier, feel free to check out their skincare videos for you to binge on.
There's nothing more satisfying than happily stumbling across a brand such as Lavelier. What a gift for skincare lovers like us! I reckon they're going to be the next big thing soon—better be there before it happens!