As I've gotten older I've continued to make skin care a necessity in my life. There's no doubt taking care of our skin is essential for a number of reasons. I have always taken care of my skin with the basics – cleansing, toning and moisturizing. But the past few years I've realized my skin has needed more than just the basics, for a few reasons. Masks and serums have been my go-to product types as I elaborate on my skin care routine. Personally, I can't get enough of the mask craze that's been everywhere. While I definitely see the benefits of using a quality serum type of product over time, masks are great because you FEEL a difference in your skin pretty instantly. Yes, I'm an instant gratification type of woman sometimes. But in all honesty, what's not to love about seeing and feeling a difference in the matter of a few minutes? 
I have always struggled with skin that's prone to breakouts, it goes through phases but it's been a pretty consistent struggle for most of my adult life. In addition to being acne-prone skin, now that I'm approaching being 30 years old I'm definitely starting to focus on anti-aging more than ever before. I've always seen the value of using anti-aging products early on but the need is more real than ever in my life. Let's face it, we all want to put off showing signs of aging as long as possible. I know I'm not alone on this one. 
In an effort to elevate my skin care routine, masks have been a crucial element. At this point, I would consider myself somewhat of connoisseur in face masks. Ok, so that may be a bit dramatic but the point is I've tried a LOT and I mean a LOT of different face masks over the past couple of years. I have tried masks that are pretty expensive, inexpensive and everything in between. I told you I tried a lot. Selfishly I've been thrilled to see more and more face masks hitting the market because it's given me such a wide variety of options to try for myself. Just like with anything, on this face mask journey (that's what I refer to it as, clearly) I've found some masks I like and some I didn't like. But that's kind of part of the process, right? Right. One of the things I've found really enjoyable about face masks, aside from the results, is I always feel like it's a great way to get a little at-home spa treatment. There's something relaxing about sitting down for a few minutes with a mask on. It's a seemingly small thing but a great way to incorporate some self-care into your routine AND give your skin some much needed TLC in the process – that's a win-win in my book.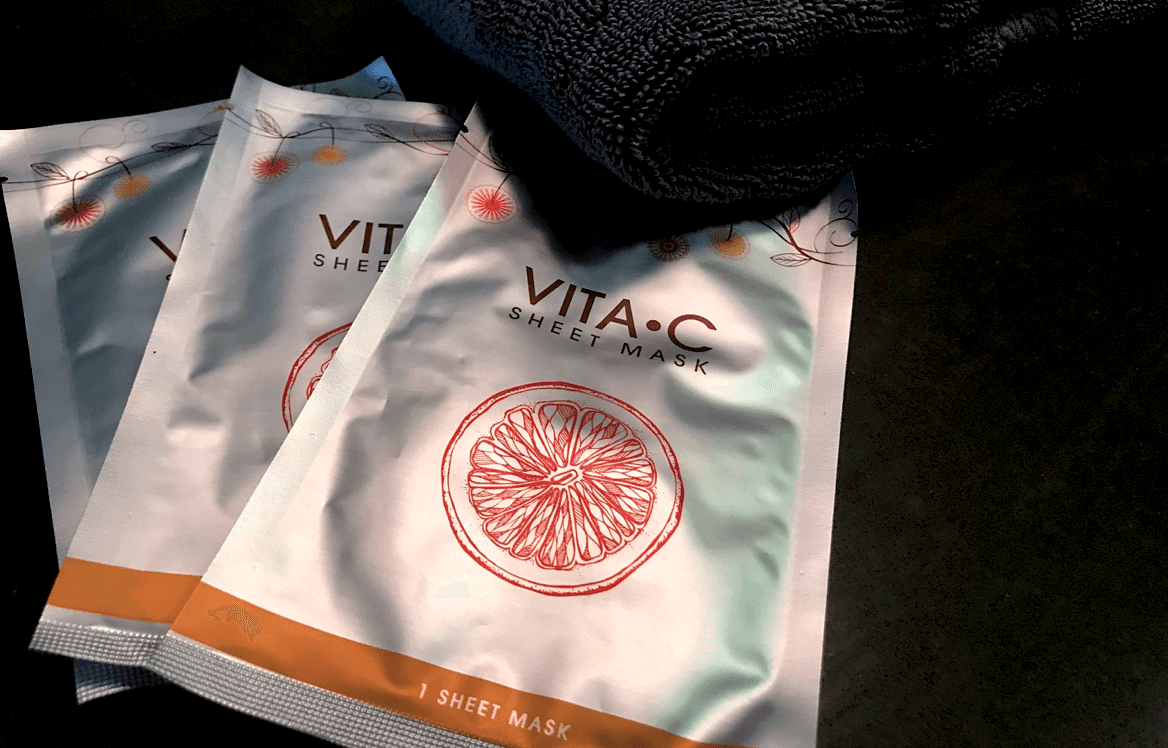 Well as I've fallen in love with face masks, particularly sheet masks, I tried Vivo Per Lei's Vita C Sheet Mask and officially have a new favorite in my collection. While I like a variety of different types of masks one of the things I enjoy most about sheet masks is how easy they are to use. I mean doesn't it really get any easier than placing a sheet onto your face? I don't think so. Of course, I do still like to filter in exfoliating masks every once in a while but I tend to frequently use sheet masks because of their ease. When I first started using sheet masks I wasn't quite sure how a sheet would make such a difference in my skin but quality sheet masks can make a huge difference! I've grown to think of sheet masks as a skin care step that offers a much more concentrated benefit. Typically, you will find that sheet masks offer powerful ingredients and because they're so concentrated you don't necessarily need to (or want to) use them as often as you do your normal skin care. 
Vivo Per Lei Vita C Sheet Masks
When I decided to give these a try I was most intrigued by the use of vitamin C. I've used a lot of sheet masks but they didn't offer much in the vitamin C department, unfortunately. Over the past couple of years more and more research has come out about the benefits of vitamin C for the skin so I've been on the hunt to find a mask with the ingredient. If you didn't already know, vitamin C has been found to work wonders on the skin specifically for its anti-aging properties. It's said that vitamin C helps to prevent and help reverse signs of aging incredibly well, in addition to adding a healthy glow to the skin. Now I don't know about you but those benefits are enough to have me looking for ways to use it in my routine. But what I was even more excited about with the Vivo per lei masks is they don't just include vitamin c but they're also infused with castor oil AND collagen so these babies are packed with a TON of age-fighting ingredients. 
Obviously the ingredients used in these masks peeked my interest immediately however, they needed to be put to the test to see if the ingredients and formulation was going to boost the results I was hoping for. Well, the good news is they DO give results, and that's saying a lot coming from me – if I can be brutally honest. Since I have used so many sheet masks I'm on the pickier side when it comes to actually recommending a particular product. I was pleasantly surprised at the results I experienced from the Vita C masks, so much so I HAD to share my experience with you. 
My Results
The first time I used the mask, just like any other I've used, I made sure to follow the directions perfectly. In my experience with masks, the directions are there for a reason because they're designed to be used that way! Take a cue from me on this one, don't go rouge on the application/use of a mask, stick to what the experts suggest. Fortunately, these masks are super easy to use and don't require a lot of time. The only thing that isn't specified so I'm not sure if it makes a huge difference is whether or not to cleanse the skin before application. In my experience, I find all masks tend to work much more effectively if you've cleansed your skin prior to applying them. If you have makeup or anything else on your skin it can prevent the mask from working as effectively. So I suggest starting with a freshly cleansed face to allow the sheet mask to really do its thing while applied.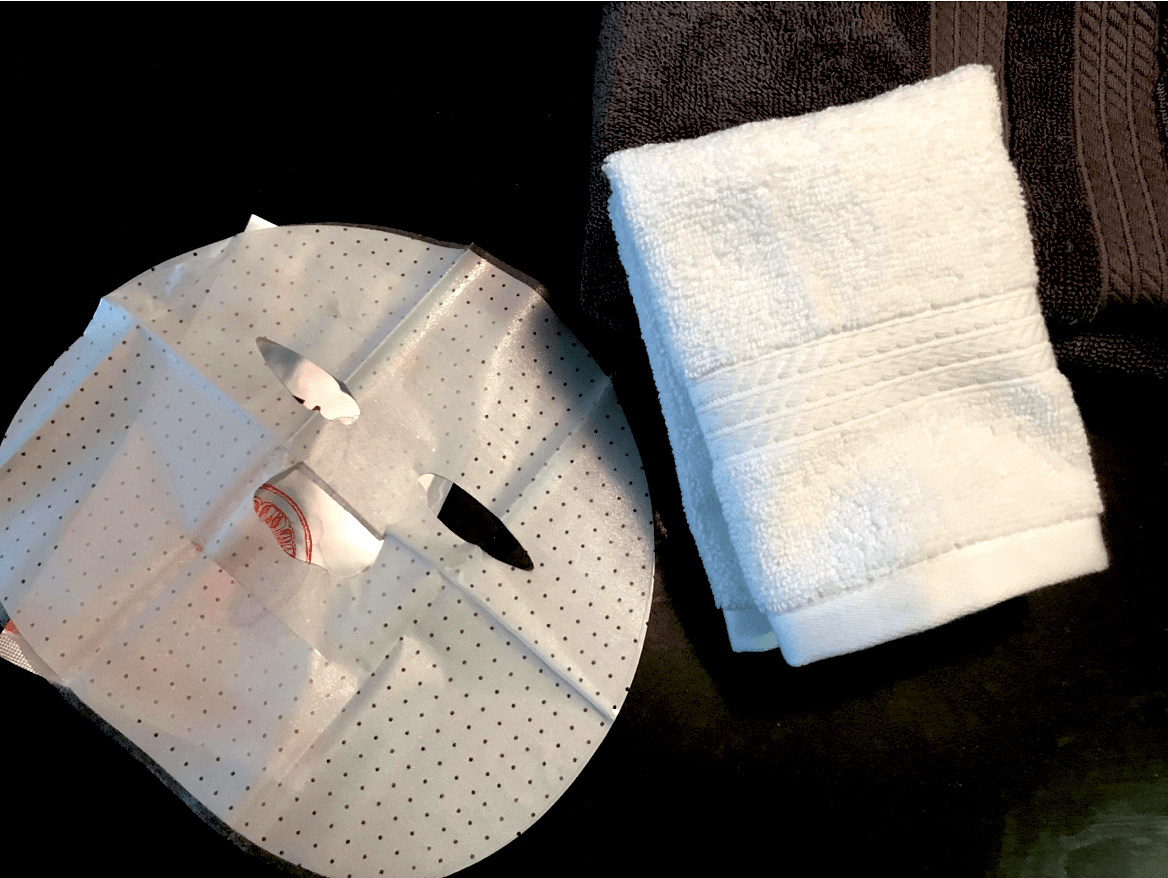 Now since sheet masks are, well…sheets, be gentle with them to avoid accidentally ripping them in any way. The directions on the packaging with the Vita C masks suggest to gently tap and smooth the mask onto your face. Personally, I place the mask onto my forehead and lay it down tapping and smoothing it out until it's laying completely flat. Once you've applied the mask to your face, set a timer for 15 minutes (per directions on the packaging). After you've allowed the mask to rest on your face for the allotted time remove the mask and gently rinse your face with COOL water. That's all it takes! Pretty simple, if you ask me. 
As I mentioned before, I was excited by the results I experienced after using the mask for the first time. Vivo Per Lei states that the masks have been specifically formulated to help with signs of aging occurring in the skin, and claim to help even out the complexion, tighten the appearance of skin and get the healthy glow back. Those are some pretty serious statements in the skin care world, especially coming from just one product. But I have to say, I experienced ALL of those benefits after using the mask. It's hard to believe just 15 minutes with a mask can make that much of a difference in the skin's appearance but when the ingredients have been formulated properly – that's all you need. 
The company recommends using the mask once a week for the best results, so I've been sticking to that suggestion for the past few weeks to really see if my skin changed from them. As I said I noticed a positive change in my skin from use and I have to admit that using the masks once a week is all I've needed to continue to notice a difference in my skin. Now I don't have many signs of aging on my skin just yet but I've noticed that my skin looks much tighter and has had that youthful glow we all know and love from our childhood. Friends have asked me what I'm doing different with my skin and in my eyes that's a huge indication they're making a difference! I even had my mom try one of the masks to see how the formulation benefitted someone 50+ and she loved it. My mom has great skin because she takes such great care of it, but signs of aging are a major concern for her. After the first application her skin was glowing! 
I mentioned my skin tends to be prone to breakouts. To me, that's worth noting because if you're anything like I am because I'm prone to breakouts I'm cautiously optimistic when trying new products especially masks that have such concentrated ingredients. I have experienced an increase in breakouts from sheet masks in the past, especially those that primarily focus on anti-aging properties. It's been a frustration I've dealt with because while I want to gain the anti-aging benefits I don't want to have more breakouts in the process. Why is this important? Well, I was insanely excited when I tried the Vita C masks because I experienced NO additional breakouts at all. This is huge, I mean huge for me. So if you do find you're prone to breakouts but you also want to start your anti-aging skin care journey this mask is a great option to try for yourself. 
Final Thoughts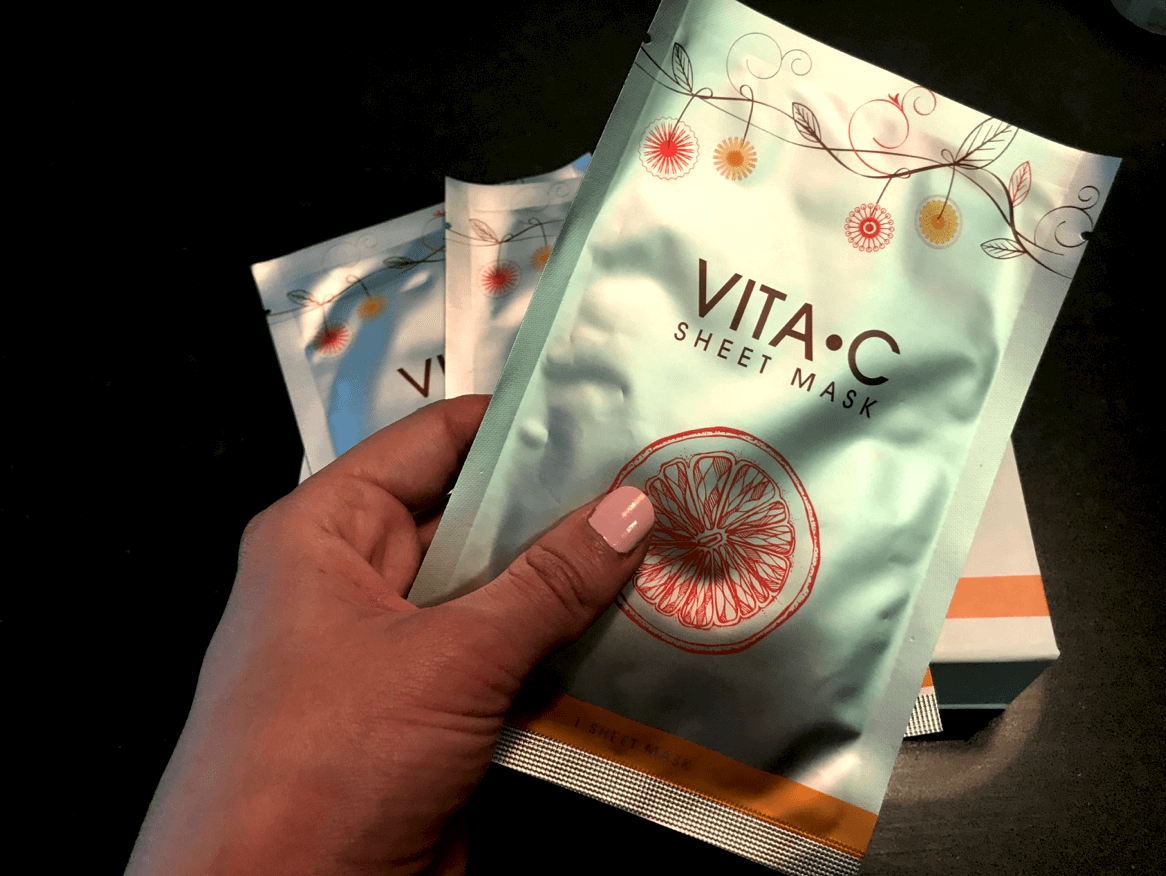 If you're new to sheet masks or you're someone who enjoys experimenting with different options available I highly recommend giving the Vita C sheet masks by Vivo Per Lei a try for yourself. The ingredients are highly concentrated and provide results I would anticipate to achieve from high priced products. Another thing I really love about these particular masks is they come in a box of 10 masks, making it easy to stay on track with and the price point of the product is incredibly feasible. As someone who has tried countless masks I can tell you I've spent a LOT more on masks in the past and they didn't provide me with the results I achieved from these. 
While these masks are formulated with anti-aging properties and ingredients, I would recommend them to anyone who is wanting to give their skin an added boost in their routine. Even if you're extremely consistent with your skin care routine, we can all benefit from a concentrated treatment, like a sheet mask, in our routine. I always feel like my skin feels so refreshed and luminous after each mask application. 
Clearly, I'm excited about these sheet masks and they're going to continue to be a consistent part of my weekly skin care routine. The results I've experienced speak for themselves, in my eyes, so I'm excited to continue using them. Before you think this sounds WAY too good to be true – try them for yourself. You can thank me later!