As we all know, there are a lot of new challenges that come into our life as we age. New jobs, new friends, new cities, new kids are just a few of the exciting things that come with age. Unfortunately, there are a few not-so-exciting things we also have to deal with—chief among them the changes that happen to our bodies. Although I'd like to think that every wrinkle tells the story of a life well-lived, it's hard to remain so optimistic when you start spotting those first wrinkles staring back at you in the mirror. And once you spot them there's no going back, and thus begins your search for the perfect anti-wrinkle, anti-aging creams. While I'm still pretty lucky in the wrinkles department, I have started noticing them in my eye area, bringing us to today's product review: Venofye's Royal Jelly Bee Luminescent Eye Serum.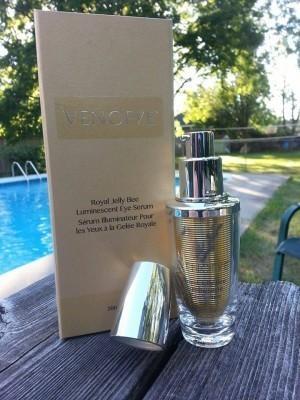 As the name might suggest, this product is pretty inspired by nature, with its key ingredient being Bee Venom (how cool is that!!), which is supposed to help reduce the signs of aging. In addition to the venom, the makers of this product also look to natural ingredients such as Green Tea (Camellia Sinensis) Leaf Extract, Aloe Vera (Aloe Barbadensis) Leaf Extract, and surprisingly Hydrolyzed Wheat Protein. I can't say I've ever noticed any kind of wheat in my beauty products before, but it's apparently pretty common in products as it's a great pore minimizer and helps the skin retain and balance moisture. The serum promises to reduce the appearance of wrinkles and fine lines in the eyes and surrounding areas to give you a more ageless appearance, and boasts that it quickly absorbs into the skin. The directions were very easy to follow, simply massage a small amount of the clear, odorless serum into the freshly cleansed skin of your eyes and surrounding area, paying special attention to deeper lines.
I've always had very tired-looking eyes. I have perpetual bags under my eyes, which not only make me look like I'm subsisting purely on a diet of coffee and determination, but always lend my face a bit of a sickly pallor. Beauty-wise, this is my personal cross to bear. And now that I'm older, my eyes have not been doing me any favors, with new wrinkles starting to appear. Though I'm still doing my best to fight off those inevitable crow's feet, I started to notice slight wrinkles on my eyelids, specifically my lower lids. My theory for this is my constant squinting—the combo of blue eyes, which are sensitive to light, and wearing contacts, which increase sensitivity, has turned me into a mighty fine squinter, particularly in the summer months. So all of these things had me very excited to try this product, and I was not disappointed!
First off, one thing I like about this serum is that it is clear and odorless—which gives me the immediate impression that it doesn't include any unnecessary additives like artificial color or fragrance. This is especially important to me, as the eye area is of course very sensitive. The formula is very rich and soothing, and though the first few days of using had me questioning the quick absorbing claim, I later realized that this was likely due to the fact that I was using too much at once. It really doesn't take a lot of this stuff to cover this area—it's so lightweight and easily spread that a quarter pump is about all you need—and when you use the proper amount it really does absorb quickly. It is very gentle and soothing when you put it on, it almost feels like aloe vera gel, and it gave my eye area an instant sense of wakefulness.
After using this stuff for about a week, I'm already noticing some slight differences. The fine lines on my lower lid have become even finer to the point of almost disappearing, and though my bags are still there, the whole area has a more energized look—almost like my eyes are more open. Even after a bad night's sleep, my eye area looked well rested. I like that it only requires a small amount of serum at a time, because that means this bottle will last me a really long time. I really think that before this bottle runs I'll see even more results, and I'm optimistic that this formulation will help slow the signs of aging on this age-sensitive area. When you have the chance, I'd really recommend getting yourself a bottle of Venofye's Royal Jelly Bee Luminescent Eye Serum and trying it out for yourself!