Have you been noticing people sporting semicolon tattoos? There's been a huge surge in this seemingly innocuous choice of tattoo, and it turns out there's a really great reason for this sudden love of grammar. It's about more than just looking good and having some cute ink, it turns out that these tattoos are actually representative of mental health struggles and suicide prevention.
Project Semicolon started back in 2013 and started off as a movement on social media that worked to offer love, hope and support to people struggling with depression, suicide, addiction, self-injury and all other mental health related issues. It started off simply as one day where people drew a semicolon on themselves, took a picture, and uploaded it online, but has since turned into a much more permanent reminder for many people.
The semicolon is a power choice of symbol for this movement, as it is explained that "a semicolon is used when an author could've chosen to end their sentence, but chose not to. The author is you and the sentence is your life." It's a very powerful reminder for those who have dealt with the struggle of living with mental illness or suicidal thoughts, and is a constant reminder of the choice to live.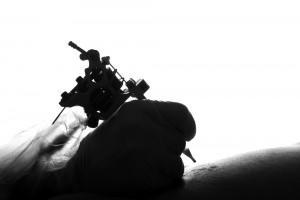 Millions of people suffer from mental illness, and yet there is still a stigma against speaking about the struggles associated with it. Project Semicolon works to break down that stigma, and many other organizations, such as The Semicolon Tattoo Project, are joining forces to use this powerful symbol as a means to further the conversation.
People shouldn't have to suffer in silence, and a semicolon tattoo is a great reminder not only to the person who chooses to get it of their own perseverance in the battle with mental illness, but it's a sign of solidarity and love for any others who are facing a similar struggle.
So the next time you see someone with a semicolon tattoo, maybe ask them how they're doing and start up a conversation of your own!
---
---
---